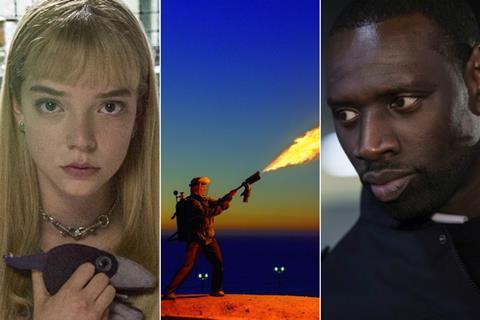 France, opening Wednesday September 2
The biggest opener in France this week is Anne Fontaine's Police, first seen at the Berlinale in February. Released by Studiocanal, the drama (also known as Night Shift) centres on three Parisian police officers – played by Omar Sy, Virginie Efira and Grégory Gadebois – who debate whether to deport an illegal immigrant (Payman Maadi) while transporting him to the airport.
Sophie Letourneur's Enormous will also receive a wide release through Memento Films Distribution. First screened at the International Film Festival Rotterdam (IFFR) in January, the comedy follows a famous pianist who unexpectedly falls pregnant later in life.
Potemkine Films will release Ema, Pablo Larraín's dancer drama that premiered at Venice in 2019. The film stars Gael García Bernal and Mariana Di Girolamo and centres on the eponymous Ema, a talented dancer who rethinks her life after a shocking incident upends her family life and marriage to a tempestuous choreographer.
Sophie Deraspe's crime drama Antigone is released by Les Alchimistes and is modern adaptation of the classic Greek tragedy. The film won Best Canadian Feature at the Toronto International Film Festival, where it received its world premiere in 2019.
Rezo Films releases Olivier Babinet's romantic comedy Sexfish, in which a biologist studying the disappearance of fish longs to become a father.
A restoration of 1965 classic The Girl And The Echo will be released through Ed Distribution. The film is directed by Lithuania's Arūnas Žebriūnas,
Italy, opening Thursday September 3
This weekend's releases suggest a move towards normality at Italian cinemas. After Warner Bros released Tenet last week, Disney is releasing The New Mutants, though little advertising has been done for the film.
01 Distribution is finally back with After We Collided, the sequel to successful American teen drama After. In recent years the first week of September has proved to be a crucial one for the success of teen dramas.
One year after its Venice launch, Pablo Larraín's musical drama Ema is coming to Italian theatres thanks to Movies Inspired, which also has Thomas Lilti's comedy Premiére Année.
Notorious Pictures brings 2019 American adventure drama The Great Alaskan Race, directed by Brian Presley, to cinemas.
Minor distributor ZabLab is partnering with Lucky Red to release Venice 2020 pre-opening title Molecole, the Andrea Segre documentary shot in Venice during lockdown.
Finally, Danilo Caputo's Italian drama Sow The Wind, which premiered at the Berlinale, is distributed by I Wonder Pictures.
Germany, opening Thursday September 3
This week's line-up includes the Oscar-nominated drama Corpus Christi by Jan Komasa from Poland (Arsenal Filmverleih) and two French films – Stéphane Batut's fantasy drama Burning Ghost (Film Kino Text), the winner of the Prix Jean Vigo at Cannes in 2019, and Nicolas Boukhrief's crime drama Three Days And A Life (Atlas Film), starring Sandrine Bonnaire and Pablo Pauly.
Leading independent distributor Constantin Film opens After We Collided. Constantin also released the first instalment in the series, After, in Germany.
There is also the last film co-directed by brothers Paolo and Vittorio Taviani, the 2017 World War II drama Rainbow: A Private Affair (Kairos); Dutch first-time filmmaker Steven Wouterlood's family film My Extraordinary Summer With Tess (Farbfilm), which had premiered in the Generation sidebar at the 2019 Berlinale; and Taiwanese director Midi Z's psychological thriller Nina Wu (Rapid Eye Movies) which was selected for Un Certain Regard in 2019.
In addition, German cinema-goers can catch two locally produced documentaries: Daniel von Rüdiger's 972 Breakdowns – On The Landway New York (Weit) following four rusty Soviet sidecar motorcycles on a 40,000km odyssey overland to New York; and Barbara Wallbraun's Uferfrauen – Lesbisches L(i)eben in der DDR (Déjà-vu Film) portraying lesbian love in former East Germany.
UK-Ireland, opening Friday September 4
Following the success of Tenet's opening weekend for Warner Bros, Disney will hope for decent numbers when finally opening Josh Boone's The New Mutants in 549 locations.
The superhero origin story has been delayed multiple times over the past two years, going back well before the coronavirus pandemic. It was originally dated for April 13, 2018, before being pushed to avoid first Deadpool 2, then again for Dark Phoenix. Disney moved it to April 3, 2020 following its acquisition of Fox; before the pandemic led to its removal from schedules. It was reinstated in May this year, and released last weekend in several territories including the US.
The film follows five young mutants held in a secret facility against their will, who fight to escape their past sins while discovering their abilities. Maisie Williams, Anya Taylor-Joy, Charlie Heaton, Blu Hunt, and Henry Zaga play the titular characters.
Altitude is releasing Ladj Ly's Cannes 2019 Competition title Les Misérables in 131 locations. The French drama depicts the tensions between different groups in the commune of Montfermeil following the 2018 football World Cup. After tying with Bacurau for the Jury Prize at Cannes, it was a hit on the festival and awards circuit, with prizes at the European Film Awards, Césars, and a nomination for best international feature film at the Oscars.
The Media Pioneers, an international distributor of Asian titles, is conducting a limited release for Ya-che Yan's Taiwanese mystery The Bold, The Corrupt, And The Beautiful, which debuted at Busan in 2017; while Charles de Meaux's Chinese-French romance The Lady In The Portrait receives a similar release through Cinefile.