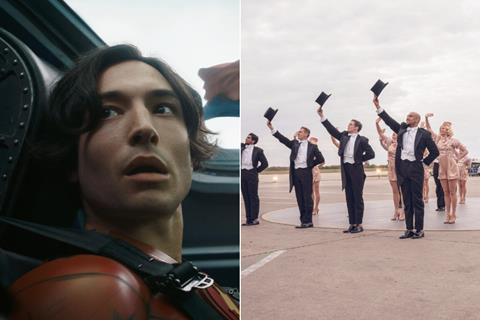 | | | | | |
| --- | --- | --- | --- | --- |
| Rank | Film (distributor) | Three-day gross (June 16-18) | Total gross to date | Week |
| 1. | The Flash (Warner Bros) | £3.2m | £4.3m | 1 |
| 2. | Spider-Man: Across The Spiderverse (Sony) | £2.5m | £20.2m | 3 |
| 3. | The Little Mermaid (Disney) | £1.3m | £22m | 4 |
| 4. | Transformers: Rise Of The Beasts (Paramount) | £1.2m | £5m | 2 |
| 5. | Greatest Days (Elysian Film Distribution) | £389,235 | £536,955 | 1 |
GBP to USD conversion rate: 1.28
Warner Bros' The Flash topped the UK-Ireland box office on its opening weekend, with a £3.2m session.
Opening in 670 sites, the film took a £4,739 average. Its opening is the 10th-highest of 13 DC Extended Universe films to date, behind previous DC standalone character openings Man Of Steel (£11.2m), Wonder Woman (£6.3m), Aquaman (£5.2m), Shazam! (£4.1m) and Black Adam (£5.6m).
Including previews, The Flash is up to almost £4.3m. The film's low UK-Ireland performance mirrored that of its flat $55.1m start in North America.
Sony's Spider-Man: Across The Spider-Verse added a further £2.5m on its third weekend in cinemas – a 37.8% drop. It is up to £20.2m, approaching double the £10.9m of 2018's first Spider-Verse film.
Disney's The Little Mermaid held better than most titles on its fourth weekend in cinemas, dropping 38% with £1.3m. It is just beyond the £22m mark – well down on previous live-action remakes The Lion King (£76m) and Aladdin (£37.3m), but ahead of post-pandemic Disney title Cruella (£9.5m).
On its second weekend in cinemas, Transformers: Rise Of The Beasts dropped 52.8% with £1.2m. It is up to £5m for Paramount; it will aim to overhaul the £9.5m of 2017's The Last Knight, the current lowest-grossing title of the franchise.
Elysian Film Distribution's Take That musical Greatest Days opened to £389,235 from the 585 sites to have reported so far, with 18 still to report and a £665 location average. It has £536,955 including previews.
Takings for the top five came in at £8.6m. This was down 11.1% on the previous weekend – a disappointing result given the presence of two new wide-release films plus strong holdovers at cinemas, although explained partly by the warm weather across much of the country. The next blockbuster with potential to increase takings is Disney's Indiana Jones And The Dial Of Destiny, in cinemas from June 28.
Guardians rises up MCU chart
Guardians Of The Galaxy Vol. 3 dropped 51% on its seventh weekend in cinemas, adding £251,592 to cross the £36m mark for Disney. It is the 14th-highest-grossing of 32 Marvel Cinematic Universe films to date, ahead of the £28.6m of 2014's Guardians Of The Galaxy but still behind the £41m of 2017's Vol. 2.
Franchise car-racing title Fast X leads Universal's slate, and added £208,641 this weekend – a 56% drop. After five weekends the film is up to £14.7m, as the seventh-highest grossing of 11 Fast & Furious films to date, behind the £16.5m of 2021's Fast & Furious 9.
The Boogeyman dropped 50% on its third weekend for Disney, adding £139,790 to reach £1.4m.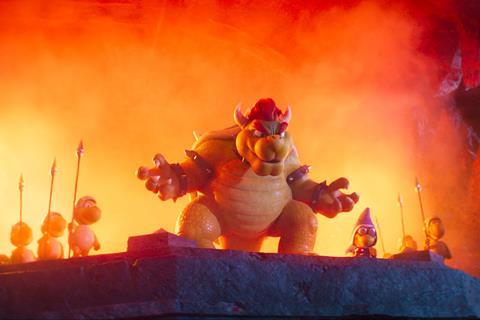 Former number one The Super Mario Bros. Movie added £93,019 on its 11th weekend in cinemas – a 29% drop – and is up to £53.5m for Universal, in the top 40 highest-grossing films of all time in the UK and Ireland.
Disney's Chevalier added £35,060 on its second weekend – a 69% drop – to reach £256,822.
Pretty Red Dress, the debut feature from 2019 Screen Star of Tomorrow Dionne Edwards, opened to £14,729, with £18,282 including previews.
Lionsgate's Are You There God? It's Me, Margaret is closing out its run with £9,000 on its fifth weekend in cinemas taking it to an £895,000 total.
Claire Dix's Screen Ireland-backed drama Sunlight opened to £4,467 from 13 cinemas in Ireland, with £5,421 in total for Wildcard Distribution.
Verve Pictures opened Fridtjof Ryder's UK drama Inland to £2,672, with £5,641 including previews.
Peccadillo Pictures' lesbian Jehovah's Witness drama You Can Live Forever opened to £700 from five locations, following a world premiere at Tribeca last year.