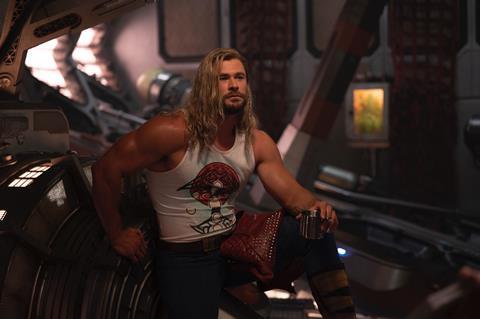 | Rank | Film (distributor) | Three-day gross (July 15 - 17) | Total gross to date | Week |
| --- | --- | --- | --- | --- |
| 1. | Thor: Love And Thunder (Disney) | £4.1m | £20.9m | 2 |
| 2. | Minions: The Rise Of Gru (Universal) | £2.7m | £23.1m | 3 |
| 3. | Elvis (Warner Bros) | £1m | £16.2m | 4 |
| 4. | Top Gun: Maverick (Paramount) | £810,000 | £72.3m | 8 |
| 5. | Jurassic World Dominion (Universal) | £382,204 | £32.5m | 6 |
GBP to USD conversion rate: 1.20
A strong slate of holdovers at UK-Ireland cinemas proved resilient against the continuing heatwave, with Thor: Love And Thunder leading the box office chart again and strong performances from Top Gun: Maverick and Elvis.
Disney blockbuster Thor: Love And Thunder took £4.1m on its second weekend. This drop of 55.4% was more than most holdovers; however, that was to be expected given both the film's lofty starting point, and the typical path of Marvel titles, which tend to be front-loaded in their box office runs.
It is now up to £20.9m from 11 days in cinemas, passing the £20.1m total of Thor: The Dark World from 2013, and becoming the 18th -highest-grossing of 28 Marvel Cinematic Universe titles to date.
Universal's Minions: The Rise Of Gru took £2.7m on its third weekend, a fall of 38.1%. It is now up to £23.1m – beyond the £20.2m of 2010's Despicable Me, although the totals of 2013's Despicable Me 2 (£47.5m), 2015's Minions (£47.8m) and 2017's Despicable Me 3 (£47.9m) will most likely be out of reach.
Warner Bros' Elvis stayed just above the £1m mark on its fourth weekend in cinemas, dropping just 23.1% with £1m taking it to a £16.2m cume.
Top Gun: Maverick was the best performer in the top five, dropping just 20% for Paramount with £810,000 bringing it to a £72.3m cume from eight weekends. Currently the 14th -highest-grossing film of all time in the UK and Ireland, it will catch 2017's Beauty And The Beast (£72.5m) and 2011's Harry Potter And The Deathly Hallows: Part 2 (£73.2m) within the next week, and will have its eyes set on an all-time top 10 finish, with 2019's The Lion King currently in 10th with £76m.
Jurassic World Dominion added £382,204 on its sixth weekend – a 31.7% drop that was about par for the weekend. It has £32.5m in total, and will finish behind 1993's original Jurassic Park (£48.8m), 2015's Jurassic World (£64.5m) and 2018's Jurassic World: Fallen Kingdom (£41.6m), but ahead of 1997's Jurassic Park: The Lost World (£25.8m) and 2001's Jurassic Park 3 (£18.3m).
Openers feel the heat
While the big-name holdovers performed well against the weather, it was a tougher climate for new films.
Studiocanal's The Railway Children Return was the highest-grossing opener, taking £365,481 from 626 locations at an average of £584.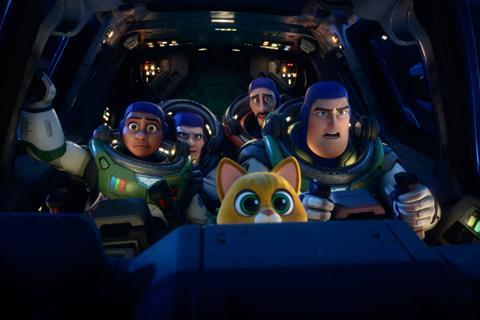 Disney's Lightyear added £162,000 on its fifth session – a 28.7% drop – and is up to £9.3m.
As one of few horror titles currently in the market, The Black Phone added £149,164 for Universal on its fourth session (a 28.1% drop), and is up to a respectable £3.6m.
UK comedy Brian And Charles dropped 45.6% from its opening weekend, with £26,890 taking it to a £155,836 cume for Universal.
Lionsgate comedy-drama Good Luck To You, Leo Grande fell just 24.2% with £20,898 on its fifth session. The film is up to £930,571, and will look to hold on for another couple of weekends to reach the £1m mark.
Curzon's Spanish comedy The Good Boss with Javier Bardem opened to £15,253 from 31 sites at an average of £492, and is up to £18,761 including previews.
Mubi's Cannes 2021 title A Chiara had a £6,699 opening including previews.
UK documentary Donna took £417 from six locations over the weekend for Bohemia Media, and has £595 including previews.