Andreas Wiseman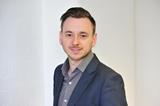 Screen's deputy editor based in London.
Contact Info
Andreas Wiseman
Deputy editor
Star Wars is not a British movie, says Lionsgate UK boss, who is concerned about Brexit impact and blockbuster saturation.

EXCLUSIVE: Vertigo snaps up rights to drama set in ultra-orthodox Jewish community.

EXCLUSIVE: Peter Cattaneo and Ol Parker team on novel adaptation developed with BBC Films.