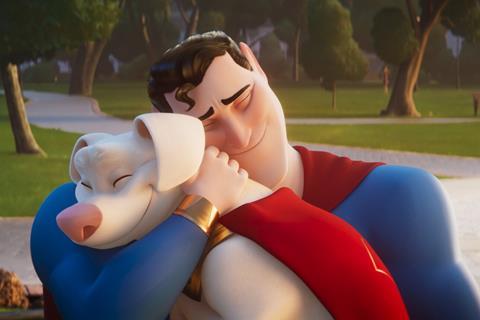 | Rank | Film (distributor) | Three-day gross (July 29 - 31) | Total gross to date | Week |
| --- | --- | --- | --- | --- |
| 1. | DC League Of Super-Pets (Warner Bros) | £2.6m | £2.6m | 1 |
| 2. | Minions: The Rise Of Gru (Universal) | £2m | £33.5m | 5 |
| 3. | Thor: Love And Thunder (Disney) | £1.9m | £30.8m | 4 |
| 4. | Elvis (Warner Bros) | £1.1m | £20.9m | 6 |
| 5. | Top Gun: Maverick (Paramount) | £981,000 | £76.1m | 10 |
GBP to USD conversion rate: 1.23
Warner Bros' animation DC League Of Super-Pets topped the UK-Ireland box office on its opening weekend, as total takings for 2022 passed 2021 with five months still to go.
DC League Of Super-Pets grossed £2.6m across the weekend. It was the widest opening ever for an animated title, with its 725 locations taking an average of £3,632 per site. However, this was down on the £16,327 opening average of fellow animated studio title Minions 2: The Rise Of Gru from last month.
The UK-Ireland 2022 cume is now at £607m, topping the £597m takings for the entirety of 2021, when cinemas were closed until mid-May due to the pandemic. Screen reported last month that UK-Ireland box office for 2022 was tracking at around 80% of 2019 levels for January to June.
Minions 2 is still riding high in second place after five weeks. It dropped 35.5% on last time, with just below £2m this weekend bringing it to a £33.5m cume. It is only the eighth film to cross the £30m barrier in the UK and Ireland since the pandemic began; and has topped the £32.9m total of fellow Universal animation Sing 2 from earlier this year.
Disney's Thor: Love And Thunder added £1.9m on its fourth weekend – a 38% drop that brings it to a £30.8m cume, making it the ninth post-pandemic title to top that £30m mark. It is now the 13th -highest-grossing of 28 Marvel Cinematic Universe titles, overtaking 2014's Guardians Of The Galaxy (£28.6m) and 2017's Spider-Man: Homecoming (£30.7m). It will overtake the £31.1m total of 2017 stablemate Thor: Ragnarok, also directed by Taika Waititi, by the weekend.
Elvis stayed above the £1m mark for its sixth weekend in cinemas, dropping just 10.8% with £1.1m taking it to £20.9m. After starting with £4m, it has become one of just 16 films to cross the £20m mark after the pandemic in the UK and Ireland.
Paramount's Top Gun: Maverick held a top five spot for the 10th consecutive weekend. With £981,000, its 10% drop was the best of the top 10 titles for the second weekend running. The film is now at £76.1m, and has overtaken Disney's 2019 The Lion King to become the 10th -highest-grossing film of all time in the UK and Ireland.
Football fever
The England women's team's victory in the Euro 2022 final on Sunday provided a slight obstacle for cinemas this weekend, with most titles down between 30-40% - compared to the previous weekend, when many films saw increases.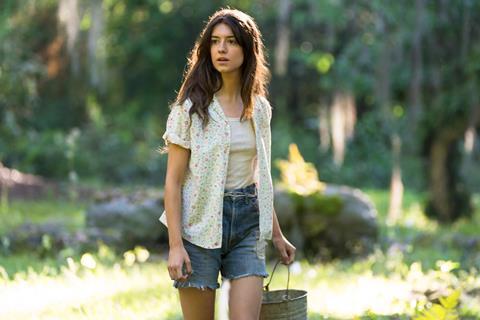 Sony thriller Where The Crawdads Sing lost a top five spot on its second weekend, dropping three places to sixth. It added £853,000 – a 36.1% drop – to reach £3.8m total.
Jurassic World: Dominion added £287,934 – a 34% drop – on its eighth weekend, and is now up to £34m cume for Universal.
Having become the highest-grossing event cinema release since the pandemic on its opening day, National Theatre Live's Prima Facie starring Jodie Comer took a further £248,198 this weekend from 243 sites – with a further 106 still to report, with the full total likely above £300,000.
This was down 44.8% on its first full weekend. The release is now above £2.5m from 11 days in cinemas – an excellent result for an event cinema release, with only 2014's War Horse, 2015's Hamlet (both £3.4m) and 2019's Fleabag (£4.4m) ahead of it among National Theatre titles.
Studiocanal's The Railway Children Return dropped 40% on its third weekend, with £189,596 taking it to £1.8m.
Universal's The Black Phone added £139,763 – a 20.4% drop that was better than most other titles – and is at £4.2m from six sessions.
Disney's Lightyear dropped 59% on its seventh weekend, adding £89,767 to reach close to £10.1m.
For Vertigo, Joyride starring Olivia Colman took £59,824 at the weekend from 252 sites, at an average of £237. Including previews, the film is at £64,370.
Picturehouse Entertainment scored one of its best post-pandemic results, with a £33,785 weekend gross for Panah Panahi's Hit The Road coming at a location average of £913, with one site to report.
Including previews, the film is at £54,390, with a couple of preview sites outstanding.
Curzon's re-release of Wim Wenders' classic Paris, Texas took £19,712 at the weekend, and has £21,530 including pre-weekend screenings.
Universal's Sundance London winner Brian And Charles is closing out with £10,973 taking it to £252,832 from four weekends.
Apple had Ron Howard's Thai cave rescue drama Thirteen Lives in 10 cinemas this weekend; the streamer does not share box office data from its releases.