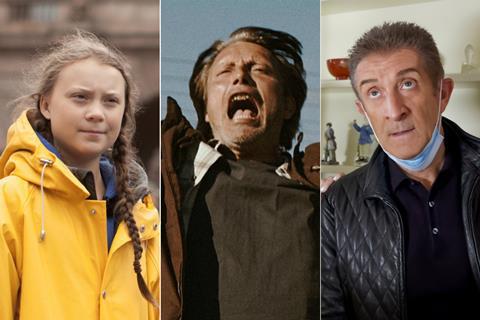 France, opening Wednesday October 14
It has been a complicated few days for French distributors and exhibitors following the introduction of a night-time curfew from Saturday night in Paris and eight other major cities, as part of measures to slow the spread of Covid-19.
The measure, which obliges people to return home by 9pm, effectively wipes out key evening screening slots although exhibitors are lobbying the government for a special dispensation for cinemagoers. A final decision was expected late Friday or over the weekend, but if the answer is 'no' a slew of upcoming releases are likely to be put on ice.
In the meantime, a diverse bunch of new films opened on Wednesday, prior to the announcement of the curfew.
The biggest release of the week was Universal Pictures International France's theatrical launch of Trolls World Tour in some 650 sites to coincide with the beginning of the school half-term holiday. The film's release in France comes six months after NBCUniversal's controversial move to release it on premium VoD in most territories in April in response to the global lockdown.
Other new family fare for this holiday period includes feature animation Calamity, A Childhood Of Martha Jane Cannary for Gebeka Films in 250 sites.
The second biggest release of the week was French comedy 30 Jours Max in some 600 sites for Studiocanal. Popular actor Tarek Boudali stars as a klutzy police officer on a mission to prove himself after he is told by a doctor he has only 30 days to live.
The only new US title on release this week is action thriller Honest Thief starring Liam Neeson in around 380 sites for Metropolitan Filmexport.
Non-French-language releases included Thomas Vinterberg's Another Round in around 280 sites for Haut et Court. Having been feted with a Cannes 2020 label earlier this year, it arrives in France after showing at the Toronto, San Sebastian and London film festivals.
Arizona Distribution launched another San Sebastian title, this time from 2019, in the shape of Kazakh director Adilkhan Yerzhanov's A Dark, Dark Man in 60 sites. The drama was originally due to come out in May but was delayed due to the national lockdown at the time.
Germany, opening Thursday October 15
Another week passes in Germany without any release from a US major, after Disney decided to push Kenneth Branagh's new version of the Agatha Christie classic Death On The Nile back to December 17.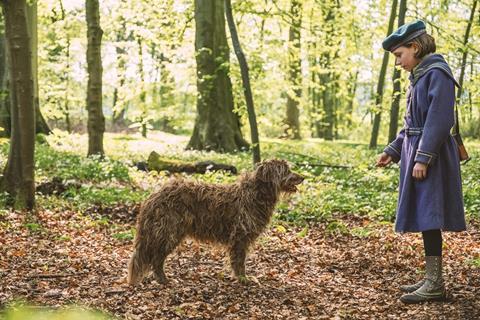 However, the current half-term school holidays provide the ideal launchpad for Constantin Film's release of Israeli-born Tomer Eshed's first feature-length animation Dragon Rider, based on the book by author Cornelia Funke; and the latest adaptation of Frances Hodgson Burnett's children's classic The Secret Garden, which Studiocanal is distributing.
Meanwhile, Leonine opens Peter Cattaneo's feelgood comedy Military Wives a week after its originally planned launch date of October 8.
The rest of the week's releases are targeted at arthouse audiences. They include Canadian first-time director Shelagh McLeod's drama Astronaut, starring Richard Dreyfuss, which Jets is releasing, and Irish director Karl Golden's London-set road movie Bruno (Filmperlen).
Also out are Benjamin Naishtat's 1970s-set Argentinian thriller Rojo through Cine Global; Danish filmmaker Kasper Torsting's feature debut In Love And War via Tamtam; and Michael Fetter Nathansky's tragicomedy Sag Du Es Mir though MissingFilms.
Documentary aficianados have five titles to choose from this week: Xavier Burgin's Horror Noire: A History Of Black Horror (Drop-Out Cinema); Roman Droux's nature documentary Bear-Like (MFA+); Reiner Holzemer's portrait of a famed Belgian fashion designer in Martin Margiela – Mythos der Mode (Filmwelt); Carmen Losmann's exploration of debt creation as the strategic heart of neoliberal politics in Oeconomia (Neue Visionen); and Nathan Grossman's portrait of the environmental activist Greta Thunberg, I Am Greta, which will be released by Filmwelt today (October 16).
Italy, opening Thursday October 15
Delete History, the Berlin-premiered comedy by Benoit Delepine and Gustave Kervern, is distributed by Officine UBU.
Vision Distribution is releasing The Secrets We Keep, Yuval Adler's US drama starring Noomi Rapace and Joel Kinnaman.
The Italian comedy Lockdown All'Italiana (Lockdown The Italian Way) by Enrico Vanzina, the first Italian film written and shot after the lockdown, is released by Medusa Film.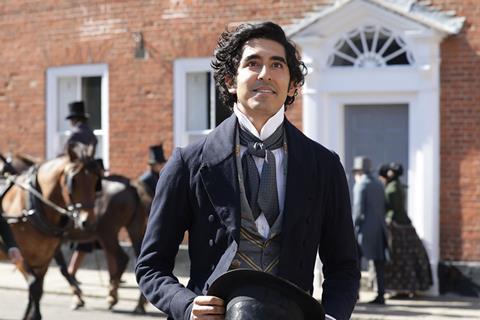 Armando Iannucci's The Personal History Of David Copperfield, starring Dev Patel and Tilda Swinton, is brought to theatres through Lucky Red.
Notorious is releasing Trash, an Italian animation film fresh from its premiere in the Alice in The City section of the Rome Film Festival, directed by Francesco Dafano and Luca Della Grotta.
UK, opening Friday October 16
With cinemas in Northern Ireland required to close from today – on top of the previous closures of all Cineworld and Picturehouse venues, and all cinemas in Ireland – it's a difficult period for theatrical exhibition in the territory.
There are, however, still new films being released this weekend. Dogwoof is distributing Nathan Grossman's documentary I Am Greta, following teenage climate activist Greta Thunberg on her campaign to get people – including senior politicians – to listen to scientists about the world's environmental problems. It debuted as an out of Competition title at Venice last month.
Republic Film Distribution is debuting two new titles this weekend. Emily Harris' Carmilla opens in 30 sites; it's a coming-of-age love story inspired by Sheridan Le Fanu's 1872 gothic novel of the same name. Produced by Lizzie Brown and Emily Precious' UK company Bird Flight Films, Carmilla debuted at Edinburgh Film Festival in 2019.
Republic is also opening Garrett Bradley's Sundance 2020 doc Time in a single site, in partnership with Amazon Studios.
Curzon Artificial Eye is conducting an eight-site release for Being A Human Person, Fred Scott's documentary about Swedish auteur Roy Andersson; while Verve Pictures is releasing Lucy Brydon's BBC Films and BFI-backed drama Body Of Water in five sites, about a woman with an eating disorder who tries to balance her relationship with her mother and her teenage daughter.
Event cinema title Michael Ball & Alfie Boe – Back Together receives the widest new release of the weekend. It's going out in 352 sites on October 17, with a further 20 the following day, through CinemaLive.