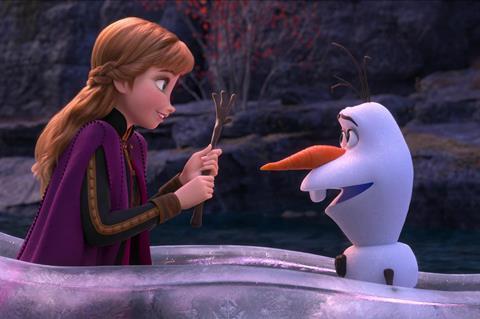 Disney's latest blockbuster Frozen II is looking to challenge the highest openings for an animated title in the UK when it launches this weekend.
Jennifer Lee and Chris Buck return to direct this second instalment, which follows sisters Anna and Elsa as they travel to an ancient forest looking for the origin of Elsa's powers.
The first Frozen opened to £4.8m in December 2013, two weeks later in the year than the second title. It pulled in a £9,368 location average from 508 locations – a wide release, but not fully so.
This time Disney is launching the film in 671 locations – an indication of how the franchise has become a cultural touchpoint since the first film's release.
Frozen grossed £43.1m in total. It is the ninth-highest grossing animated film of all time in the UK; breaking into that bracket would represent a good result for Disney.
Toy Story 4 holds the record opening for an animation in the UK, hitting a huge £13.3m in June this year. It opened in 668 venues and achieved a £19,231 location average. 2010's Toy Story 3 opened to £11.5m, while last year's Incredibles 2 started with £9.6m.
Other animated titles to have scored highly include The Simpsons Movie, which opened on a Wednesday in 2007 and took £13.6m across its first five days; and Despicable Me 2, which had a £10m opening weekend, boosted to £14.8m including previews.
Counter-programming
Many cinemas have cleared the decks for Frozen II with screenings running throughout the day. That said, there is a multitude of counter-programming options, with 18 new features released into UK cinemas this week.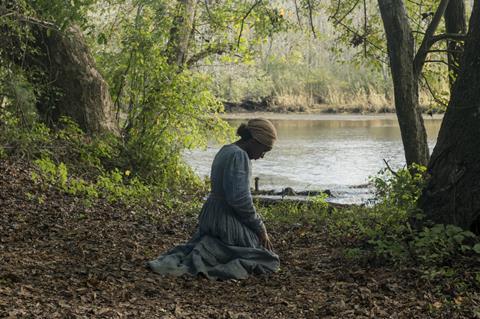 Foremost among those is Universal's Harriet, the biographical story of slave-turned abolitionist Harriet Tubman.
Kasi Lemmons directs Widows star Cynthia Erivo in the title role; the film premiered at Toronto in September and was released in the US on November 1 through Focus Features.
Lemmons' first feature Eve's Bayou opened to £51,175 in 1998 through Momentum/Alliance, going on to a respectable £233,068.
Most recently, she directed 2013's Black Nativity, which started with £61,398 and hit £153,788.
Also opening through Paramount is Blue Story, the feature directorial debut of 2019 Screen Star of Tomorrow Rapman.
Based on a YouTube series the director made in 2014, Blue Story follows two friends from south London, who are separated and thrust into a gang war due to living in different postcodes.
The film's casting director Isabella Odoffin and editor Mdhamiri Nkemi are also 2019 Stars of Tomorrow.
Rapman scored a viral hit last year with his latest YouTube series Shiro's Story, which has crossed 20m views.
Sony is releasing Brian Kirk's crime drama 21 Bridges starring Chadwick Boseman. The feature is produced by AGBO, the production company co-run by Avengers directors the Russo brothers.
Boseman starred in Ryan Coogler's worldwide hit Black Panther last year (opened: £10.5m, closed: £50.1m), while his breakthrough role came as soul singer James Brown in Get On Up, which made £243,767 from a £110,647 opening in November 2014.
STX has Appalachia-set thriller Them That Follow, with an ensemble cast led by Kaitlyn Dever and Olivia Colman. It is the feature debut of directors Britt Poulton and Dan Madison Savage and premiered at Sundance earlier this year.
Colman's record gross in a leading role is the £17m made by 20th Century Fox's The Favourite in January this year, which was boosted later in its run by her best actress Oscar win.
Dever recently starred in eOne's Booksmart opposite Beanie Feldstein; the film started with £634,452 in May 2019 and ended on £1.5m.
Festival features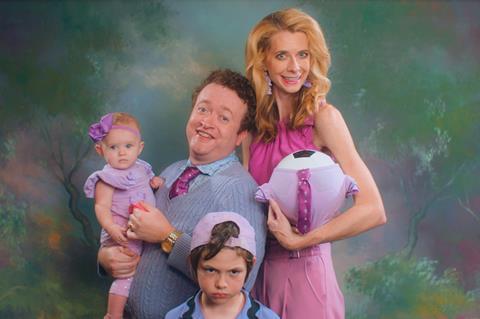 Bulldog Film Distribution is releasing satirical comedy Greener Grass. The Sundance 2019 premiere is written and directed by Jocelyn DeBoer and Dawn Luebbe; the pair also star as two mothers in a suburban town terrorised by a mystery killer. They have just received a best first screenplay nomination at the Film Independent Spirit Awards.
Another Sundance 2019 title, The Amazing Jonathan Documentary, is playing in select cinemas through Dogwoof. The film had an event cinema launch on Tuesday, November 19, when a post-screening Q&A with director Ben Berman hosted by Louis Theroux was live-streamed to 100 cinemas around the country.
Berman starts filming the final tour of terminally ill magician The Amazing Jonathan; his task becomes increasingly strange when it becomes apparent he is not the only filmmaker documenting the performer.
20th Century Fox is distributing Nicolas Bedos' La Belle Epoque, which debuted as an out of Competition screening at Cannes this year.
Having recently picked up two Australian titles in the form of Babyteeth and True History Of The Kelly Gang, Picturehouse Entertainment is releasing a third, Mirrah Foulkes' Judy & Punch. Starring Mia Wasikowska and Damon Herriman in the title roles, the film also launched at Sundance 2019, and has since played at festivals including Sydney, Melbourne, Bucheon, Strasbourg and London. It is up for nine prizes at next month's Australia Academy Of Cinema and Television Awards.
Netflix is giving a very limited theatrical release to Jérémy Clapin's animation I Lost My Body, ahead of the film launching on the platform on November 29. It became the first animation to win the Cannes Critics' Week Grand Prize in May, with subsequent awards at Annecy Animated Film Festival, and a recent best animation nomination at the European Film Awards.
ICA Films has Thomas Heise's film essay Heimat Is A Space In Time, which won two awards at Jerusalem Film Festival this year including the new Chantal Akerman prize for best experimental documentary.
Blue Finch Films is distributing Claire McCarthy's Ophelia, a re-imagining of Hamlet from the female protagonist's perspective. Star Wars' Daisy Ridley plays the lead role, with a strong supporting cast including Naomi Watts, Clive Owen, Tom Felton, and George MacKay as Hamlet.
Limited releases include Soheil Beiraghi's Iranian drama Permission through Peccadillo; documentaries Here For Life through Modern Films and The Amber Light through Dartmouth Films; thriller Into The Mirror through Dean Street Productions; and bovine animation Cattle Hill through Kaleidoscope.
BFI Distribution is re-releasing Ken Russell's 1975 rock musical Tommy as part of its musicals season; while Eros International has its latest Bollywood title, ensemble comedy Pagalpanti.
Having dethroned Warner Bros' Joker last time out, Universal's Last Christmas leads the holdovers, with Disney's Le Mans '66 also going into its second weekend.