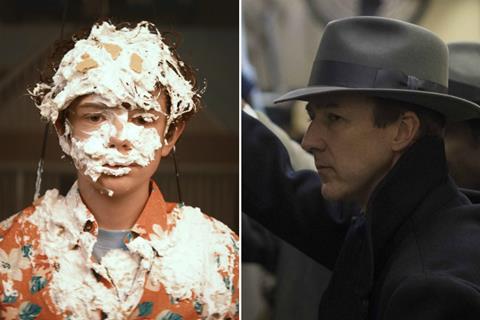 Shia LaBeouf's autobiographical Honey Boy and Edward Norton's directorial debut Motherless Brooklyn are among the titles opening in a quiet weekend at the UK box office, which should see Frozen II hold the number one spot for a third week running.
Released through Sony, Honey Boy is directed by Alma Har'el, from a screenplay by LaBeouf based on his childhood and relationship with his father.
The film debuted at Sundance 2019, where it won the special jury prize in the US Dramatic section, and followed that up with an honourable mention at October's BFI London Film Festival. It has received four nominations for the 2020 Film Independent Spirit Awards, including best director for Har'el, best cinematography for Natasha Braier, and best supporting male for both LaBeouf and Noah Jupe, who plays the young version of Otis, the character based on LaBeouf.
It is Har'el's fiction directing debut. She has previously made documentaries LoveTrue (opened: £7,453, closed: £12,069) and Bombay Beach (opened: £5,521, closed: £20,216), both released through Dogwoof in the UK.
LaBeouf's film career began as a child, with a role in 1998's Monkey Business. He achieved international recognition after starring in three Transformers films, the highest-grossing of which was 2011's Transformers: Dark Of The Moon (opened: £10.7m, closed: £28.1m).
Since then he has predominantly appeared in independent features, including Lars von Trier's 2013 Nymphomaniac Vol. I (opened: £36,536, closed: £104,403) and Vol. II (opened: £15,354, closed: £61,094); Andrea Arnold's 2016 American Honey (opened: £176,072, closed: £477,661); and 2019's The Peanut Butter Falcon (opened: £39,609, still in select venues).
Warner Bros will open Motherless Brooklyn, US actor Edward Norton's second directorial feature following a 19-year break since 2000's Keeping The Faith. The crime drama, an adaptation of Jonathan Lethem's 1999 novel of the same name, debuted at Telluride in August, and has since played festivals including Toronto, New York, and Rome.
Norton plays Lionel Essrog, a private investigator with Tourette syndrome, who attempts to solve the murder of his mentor. A strong supporting cast includes Bruce Willis, Bobby Cannavale, Alec Baldwin, Willem Dafoe, and Screen Star of Tomorrow 2008 Gugu Mbatha-Raw.
With an Oscar-nominated breakthrough role in Gregory Hoblit's 1996 Primal Fear (opened: £534,515, closed: £1.8m), Norton achieved global acclaim for two 1999 roles in American History X (opened: £120,629, closed: £513,447) and Fight Club (opened: £1.2m, closed: £5.6m), receiving his second Oscar nod for the former. He picked up a third nomination for his role in Alejandro G. Iñárritu's 2015 Birdman (opened: £1.5m, closed: £6.1m).
Keeping The Faith opened to £261,887 in September 2000, closing on £803,167.
Other new titles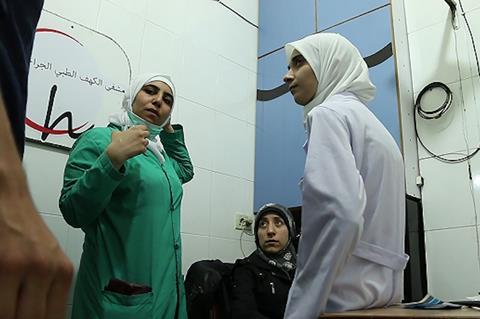 Dogwoof's latest documentary to hit cinemas is The Cave, Feras Fayyad's story of a group of female doctors in Syria struggling with systemic sexism amidst the air strikes and bombings.
Multiple documentaries have been made about the ongoing Syrian war across the last eight years, including Fayyad's own Last Men In Aleppo, which was nominated for best documentary at the 2018 Oscars. Waad al-Kateab and Edward Watts' For Sama recently won four BIFAs including best film and best director, having grossed £124,763 through Republic Film Distribution earlier this year.
Of the two, The Cave has received less critical attention, although it did win the documentary People's Choice award at Toronto in September, where it had its world premiere.
Curzon is opening Wang Xiaoshuai's So Long, My Son, a drama about two married couples adapting to the socio-economic changes in China from the 1980s to the present.
It debuted in Competition at Berlin 2019, where it won the best actor prize for Wang Jingchun and best actress for Yong Mei.
The film is the 13th feature for Wang. His first to receive a UK release was Beijing Bicycle in 2002 (opened: £5,065, closed: £28,377), which still represents his highest gross in the territory.
Universal has Lisa Barros D'Sa and Glenn Leyburn's Ordinary Love, a drama starring Liam Neeson and Lesley Manville as a late-middle-aged couple dealing with the wife's breast cancer diagnosis.
Barros D'Sa and Leyburn previously directed 2010's Cherrybomb (opened: £6,860, closed: £16,546) and 2013's Good Vibrations (opened: £56,320, closed: £309,446).
Alongside a role in Maleficent: Mistress Of Evil (on £14.5m as of last weekend), Manville recently appeared in Paul Thomas Anderson's 2018 Phantom Thread (opened: £727,077, closed: £2.8m).
Neeson appeared in 2019's Men In Black: International, which pulled in the lowest gross of the franchise with £6.7m; while other recent titles include Cold Pursuit (opened: £633,475, closed: £2m) and 2018's Widows (opened: £2.4m, closed: £6.4m).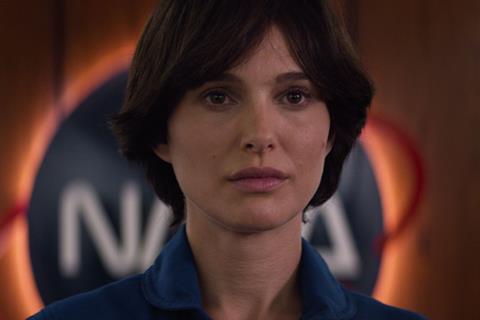 Disney is distributing Noah Hawley's Lucy In The Sky, a sci-fi about astronaut Lucy Cola (Natalie Portman) who finds Earth too small for her mind after returning from space. It debuted at Toronto 2019, and is the feature directorial debut of Hawley, who is best known as creator and writer of TV's Fargo and Legion.
eOne is releasing Aoife Crehan's Irish comedy-drama The Last Right, starring Game Of Thrones' Michiel Huisman and Brian Cox alongside Screen Stars of Tomorrow Niamh Algar (2018) and James Norton (2013).
Kaleidoscope has a UK release for Ben Smith's animated feature StarDog And TurboCat, produced by Phil Hunt's Head Gear Films. The voice cast includes Screen Stars of Tomorrow Luke Evans (2009) and Gemma Arterton (2007) alongside Bill Nighy and Nick Frost.
In smaller UK releases, Dartmouth Films has Adam Bolt's human biology-focused documentary Human Nature; while Munro Films has Simon Cox's low-budget sci-fi Invasion Planet Earth.
Foreign-language titles this weekend include Antonin Baudry's French submarine thriller The Wolf's Call through Altitude; Mudassar Aziz's Bollywood comedy remake Pati Patni Aur Woh through Eros International; Jacek Bromski's Polish crime drama Solid Gold through Phoenix Productions; and Xiaolu Xue's Chinese action feature The Whistleblower through Trinity Film.
Rep titles include Joe Dante's 1984 Gremlins through Warner Bros; Jacques Demy's colourful 1964 musical The Umbrellas Of Cherbourg through BFI Distribution, as part of the BFI's Musicals season; 2003 festive favourite Elf through Park Circus; and Arthur J Bressan Jr's 1985 AIDS drama Buddies through LGBTQ+ distributor Peccadillo Pictures.
The ice age
The likelihood is Frozen II will hold its number one spot for a third week running. Last time out it grossed £8.7m, with a 42% drop on its record-breaking £15.1m opening being about par for a Disney blockbuster this year.
Another 42% drop would see it at the £5m mark. This will be more than enough to hold off this weekend's new openers, while none of the holdovers have a chance of grossing near that mark either.
The first title with a chance of knocking it off top spot will be Jumanji: The Next Level released on Friday, December 13; while more substantial challenges will come from Star Wars: The Rise Of Skywalker (December 19) and Cats (December 20).
Aside from Frozen II, key holdovers include Lionsgate's whodunnit Knives Out, Universal's Last Christmas, and Paramount's Blue Story.