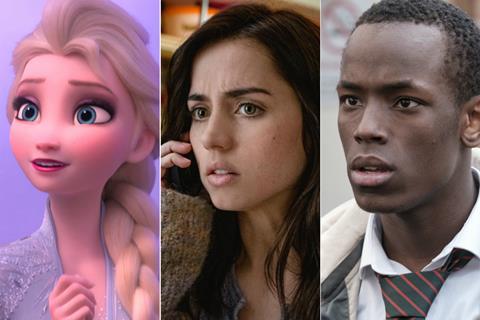 | Rank | Film (Distributor) | Three-day gross (Nov 29-Dec 1) | Total gross to date | Week |
| --- | --- | --- | --- | --- |
| 1 | Frozen II (Disney) | £8.7m | £27.3m | 2 |
| 2 | Knives Out (Lionsgate) | £2.2m | £2.9m | 1 |
| 3 | Last Christmas (Universal) | £1.7m | £10m | 3 |
| 4 | Blue Story (Paramount) | £850,000 | £2.9m | 2 |
| 5 | Charlie's Angels (Sony) | £517,000 | £546,000 | 1 |
Today's GBP to USD conversion rate: 1.29
Disney
Frozen II comfortably topped the UK box office for a second weekend running, with £8.7m bringing its cumulative total to £27.3m.
The film fell 42% on its first session. The first film had an 11% drop on its second weekend; however, number two was coming from a significantly higher start of last weekend's animation record-breaking £15.1m, and the £8.7m figure is still well ahead of the £4.2m that first title took second time out.
Disney's big Christmas title from last year, Mary Poppins Returns, held notably better with a 10% first weekend drop, although it was aided by opening during the Christmas holidays. From this year, Disney's franchise titles have performed around the same mark on their second weekend; Dumbo fell 43%, Aladdin dropped 31%, Toy Story 4 dropped 38%, and The Lion King dropped £36%.
Le Mans '66 slipped back 58% on its third weekend with £500,000 bringing it to £5.3m total. Maleficent: Mistress Of Evil added £91,000 for £14.5m; Terminator: Dark Fate added £18,800 for £7.3m; and La Belle Epoque put on £18,000 for £93,000.
Lionsgate
In its widest UK release to date in 641 locations, Knives Out started with a £2.2m weekend, with £699,479 of previews bringing it to £2.9m total. Its screen average was a decent £3,481; down on the sizeable averages of 2019's blockbusters, but still a strong result for a non-franchise original film.
Midway added £17,474 and has £2m after four weekends.
Universal
Last Christmas posted another good hold on its third weekend, falling just 26.5% with £1.7m bringing it to £10m total.
With the festive season ramping up in the final month of the year, it will look for a long tail to make it one of Universal's standout 2019 titles.
The Addams Family added £108,655 for £9.5m after six weekends; Abominable put on £57,256 for £8m after eight; Harriet dropped a substantial 67% on its second weekend with £35,499 taking it to £244,057; while Downton Abbey is up to £28m.
Paramount
Following a week of controversy which saw Vue remove the film from its 91 UK & Ireland venues before reinstating it on Thursday, November 28, Blue Story took £850,000 on its second weekend.
This represents a 34% hold, from fewer locations that its first week. Its site average of £3,073 was the third best in the top 20, behind Frozen II and Knives Out.
The film has £2.9m in total and will look to move past the totals of urban genre companions Brotherhood (£3.7m) and Adulthood (£3.3m) in the next week or two.
Sony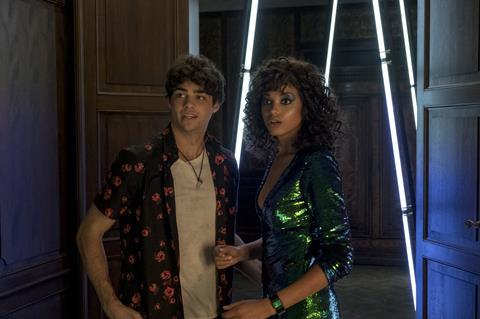 Charlie's Angels matched its slow performance in the US with a £517,000 start from 489 locations, an average of £1,057. With previews, the film has £546,000.
Zombieland: Double Tap grossed £22,000 and has £4.5m in total.
STX Entertainment
21 Bridges dropped 60% on its second weekend, with £260,000 bringing it to £1.3m total.
Warner Bros
Joker is still Warner Bros' best-performing title, with a 54.3% drop on its ninth session giving it £231,000 and £57.5m in total. It should pass 2002's The Lord Of The Rings: The Two Towers £57.6m for 22nd place in the all-time UK chart this week; the £61.1m of the next film, 2003's The Lord Of The Rings: The Return Of The King, may be beyond it.
The Good Liar added £92,000 and has £3.6m total; while Doctor Sleep is closing out its run after five weekends, with £17,000 bringing it to £3.3m.
Park Circus
Kevin Smith's Jay And Silent Bob Reboot opened to a reasonable £50,725 from 48 sites, giving it a £1,057 location average identical to that of Charlie's Angels. With previews, the film has £77,135.
Rep screenings of Stanley Kubrick's Eyes Wide Shut, which was screened with short documentary Never Just A Dream: Stanley Kubrick about the filmmaker's work, brought in £14,629 from 54 locations.
Studiocanal
A Shaun The Sheep Movie: Farmageddon, which won a BIFA for best effects last month, added £38,380 and has £6.7m after seven weekends.
EROS International
Romantic drama Marjaavaan added £26,252 from just 13 locations and has £267,255 after three sessions. Action comedy Pagalpanti dropped 79.7% on its opening session, with £15,286 taking it to £124,253.
eOne
Ken Loach's Sorry We Missed You added £14,221 for £1.2m to date, while The Aeronauts will soon be floating out of UK cinemas after just four weekends, with £9,519 contributing to a £1.7m total.
Picturehouse Entertainment
Judy & Punch added £10,592, a sizeable 77% dropoff on its opening session, and has £110,415 total.
Modern Films
Kim Longinotto's documentary Shooting The Mafia opened to £9,084 from 13 locations, and has £15,012 including previews.
The event cinema release of The CBeebies Christmas Show 2019 on Saturday, November 30 took £134,184 from 310 locations. Encore screenings will continue throughout December.
Vertigo Films
The Nightingale, Jennifer Kent's follow-up to The Babadook, opened to £7,851, with £12,954 of previews and festival screenings taking it to £20,805.
Verve Pictures
Documentary The Street, which was nominated for the Discovery award at last night's BIFAs, opened to £6,216 from six sites, its £1,036 locations average coming in just behind Charlie's Angels. Including previews, the film has £11,228.
Dartmouth Films
Documentary The Dirty War On The National Health Service grossed £537 from 3 sites.
National Theatre Live
An event release of Noel Coward comedy Present Laughter starring Andrew Scott took £897,996 on Thursday 28, with subsequent takings bringing it to £949,644.