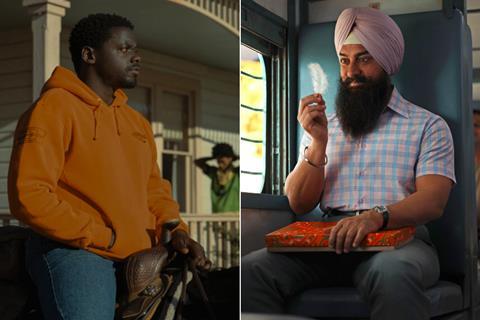 Nope, the latest horror from US filmmaker Jordan Peele, is the leading title opening at UK-Ireland cinemas this weekend; as Indian Forrest Gump remake Laal Singh Chaddha receives the widest opening ever for a South Asian film.
Opening in 681 locations, Universal's Nope is Peele's third feature, and centres on the residents of a lonely California valley who bear witness to a chilling discovery. Screen Star of Tomorrow 2009 Daniel Kaluuya leads the cast, which also includes Keke Palmer, Steven Yeun and Brandon Perea.
Peele is frequently credited with the latest revival of the horror genre, including by Blumhouse producer Jason Blum in Locarno last week (Blum produced Peele's first two films, but is not involved in Nope).
Get Out opened to £2.2m in March 2017, ending on almost £10.5m and winning one of four Oscar nominations – best original screenplay for Peele. Follow-up Us scored similarly, starting with £2.8m in March 2019, ending on £10.1m.
Having opened on July 22, Nope crossed $100m in the United States this week, although is still tracking behind the US totals of Get Out ($176.1m) and Us ($175m). The presence of UK star Kaluuya may help it here; his previous credits include Judas And The Black Messiah (a £441,733 pandemic-afflicted total), Queen & Slim (£1.5m) and Marvel hit Black Panther (opened: £17.7m; closed: £50.8m).
Paramount is starting Indian title Laal Singh Chaddha in 350 locations – the widest-ever release for a South Asian film in the territory, with double the 175 sites of 2018's Thugs Of Hindostan. The new film is a remake of Robert Zemeckis' 1994 US film Forrest Gump, with Aamir Khan taking on the Tom Hanks role of the eponymous character, a simple man living an extraordinary journey.
The film is directed by Advait Chandan, whose credits include Indian worldwide hit Secret Superstar, which opened to £272,488 in the UK and Ireland, finishing on £627,391. Paramount will look to go beyond that with Laal Singh Chaddha, and potentially challenge the total of the highest-grossing Indian film in the territory: Vijay Krishna Acharya's 2013 Dhoom 3 (opened: £884,475; closed: £2.7m).
The original Forrest Gump opened to £1.7m in October 1994, going on to £15.4m - a huge total for the time, equivalent to over £26m today.
Indie opportunity
While holdovers such as Thor: Love And Thunder and Top Gun: Maverick still dominate the top of the charts, the lack of new blockbuster titles leaves opportunities for indie releases to thrive.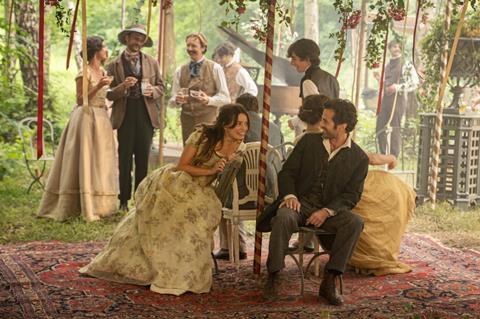 New in 31 sites this weekend is Vertigo's Eiffel, the story of how French architect Gustave Eiffel came to create the world's most famous tower. Romain Duris plays Eiffel, with Screen Star of Tomorrow 2019 Emma Mackey as a mysterious woman who enters his life.
Having broken out in 2019 through Netflix series Sex Education, Mackey's major screen credit since then has been a part in Kenneth Branagh's 2022 ensemble Death On The Nile (opened: £1.9m; closed: £8m). She will also soon be seen in Frances O'Connor's Emily, a biopic of Wuthering Heights author Emily Bronte, set for release on October 14 through Warner Bros.
Altitude is opening Ari Folman's latest animated feature, Where Is Anne Frank, in 80 locations. The film reimagines the character of Kitty, the imaginary friend to whom Anne Frank dedicated her famous diary, as Kitty embarks on a journey to find Anne, who she believes is still alive.
Where Is Anne Frank debuted out of competition at Cannes 2021, going on to play Jerusalem, Toronto and Zurich film festivals.
Folman is attending Sarajevo Film Festival next week to give a masterclass; the festival will show his animated documentary Waltz With Bashir, which opened to £113,087 in 2008, closing on £704,249, and was nominated for the best foreign language film Oscar in 2009.
Curzon is opening Robert Coe and Warwick Ross' documentary Blind Ambition in 17 locations. A Tribeca 2021 premiere, the film follows four Zimbabwean men who form a wine-tasting team, with the aspirational aim of reaching the World Blind Wine Tasting Championships.
In a busy weekend for South Asian cinema, Anime Ltd is releasing anime Fortune Favours Lady Nikuko in 50 sites, Zee Studios is distributing Raksha Bandhan, while DJ Tech Ltd has two titles – Viruman and Thallumaala.
Key holdovers include last weekend's number one Bullet Train, Minions: The Rise Of Gru and Thor: Love And Thunder.