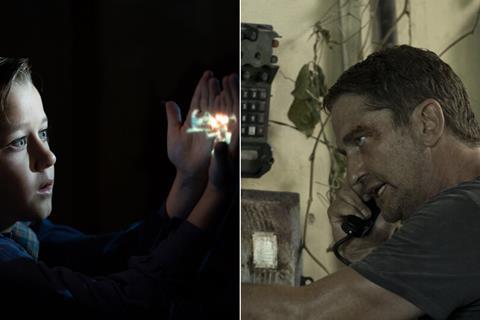 Steven Spielberg's semi-autobiographical drama The Fabelmans makes its UK-Ireland box office bow this weekend, with competition from Lionsgate action film Plane, Bollywood thriller Pathaan and Venice-winning documentary All The Beauty And The Bloodshed.
The Fabelmans is the widest opening title of the weekend, starting in 670 locations (and 767 screens) through eOne. This marks the company's third-widest opening of all time in the territory, behind 1917's 692 sites from January 2020, and The BFG's 680 from July 2016.
Those films started with £7.3m and £5.3m respectively; anything approaching either of those figures would be an excellent start for The Fabelmans.
Set in post-Second World War Arizona, the film follows an adolescent boy who aspires to be a filmmaker, but soon discovers a family secret and explores how films can help him see the truth.
It became Spielberg's first film to debut at Toronto International Film Festival when screening as a special presentation there in September last year. The film also won the people's choice award, the winner of which has gone on to the best picture Oscar five times in the last 13 ceremonies – most recently with Chloe Zhao's Nomadland at the 2021 Oscars.
The Fabelmans has completed the first step of that process, with best picture as one of its seven Oscar nominations alongside best director – where Spielberg is the current bookies' favourite – best original screenplay for Spielberg and Tony Kushner, and best actress for Michelle Williams.
Spielberg's highest-grossing film in the UK and Ireland remains July 1993 release Jurassic Park, which started with £4.9m and went on to £48.8m. It held the title of highest-grossing film in the territory, with more than double the nearest challenger; until 1997's The Full Monty topped it with £52.2m.
Released while the pandemic was still affecting cinema attendances, Spielberg's 2021 West Side Story started with £1.3m, ending on £7.8m.
Lionsgate action title Plane starring Gerard Butler and Mike Colter starts in 511 cinemas. The film centres on a pilot who finds himself caught in a war zone after he's forced to land his commercial airplane during a storm.
It is over 16 years since Scottish actor Butler became a bona fide action leading man, through his role as King Leonidas in Zack Snyder's 300. That film opened to £4.7m, ending on £14.5m and still his highest-grossing title in the territory. The closest he has come since was 2016's London Has Fallen, which opened to £3.2m and closed just over £11m, also through Lionsgate.
Pathaan aims for record
Yash Raj Films' release of Bollywood action title Pathaan in 223 locations will be one to watch out for this weekend, after it recorded the highest day one total ever for an Indian film with £319,348 on Wednesday, January 25. It followed that up with a £231,466 Tuesday for a £550,814 total before it even hits its first weekend.
The film stars Indian icons Shah Rukh Khan and Deepika Padukone, as an Indian spy takes on the leader of a group of mercenaries who have plans to target his homeland.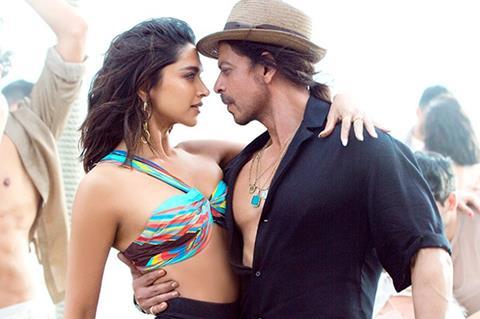 Yash Raj, which specialises in Hindi-language titles, holds the title for highest-grossing Bollywood film in the territory, with 2013's Dhoom 3 (opened: £884,475; closed £2.7m). With Pathaan already more than 20% of the way to that total after just two days, it has an opportunity to set a new high watermark for Indian cinema in the UK and Ireland.
Warner Bros is starting Jon Wright's horror Unwelcome in 334 cinemas – 288 in the UK, with a further 46 in Ireland. Produced by Piers Tempest's UK outfit Tempo Productions, the film stars Screen Stars of Tomorrow Hannah John-Kamen (2016) and Douglas Booth (2011) as a couple who escape to the tranquillity of rural Ireland, only to discover murderous goblins lurking in the wood at the bottom of their new garden.
It is a fourth feature for Northern Irish director Wright, whose record gross is his 2009 debut Tormented (£284,757; £698,053).
Altitude is opening Laura Poitras' documentary All The Beauty And The Bloodshed in 60 locations from today. The film became only the second documentary ever to win the Golden Lion for best film when it debuted at Venice Film Festival in September; with Poitras only the seventh woman to win the prize – but third in a row, after Chloe Zhao with Nomadland in 2020 and Audrey Diwan with Happening in 2021.
All The Beauty… depicts the life of artist Nan Goldin, in parallel with her contemporary attempts to hold the Sackler family to account for the opioid epidemic.
The highest-grossing Golden Lion winner in the territory is Todd Phillips' 2019 Joker, which topped the UK-Ireland box office for six weeks on its way to a £58.3m total.
A more relevant benchmark for All The Beauty… would be Poitras' 2014 documentary Citizenfour, which opened in 23 locations through Curzon, starting with £53,925 and ending on £161,588, as well as winning the Oscar for best documentary. All The Beauty… has also received significant awards acclaim, with best documentary nominations at the Oscars and Baftas, in addition to prizes from the following critics associations: the National Society, Alliance of Women in Film Journalists, Los Angeles, New York, Boston, Florida, Georgia, Austin and Toronto.
Trafalgar Releasing is playing Billie Eilish: Live At The O2 in 254 cinemas today (January 27); while further weekend releases include Trinity Film's The Wandering Earth II in 58 sites, and Bulldog Film Distribution's January in four locations.
Despite a strong slate of new titles, there is still every possibility that Disney's Avatar: The Way Of Water could surpass Joker's run and top the UK-Ireland box office for a seventh consecutive weekend.
It has not dropped more than 33% on any weekend across its run so far; a 33% drop on last time out would see it at £1.9m, which could be enough to hold off The Fabelmans, Plane and Pathaan.
Universal's M3GAN and Paramount's Babylon are the other key holdovers.