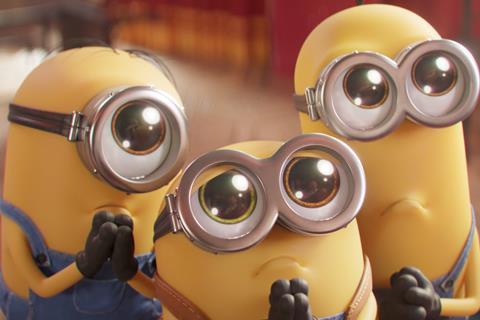 | Rank | Film (distributor) | Three-day gross (July 1 - 3) | Total gross to date | Week |
| --- | --- | --- | --- | --- |
| 1. | Minions: The Rise Of Gru (Universal) | £10.4m | £10.4m | 1 |
| 2. | Elvis (Warner Bros) | £3m | £10.2m | 2 |
| 3. | Top Gun: Maverick (Paramount) | £2.7m | £68.0m | 6 |
| 4. | Jurassic World Dominion (Universal) | £1.8m | £30.4m | 4 |
| 5. | Lightyear (Disney) | £863,720 | £8.5m | 3 |
GBP to USD conversion rate: 1.21
Audiences suited up and turned out in their droves for the opening weekend of Minions: The Rise Of Gru, taking it to the top of this week's UK-Ireland box office chart.
The Universal title, directed by Kyle Balda, Brad Ableson, Jonathan Del Val and featuring the voices of Steve Carell and Taraji P. Henson, took £10.4m from 637 locations, averaging £16,327 per site. It was Universal's widest ever UK-Ireland opening for an animation title.
Supervillain Gru's origin story has comfortably beaten last month's big animation release from Disney, Lightyear, which opened to just over £3.7m from 654 sites, for an average of £5,685.
However, it hasn't quite matched up to the first Minions film, which took £11.6m from 573 sites in its opening weekend. Its franchise stablemate Despicable Me 3 took £11.14m from 612 sites in 2017.
Warner Bros' Baz Luhrmann-directed music biopic Elvis slips to second place in its second session, taking £3m. Its cumulative figure is now £10.2m.
Paramount's Top Gun Maverick added £2.7m in its sixth weekend, down 22% on its previous session. Its cumulative total now stands at £68m, making it the 16th highest grossing film of all time at the UK-Ireland box office, above Rogue One: A Star Wars Story at £66m and Toy Story 4 at £66.2m.
Jurassic World Dominion took £1.8m in its fourth weekend for Universal, with its cumulative figure now standing at £30.4m.
In its third weekend, Disney's Lightyear took £863,720, down 62% on the previous weekend, with a total now of £8.5m.
Horror The Black Phone brought in £576,251 in its second weekend for Universal, with an overall figure of £2.6m.
In its third weekend, Lionsgate's Good Luck To You, Leo Grande brought in £69,662. Its overall figure now stands at £747,482.
Daniel Kwan and Daniel Scheinert's Everything Everywhere All At Once took £57,549 in its eighth weekend. The A24 title's overall figure is now just shy of £5m.
Dartmouth Films' documentary Eric Ravilious: Drawn To War, which explores the life of the British war artist who was killed in a plane crash in 1942, took £22,418 from 20 sites, averaging £1,121. With the addition of £7,848 from previews, its total sits at £30,266.
Paramount's Sonic The Hedgehog 2 grossed £21,900, down 66% on the previous weekend. Its cumulative after an impressive 14-week run is £26.7m.
Picturehouse's Cannes title Nitram opened to £20,750 from 59 sites, averaging £352. Including previews, its total stands at £42,000. The Cannes premiere is directed by Justin Kurzel and examines the deadliest shooting in Australian history, when in 1996 35 people were killed in Tasmanian town, Port Arthur. Caleb Landry Jones leads, a role for which he won the best actor award at Cannes 2021.
In its ninth weekend, Disney's Doctor Strange In The Multiverse Of Madness has taken £17,781, a 64% drop, with an overall figure now of £42.1m.
Universal's animation The Bad Guys has £19,675 from its 14th weekend, with a total now of £13.4m.
Altitude's Princess Diana archival documentary The Princess took £3,430 from 18 sites, for an £191 average, and a total of £10,957 when factoring in previews. It is directed by Ed Perkins.
Takayuki Hirao's animation Pompo: The Cinephile, adapted from a manga series and released by Anime Ltd, debuted with £1,140 from 14 locations in its opening weekend, to a site average of £81. The total is plumped up by £9,683 from previews at 64 locations and festival screenings, to an overall figure of £11,562.
Ronnie Sandahl's Tigers, based on a true story about a promising young Swedish footballer, opened to £969 from 10 sites for Studio Soho Distribution in its first weekend, averaging £97. Previews brings the figure up to £1,503.
Verve Pictures played Larry Achiampong's first feature Wayfinder at three sites, taking £427, for a site average of £142.
Re-releases
Studiocanal released Lionel Jeffries' 1970 classic The Railway Children at 324 sites on Sunday (July 3), ahead of the upcoming sequel The Railway Children Return, which Studiocanal is releasing in UK cinemas on July 15. The Railway Children took £14,464 from 324 sites, giving a site average of £45.
Curzon's retrospective of German filmmaker and Cannes Palme d'Or winner Wim Wenders saw Alice In The Cities take £749 from five locations for a site average of £150; Buena Vista Social Club took £737 from three locations for an average of £246 and Kings Of The Road took £235 from two sites, averaging £118. Wings Of Desire add £7,781 in its second weekend, with a cumulative now of £42,495.