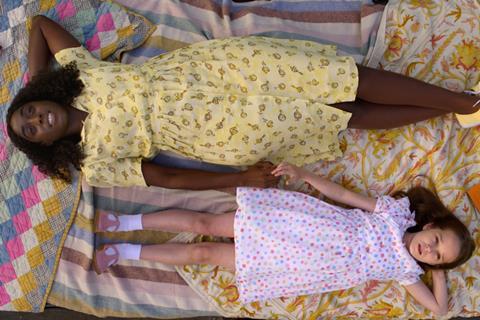 | | | | | |
| --- | --- | --- | --- | --- |
| Rank | Film (distributor) | Three-day gross (Dec 2-4) | Total gross to date | Week |
| 1. | Roald Dahl's Matilda The Musical (Sony) | £2.5m | £7.8m | 2 |
| 2. | Black Panther: Wakanda Forever (Disney) | £1.5m | £29.5 | 4 |
| 3. | Violent Night (Universal) | £822,352 | £822,352 | 1 |
| 4. | Strange World (Disney) | £442,409 | £1.4m | 2 |
| 5. | The Menu (Disney) | £334,067 | £2.6m | 3 |
GBP to USD conversion rate: 1.23
Roald Dahl's Matilda The Musical continues its run of box office joy in the UK and Ireland, topping the chart once again with £2.5m from the weekend.
The Matthew Warchus-directed musical drama, distributed in the territory by Sony, now boasts an overall total of £7.8m, after two weekends out in cinemas.
Disney's Black Panther: Wakanda Forever grossed £1.5m in its fourth weekend, a 44% drop on the previous weekend, for a cumulative figure of £29.5m.
Universal's Violent Night snapped up £822,352 in its first weekend from 581 sites, for an average of £1,415. It is the only new release to make it into this week's top five chart.
Tommy Wirkola's off-the-rails Christmas story sees Stranger Things star David Harbour play Kris Kringle who is put to the ultimate test one Christmas Eve, with John Leguizamo as the leader of a group of dangerous mercenaries who take a rich family. 87North Productions – the outfit behind John Wick – have produced.
Disney animation Strange World, now on its second session, brought in £442,409, down 38% on its opening weekend, for a total of £1.4m.
The Menu's third weekend saw £334,067 grossed for Disney, down 23% on its earlier session, for an overall figure of £2.6m.
Fresh from its triumph at the British Independent Film Awards (Bifas), where Aftersun won seven awards, the Cannes title took £101,627 in its third weekend for Mubi. The drama's overall figure is £679,561.
The Banshees Of Inisherin's seventh weekend brought in £100,876 for Disney, down 13% on its prior session, and bringing its total up to £8.7m.
In its second weekend, Universal's She Said took £199,789, down 43% from its opening weekend. The Maria Schrader-directed drama, based on the New York Times reporters who broke the Harvey Weinstein story, hasn't quite crossed the £1m total mark yet, with its cumulative figure standing at £941,741.
Bones And All brought in £95,936 for Warner Bros in its second session – its total is £586,996.
Lionsgate's Living brought in £93,536 in its fifth weekend, for an overall sum of £3.3m.
Black Adam's seventh weekend for Warner Bros grossed £91,728, now totalling £19.8m.
Modern Films' CBeebies Christmas Panto: Dick Whittington And His Cat was the second widest of the weekend, playing at 447 locations, and grossing £79,573, for a location average of £178. Top performing sites were Storyhouse Chester, Regal Melton Mowbray and Saffron Screen Saffron Walden.
Ruben Ostlund's Cannes Palme d'Or winner Triangle Of Sadness grossed £45,079 in its sixth weekend, with a total now standing at just shy of £1.4m.
Trafalgar Releasing had its documentary about Canadian-US musician Neil Young, Neil Young: Harvest Time, in 75 venues, scoring £32,264, for a site average of £430, and a total of £73,910 including pre-weekend showings. NCT Dream The Movie: In A Dream also had its debut weekend at 54 sites – a concert film following South Korean boyband NCT – that grossed £26,085 across 54 venues, to an average of £483, and a cumulative total of £44,402.
Moviegoers Entertainment continues its respectable box office run with Pakistani Punjabi-language action drama The Legend Of Maula Jatt taking £21,718 in its eighth weekend – an improvement from its seventh weekend takings of £12,661, owing to the release of an uncut 18-rated version. Its total now stands at £1.4m.
Paramount's thriller The Infernal Machine took £16,500 from 170 sites in its opening weekend, for a location average of £98. Andrew Hunt directs the story about Bruce Cogburn, a reclusive and controversial author who is drawn out of hiding by an obsessive fan, with a cast of Guy Pearce, Alice Eve and Alex Pettyfer.
Hindi-language Bollywood title An Action Hero took £15,860 in its debut outing for DJ Tech. Anirudh Iyer directs.
Belgian duo the Dardenne brothers' (The Kid With The Bike,Young Ahmed) widest-ever UK-Ireland release Tori And Lokita brought in £14,055 from 57 sites for Picturehouse, averaging £247. The Cannes premiere is set in Belgium, where a young boy Tori and adolescent girl Lokita try to survive after making the long journey alone from Africa. Including previews, the total is boosted to £25,250.
Sony's Sundance premiere Summering from Master Of None director James Ponsoldt follows four pre-teen girls grappling with the discovery of a dead body in an American suburb. It took £2,100 from 104 sites, for an average of £20. This figure is plumped up from previews to £5,400.
Seasonal re-releases
Warner Bros played Casablanca at 371 sites across the UK and Ireland, for a total of £24,723, and an average of £67. BFI Distribution's re-release of Ingmar Bergman's 1982 period drama Fanny And Alexander took £2,725 from three sites in its debut weekend, for a strong location average of £908. Park Circus took £69,291 with its 30th anniversary re-release of The Muppet Christmas Carol from 339 sites, for an average of £204.
Documentary debuts
Irish filmmaker Luke McManus has directed, produced (with Elaine Gallagher) and self-distributed (with Robert Finn from Ireland's Break Out Pictures acting as a consultant) North Circular, exploring the people and music of Dublin's North Circular Road, reporting £11,631 from five sites on the island of Ireland, averaging a strong £2,326.
Seventh Art Distribution took £5,979 this weekend for Phil Grabsky's documentary Cezanne: Portraits Of A Life, averaging £332 from 18 sites. The total gross since the film's November 29 debut is £33,646.
Screenbound's motorsport documentary NW200 – The Real Road Race played at six sites, all in Northern Ireland, taking £5,475, for a location average of £912.
Holocaust feature Three Minutes: A Lengthening, based on a home movie shot by David Kurtz in 1938, from which director Bianca Stigter recreates the story of a lost Jewish community in Poland before the Second World War, took £2,729 for Curzon, averaging £136 from 20 sites. Including previews, its cumulative total is £9,866.
Other documentaries that made their box office debut this weekend are Dogwoof's Lynch/Oz, that played in eight sites and examines the enduring influence of Victor Fleming's The Wizard Of Oz on the work of Twin Peaks and Mulholland Drive director David Lynch.
Further holdovers
Hindi-language crime thriller Drishyam 2's third weekend took £30,691 for Yash Raj Films, with an overall figure of £353,228.
Lionsgate horror Prey For The Devil did £17,267 in its sixth weekend, for a total figure of £2.3m.
Universal's animation Minions: The Rise Of Gru carries on with £11,111 in takings in its 23rd weekend, with a total of £46.8m.
Paramount's horror Smile took £10,600 in its 10th weekend, for an overall sum of £11.7m.
Signature's dark comedy Three Day Millionaire took £2,332 from four sites in its second weekend, with bringing its total up to £20,137.
Conic's Utama – Bolivia's international Oscar feature contender – took £916 from four sites, for an average of £229. The total across its two sessions is £3,744.
Further titles that have not reported figures but were new out this weekend are Netflix's White Noise directed by Noah Baumbach and adapted from the 1985 novel of the same name by Don DeLillo; Japanese anime film Goodbye, Don Glees! which played at 60 sites for Anime Ltd; Munro Film's Tribeca comedy India Sweets And Spices, directed by Geeta Malik at 95 spots; and mystery horror Dawn Breaks Behind The Eyes, distributed by Fractured Visions.