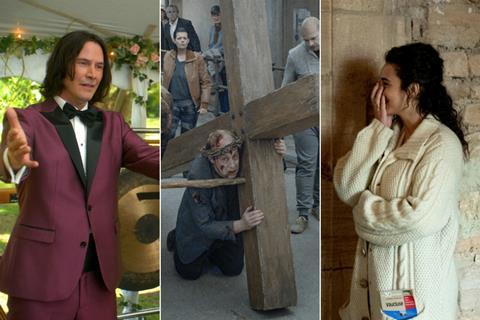 France, opening Wednesday, September 16
Two French Cannes 2020 titles were the biggest openers in France this week. Caroline Vignal's comedy-drama My Lover, My Donkey & I opened on around 460 copies for Diaphana Distribution. This second feature for Vignal stars the popular actress as a school teacher who sets off on a donkey trekking holiday in hot pursuit of her secret lover.
Emmanuel Mouret's contemporary love-triangle drama Love Affair(s) also launched on around 460 copies for Pyramide Distribution. Camelia Jordana co-stars opposite Niels Schneider and Vincent Macaigne as a pregnant young woman who gets unintentionally close to her partner's cousin, when the former bails out of a joint trip due to work.
Further key releases included French drama J'irai mourir dans les Carpates (which translates as 'I will die in the Carpathian Mountains') on around 300 copies for Apollo Films. It revolves around a TV editor who goes in search of her correspondent colleague when he goes missing in the mountains.
The other big release of the week was A Night At The Louvre: Leonardo De Vinci on around 300 copies for Pathé Live. The work takes the audience on a night-time tour of the France's world-famous Louvre museum.
Germany, opening Thursday, September 17
Warner Bros local co-production of Maggie Peren's rom-com Hello Again – Ein Tag wie immer, which premiered in August during Filmfest München's pop-up drive-in programme, is the only release from a US major this week.
The King's Man, the latest instalment in the Kingsman franchise, was originally scheduled to open in Germany today; the Disney title has a new release date of 25 February, 2021.
Roy Andersson's Venice 2019 best director winner About Endlessness opens for Neue Visionen, six months after its original planned release date of 19 March. Prokino is launching Benedict Andrews' Kristen Stewart-starring biopic of the actress Jean Seberg biopic, Seberg, which was supposed to open on 26 March.
Other films opening this week include German filmmaker Melanie Waelde's debut feature Naked Animals (Déjà-Vu Film), which had premiered in the Berlinale's new Encounters sidebar; Rod Lurie's Afghanistan-set war drama The Outpost (Telepool); and Frederike Migom's children's film Binti (Sächsischer Kinder- und Jugendfilmdienst).
Also in cinemas are Nicola Alice Hens' documentary Chicinette – The Accidental Spy (Missing Films), the untold story of a feisty young woman joining the French resistance against the Nazis; and Swiss documentarian Thomas Horat's exploration of man and wolf potentially co-existing in harmony in Wolves Return (Mythenfilm).
Italy, opening Thursday, September 17
Venice competition drama Miss Marx, directed by Susanna Nicchiarelli, is coming to theatres through 01 Distribution. The company is also releasing Laika's animation film Missing Link.
Lucky Red is distributing French comedy The Best Is Yet To Come, starring Fabrice Luchini and directed by Alexandre de la Patellière and Matthieu Delaporte.
Late summer horror title Jack In The Box is released by Adler Entertainment. The low-budget British feature is the second film by Lawrence Fowler.
I Wonder is bringing La piazza della mia città - Lo Stato Sociale to cinemas - a documentary concert about the music band Lo Stato Sociale and their relationship with the city of Bologna.
After Lucky Red released Lanthimos' Dogtooth, Phoenix International is doing the same with Alps, another movie from the Greek director which hadn't been previously released in Italy.
Draka Distribution is releasing the biopic Gauguin - Voyage de Tahiti by Edouard Deluc.
UK, opening Friday, September 18
Altitude's Rocks, directed by Sarah Gavron, is a key opener at the UK and Ireland box office this weekend. Produced by Fable Pictures' Faye Ward and Screen Star of Tomorrow 2018 Ameenah Ayub Allen, the film depicts a young teenage girl who struggles to take care of her younger brother after their single mother abandons them. She finds support and happiness in a close group of friends.
The production employed an extensive casting search across schools in London to fill its main roles, including workshops that brought the performers into the development process.
Three weeks after Tenet landed in cinemas, Warner Bros is back with Bill And Ted Face The Music. Keanu Reeves and Alex Winter return as the titular friends who must write a song to unite humanity before time and space are destroyed.
Trinity Film/CineAsia is distributing Chinese war drama The Eight Hundred in 59 locations, including 9 Imax venues. The film topped the Chinese box office on release last month with £87m, holding off Tenet in its second week and maintaining second place behind Mulan last time around. It had grossed £303m worldwide as of last weekend.
Several of the 12 new titles in UK and Ireland cinemas this weekend are independent releases, including Nathalie Biancheri's Nocturnal starring Cosmo Jarvis (10 locations through Wildcard Distribution); and Greta Bellamacina's Hurt By Paradise (eight sites through Miracle Comms).
Modern Films is distributing Rubika Shah's documentary White Riot, about the Rock Against Racism movement, in 32 locations, expanding to 54 across its first week. It debuted at the BFI London Film Festival last year, subsequently playing the Berlinale, cph:dox, and Glasgow among others.
Following the success of Trafalgar Releasing's Break The Silence: The Movie last weekend, event cinema titles include André Rieux's Magical Maastricht: Together In Music today (Friday 18) through Piece Of Magic; Night At The Louvre: Leonardo Da Vinci on Wednesday 16 through More2Screen; and VE Day 75 Live on Sunday 20 through Cinevents.