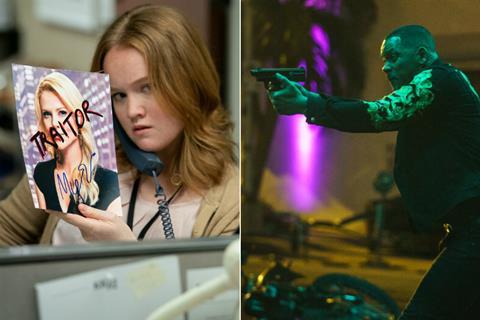 Awards contender Bombshell goes up against franchise reboot Bad Boys For Life at the UK box office this weekend.
Released through Lionsgate, Bombshell tells the true story of several women at Fox News who exposed former CEO Roger Ailes for multiple cases of sexual harassment in 2016.
The film stars Charlize Theron as Fox News anchor Megyn Kelly, with Nicole Kidman as fellow host Gretchen Carlson and Margot Robbie as a young producer at the network who is a composite of several people.
Directed by Jay Roach, Bombshell has garnered significant awards attention, especially for Theron and Robbie. The pair both have Oscar and Bafta nominations – Theron in lead actress, Robbie in supporting – with a third nomination at both ceremonies for Anne Morgan, Vivian Baker and Kazu Hiro for best make up/hair.
Theron is also a producer on the film through her Denver and Delilah Productions, and brought fellow producers BRON Studios on board when Annapurna Pictures dropped out shortly before the start of shooting.
She previously produced through her company and starred in 2019 comedy Long Shot (opened: £815,049, closed: £2.4m); 2018 comedy-drama Tully (opened: £138,559, closed: £616,597); action-comedy Gringo (opened £226,129, closed: £436,287); and 2017 action-thriller Atomic Blonde (opened: £1.1m, closed: £3.8m).
Further projects she has starred in through Denver and Delilah include 2015 mystery Dark Places (opened: £625, closed: £1,316); 2012 comedy-drama Young Adult (opened: £137,736, closed: £433,713); 2008 drama Sleepwalking; and 2004's Monster (opened: £320,983, closed: £2.5m), for which she won best actress.
Roach made his name directing a series of successful comedies in the late 1990s and early 2000s, the highest-grossing of which was 2004 sequel Meet The Fockers, which opened to £7.9m and ended on £28.9m. He also had hits with 1999's Austin Powers: The Spy Who Shagged Me (total gross: £25.8m); 2002's Austin Powers In Goldmember (£23.4m); and 2000's Meet The Parents (£15.5m).
Robbie's highest-grossing title in which she has appeared on-screen is 2016's Suicide Squad with £33.6m; she was in the voice cast of animation Peter Rabbit, which hit £41.1m in 2018.
Now entering its fifth decade, Kidman's career has produced hits including 1995's Batman Forever (£20.2m) and 2001's Moulin Rouge (£18.5m), with her highest-grossing film being 2014's Paddington (£37.9m).
The combination of the three actors' star power and awards buzz, plus Roach's box office pedigree, suggests Bombshell should outstrip Theron's previous producer/star efforts.
Bad for good?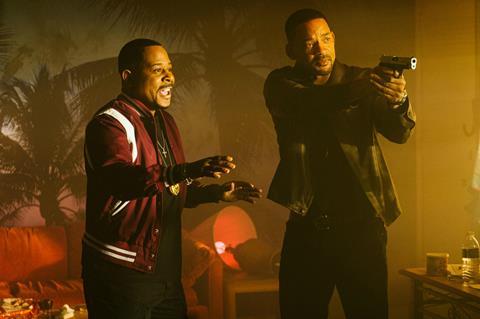 Sony is releasing action title Bad Boys For Life starring Will Smith and Martin Lawrence as the detectives who reunite to bring down a mysterious assassin.
The franchise returns after a substantial 17-year hiatus. First title Bad Boys opened to £866,215 in 1995, closing on £5.1m; while sequel Bad Boys II started with £3.2m and closed on £8.7m in 2003.
These results, especially that of the second film, were down in comparison to its North American performance, which stood at $65.8m and $138.6m respectively.
A further three dramas which have featured in the awards conversation all hit cinemas this weekend.
Just Mercy, Destin Daniel Cretton's film about civil rights defence attorney Bryan Stevenson's attempt to free a wrongly-condemned death row prisoner, opens through Warner Bros, after premiering in Toronto last September. Michael B. Jordan and Jamie Foxx star.
Cretton's second feature Short Term 12 (opened: £12,294, closed: £38,891) was a launchpad for lead Brie Larson, who also led his next film The Glass Castle (opened: £49,425, closed: £109,410) and has a supporting role in Just Mercy.
Universal is distributing another Toronto 2019 premiere, Trey Edward Shults's Waves, a drama about the dynamics in a middle-class African American family. US company A24 produced the film and distributed it in North America; it previously worked on Shults' earlier features Krisha in 2015 and It Comes At Night (opened: £226,041, closed: £615,237) in 2017.
Shults cut his teeth as an intern and then film loader for Terrence Malick; the renowned auteur's latest feature A Hidden Life also comes out this weekend through Disney. The film debuted in Competition at Cannes 2019, and depicts the life of Franz Jägerstätter, an Austrian farmer and devout Catholic who refused to fight for the Nazis in World War Two.
Malick has now made six features in the last eight years since 2011's The Tree Of Life grossed £1.8m from a £406,062 start. This is a change of pace for the director, who had made just two features in the 23 years prior to that.
Dogwoof is distributing Hassan Fazili's Midnight Traveller, a documentary following the filmmaker fleeing from the Taliban with his family.
Also in the doc realm, Modern Films has Pamela B. Green's Be Natural: The Untold Story Of Alice Guy-Blaché, about the pioneering filmmaker recognised as the first woman to direct a film.
National Amusements has anime Weathering With You from Japanese filmmaker Makoto Shinkai, who scored a hit with Your Name in 2016, making £610,975 from a start of just £22,274.
Three Bollywood titles also hit cinemas this weekend: Jai Mummy Di from Yash Raj Films, and Ala Vykuntapurram Loo and Darbar from independent distributors.
There is a strong slate of holdovers also challenging for box office space.
1917 opened strongly with £7.3m last time out, and will look to keep top spot. By way of comparison, Christopher Nolan's World War Two feature Dunkirk held well on its second weekend, falling just 18% in July 2017. A similar fall for 1917 would give it a £6m second session, most likely enough for another weekend on top.
Little Women is also playing well at £13.2m after three weekends; while blockbusters Star Wars: The Rise Of Skywalker and Jumanji: The Next Level will look to lengthen their tails.