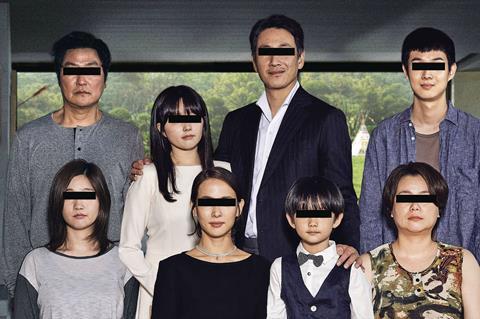 The long-awaited arrival of Bong Joon Ho's Parasite is the story to watch at the UK box office this weekend.
It grossed £205,000 from 156 sites on Monday, through a Q&A which was live-streamed to venues around the country. This placed it at number two on the chart on that day, behind only Bafta champion1917.
With other previews, the film is at £310,754 going into its first full weekend in UK cinemas. It will open on 136 screens, a sizeable number for a non-English language film, with Curzon in partnership with Studiocanal on the release.
The film was acquired by Curzon in a deal announced exclusively by Screen on the day of its world premiere at Cannes Film Festival in May 2019.
Parasite went on to win the Palme d'Or, as well as Screen's Cannes jury grid. Curzon then declared in October last year that it would be giving the title the full 16-week theatrical window in the UK, in a break from its usual model of day-and-date releasing via Curzon Home Cinema.
It centres on the unemployed Kim family who ingratiate themselves into the lives of the wealthy Parks, taking over their house piece by piece.
The UK is one of the last territories to screen the film. It opened in Bong's native South Korea on May 30, days after its Cannes launch. France followed on June 5, with Germany on October 17, Italy on November 7, and a wide release in the US on November 8 (it was limited from October 11).
Most of those territories have produced excellent results. South Korea set the tone with a stunning $38.5m (£29.8m) and 5.4m admissions in its first week. Returning to select cinemas for awards season, it currently sits on $77.3m (£55.9m).
The film is the highest-grossing non-English language Palme d'Or winner in the US, currently at $33.2m (£25.7m) and still in cinemas after four months on release.
It pulled in $2.8m (£2.2m) on its first weekend in France on its way to $12m (£9.3m).
While a cause of consternation for UK cinephiles, the delayed release date to coincide with the awards peak could pay off for Curzon.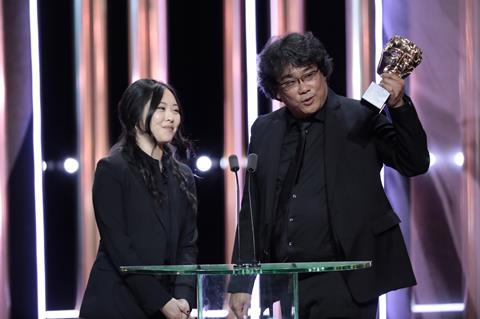 A strong UK showing may push the film close to another landmark, of highest-grossing Palme d'Or winner of all time. That accolade currently belongs to Michael Moore's 2004 documentary Fahrenheit 9/11 with $222m worldwide (£171.6m); Parasite stands on $165.4m (£127.9m).
The highest-grossing non-English language title of all time in the UK is Mel Gibson's 2004 The Passion Of The Christ (dialogue in Aramaic, Latin and Hebrew), which took £11.1m.
Other openers
A potential threat to Parasite's success is the number of strong titles opening or already at the box office.
Warner Bros is launching Birds Of Prey, the latest DC comics adaptation, starring Margot Robbie as maverick superhero Harley Quinn.
The film is the second directorial feature from Cathy Yan, following 2018's Dead Pigs; and the eighth entry in the DC Extended Universe.
The highest-grossing title in that selection is Batman v Superman: Dawn of Justice, which opened to £14.6m in March 2016, going on to £36.6m.
Suicide Squad, which also features Robbie as Quinn, opened to £11.3m in August 2016, totalling £33.6m.
It will be of some concern to Warner Bros that none of the four titles since then have approached that mark; the aim will be for Robbie's star power, plus the female focus in a male-dominated genre, to bring success.
Universal is launching Dolittle, starring Robert Downey Jr. as the titular doctor who can talk to animals, and with a voice cast including Emma Thompson, Rami Malek, Ralph Fiennes, John Cena, Kumail Nanjiani, Octavia Spencer, Craig Robinson, Marion Cotillard, Selena Gomez, Frances de la Tour, and Screen Star of Tomorrow 2012 Tom Holland.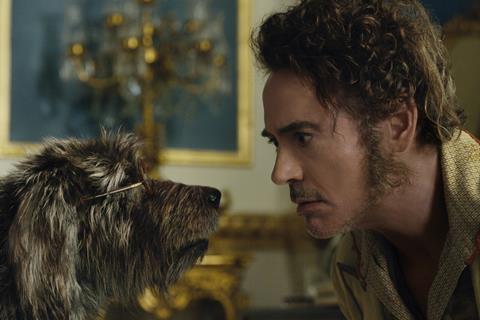 The Dr. Dolittle character comes from a novel series by Hugh Lofting, the first of which was published in 1920. The first film adaptation arrived in 1967 with Rex Harrison in the title role; Eddie Murphy then took it on in 1998 with Doctor Dolittle, which opened to £3m and ended on a decent £19.9m. A 2001 sequel also starring Murphy made £8.9m, while the series petered out with three further straight-to-video/DVD entries.
As Iron Man in the Avengers films, Downey Jr. brought a series of hits in both his character's outings and as the lead in ensemble titles (highest-grossing: 2018's Avengers: Endgame with £88.7m). Universal will hope his consistent draw and the star power of the voice cast can overcome some lukewarm reviews.
Disney is debuting a title from its 20th Century arm – William Eubank's aquatic horror Underwater starring Kristen Stewart. It is a sizeable step-up for Eubank, who started out as a cinematographer before directing two features: 2012's Love (gross: £4,565) and 2015's The Signal (£10,482).
Signature Entertainment has Agnieszka Holland's biographical thriller Mr. Jones, starring Screen Star of Tomorrow 2013 James Norton as the Welsh journalist who broke the news of the famine in the Soviet Union to western media in the 1930s.
The film launched in Competition at Berlin 2019 before an extensive festival run throughout last year. It comes at a strong time for Norton; as well as roles in awards contender Little Women and BBC drama The Trial Of Christine Keeler, he is currently the bookmaker's favourite to take over from Daniel Craig as James Bond.
Vertigo is releasing Jeff Chan and Andrew Rhymer's rom-com Plus One, about two single friends who agree to be each other's guest at every wedding they have been invited to one summer.
Elsewhere, Arrow Films has horror Daniel Isn't Real and a re-release of Alejandro Jodorowsky's 1968 Fando And Lis; BFI Distribution is re-releasing Elia Kazan's 1951 classic A Streetcar Named Desire starring Vivien Leigh and Marlon Brando; while Yash Raj Films has Bollywood action romance Malang – Unleash The Madness.
There is also a strong slate of holdovers, led by four-time chart-topper1917, which had passed £31m as of last weekend.
Sony has Bad Boys For Life, Little Women, Jumanji: The Next Level and A Beautiful Day In The Neighborhood all in cinemas; while Lionsgate's The Personal History Of David Copperfield holds a top five spot after two weekends.