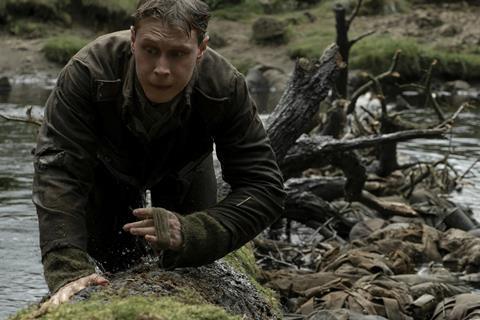 | Rank | Film (Distributor) | Three-day gross (Feb 1-3) | Total gross to date | Week |
| --- | --- | --- | --- | --- |
| 1 | 1917 (eOne) | £2.8m | £31.4m | 4 |
| 2 | Bad Boys For Life (Sony) | £1.9m | £11.3m | 3 |
| 3 | The Personal History Of David Copperfield (Lionsgate) | £1m | £3.7m | 2 |
| 4 | Little Women (Sony) | £651,000 | £19.9m | 7 |
| 5 | The Gentlemen (Entertainment Film Distributors) | £597,494 | £10.4m | 5 |
GBP to USD conversion rate: 1.31

eOne
Sam Mendes' First World War epic 1917 has topped the UK box office for a fourth consecutive session, on the weekend when it dominated the Bafta film awards with seven prizes.
Distributed by eOne, the film made £2.8m from Friday to Sunday, a drop of 38% on its previous session, to take it to £31.4m overall.
This did mark the film's biggest week-on-week drop so far. However it has only dropped an average of 26.9% per week, an excellent result compared to the 50% standard drop for many titles.
It is now approaching the top 100 highest-grossing titles of all time in the UK; its strong Bafta showing and the potential for further glory at the Oscars next weekend should continue its tail well into February.
Queen And Slim starring Daniel Kaluuya and Jodie Turner-Smith opened to £507,327 from 357 locations, a reasonable £1,421 average.
The Turning added £4,584 on its second weekend - a 95.6% drop - and has £171,516 in total.
Sony
Sony continues its excellent start to 2020. Its current slate was led by Bad Boys For Life, which fell just 33% on its third session with £1.9m taking it to £11.3m total. It is now the highest-grossing of the Bad Boys films, beyond the £8.7m of 2003's Bad Boys II.
Little Women held well again on its sixth session, falling 34.9% with £651,000 bringing it to £19.9m; it will pass the £20m barrier in the next couple of days.
Jumanji: The Next Level dropped 36% on its eighth weekend, with £593,000 taking it to £34.3m. It will most likely end slightly short of 2017 release Jumanji: Welcome To The Jungle but is still providing a strong result for Sony.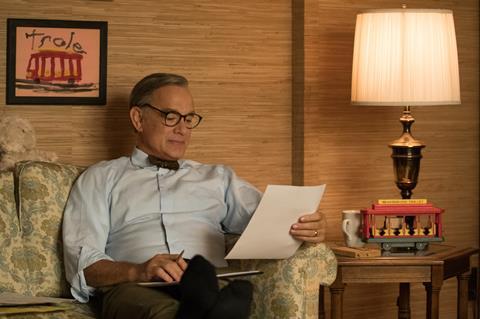 Marielle Heller's A Beautiful Day In The Neighborhood brought in £471,000 from 467 locations on opening for a £1,009 average. With special preview screenings, it has £491,000.
Horror The Grudge dropped 61% on its second weekend, with £180,000 taking it to £884,000.
Lionsgate
The Personal History Of David Copperfield fell a slim 30% on its second weekend, with £1m taking it to £3.7m total.
Bombshell added £123,771 for £1.9m after three weekends; while Knives Out put on £48,544 for £12.9m after 10 sessions.
Entertainment Film Distributors
The Gentlemen added £597,494 to its total, a 32.9% drop, which brings it to £10.4m after five weekends.
Magnetes Pictures
Polish crime drama Psy 3: W Imie Zasad made an excellent start this weekend, taking £407,435 from 172 locations for a £2,369 average. Its result is all the more impressive given its 15 rating and the presence of other Polish-language fare in cinemas.
Trafalgar Releasing
The event release of Met Opera: Porgy & Bess grossed £360,200 in the UK on Saturday, February 1. Encores on Sunday brought it to £368,103, while the total takings including Ireland are £400,508.
Paramount
Paw Patrol: Ready Race Rescue dropped just 27% on its first session, with £353,000 taking it to £929,000 in total.
Reed Morano's drama The Rhythm Section starring Blake Lively disappointed with £172,000 from 406 locations, an average of just £424.
Playing With Fire dropped 52.4% on its sixth session, with £58,000 taking it to £2.8m total.
Disney
Spies In Disguise was the highest-grossing of Disney's holdovers, falling 36% on its sixth session with £326,044 taking it to £6.7m cume.
On the weekend when Taika Waititi won the Bafta for best adapted screenplay, Jojo Rabbit added £296,896 on its fifth weekend, a 41% fall which took it to £6.8m total.
Frozen II was Disney's best performer, falling 34% with £264,837 taking it to £52.7m after 11 weekends.
Star Wars: The Rise Of Skywalker dropped 55% on its seventh session, with £244,141 bringing it to £57.8m total. It will finish as the fourth highest-grossing Star Wars title, behind The Force Awakens, The Last Jedi and Rogue One.
Panga dropped 80% with £8,397 taking it to £66,903.
Universal
Robert Eggers' black and white psychological horror The Lighthouse garnered £309,373 on its opening weekend from just 83 locations for a £3,727 location average.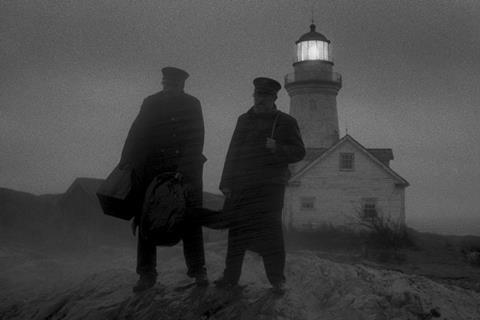 With previews, the film grossed £382,243. This is not far behind the £436,598 opening of Eggers' debut The Witch in 2016, which debuted in more than double the number of sites (180) for a £2,490 average.
Cats, the subject of several jokes from cast member Rebel Wilson at last night's Baftas, is up to £11.9m after seven weekends.
Phoenix Productions
Jak Zostalem Gangsterem opened to £224,687 from 255 locations, an £881 location average.
Warner Bros
Clint Eastwood's Richard Jewell opened to £134,000 from 321 locations, bringing in a low £417 per site. With previews, the film has £158,000.
Just Mercy dropped 63.6% on its third weekend, with £94,000 taking it to £1.1m.
National Amusements
Makoto Shinkai's Weathering With You grossed £19,907 on its third weekend and now has £506,830. Barring a resurgence in coming days, it will fall slightly short of Shinkai's 2016 global hit Your Name, which made £610,975.
Sparky Pictures
Terry Gilliam's long-delayed The Man Who Killed Don Quixote finally had its official UK release, after debuting at Cannes in 2018.
It took £1,250 from 10 locations; the film previously played as an event release on January 23, making £30,000, and has a £68,000 total box office to date. It will roll out across further indie venues in the coming weeks.