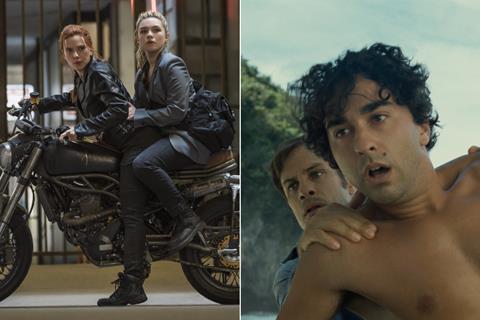 | Rank | Film (Distributor) | Three-day gross (July 23-25) | Total gross to date | Week |
| --- | --- | --- | --- | --- |
| 1 | Black Widow (Disney) | £1.41m | £13.8m | 3 |
| 2 | Space Jam: A New Legacy (Warner Bros) | £1.4m | £3.6m | 2 |
| 3 | The Croods 2: A New Age (Universal) | £875,622 | £2.1m | 2 |
| 4 | Old (Universal) | £866,860 | £866,860 | 1 |
| 5 | The Forever Purge (Universal) | £598,803 | £1.8m | 2 |
GBP to USD conversion rate: 1.38
Black Widow held top spot at the UK-Ireland box office for a third consecutive session, as M. Night Shyamalan's Old fell below the £1m mark on its opening weekend.
Disney's latest Marvel title posted a good hold, falling just 22% with £1.41m. Black Widow now has £13.8m after three weekends, and while it won't get near the stellar grosses of single-character titles Black Panther (£50.6m), Spider-Man: Far From Home (£37.3m) or Iron Man 3 (£37m), it has passed the totals of The Incredible Hulk (£8.3m) and Captain America: The First Avenger (£10.4m), and is coming up on Thor (£14m).
Cinemas benefitted from weather that was significantly wetter than the previous weekend across much of the UK and Ireland, with several films increasing their result from the previous session.
Takings for the top five stood at £5.14m, up 2.8% from last weekend.
These included Warner Bros' Space Jam: A New Legacy in second place, up 2.5% on its opening weekend with £1.397m. The film has £3.6m after two sessions; it is chasing the £11.7m total of the first film from 1997.
Old came in fourth place on its first weekend for Universal, with £866,860 from 567 locations, at an average of £1,529.
This is down on the openings of director Shyamalan's recent films, including Glass (opened: £3.4m from 559, closed: £11m) and Split (opened: £2.6m from 455, closed £11.4m).
The Croods 2: A New Age, another Universal title, saw an impressive 25.8% increase for third spot, boosted both by the poor weather and the start of school holidays for all schools across the UK and Ireland (many schools started holidays in previous weeks).
The animation took £875,622 this session and is up to £2.05m from two weekends. It won't reach the £26.9m of the 2013 first film in the UK and Ireland, but in the post-pandemic era this increase is still welcome news for Universal.
Also for Universal, horror franchise title The Forever Purge dropped 14.7% on its opening weekend, with £598,803 taking it to £1.8m after two weekends. It is chasing the £2.3m of 2016's The Purge: Election Year, plus £3.4m of 2013 first film The Purge, £4.6m of 2014's The Purge: Anarchy, and £6m of 2018's The First Purge.
The studio's slate is rounded out by Fast & Furious 9, which slipped a slim 2% with £436,809 taking it to £14.9m after five sessions. It is now the sixth highest-grossing of 10 Fast & Furious titles to date, with 2011's Fast & Furious 5 next ahead with £18.5m.
Peter Rabbit 2 leaps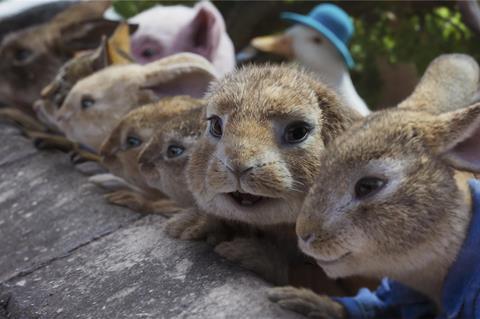 For Sony, Escape Room: Tournament Of Champions dropped 33.6% with £174,000 bringing it to £671,000 from two weekends. Peter Rabbit 2 shot up a huge 79%, with £159,000 at the weekend taking it to £18.9m. There was less good news for Mona Fastvold's The World To Come, however, which opened to £12,400 from 104 locations at an average of just £119.
For Paramount, A Quiet Place: Part II dropped a slim 6.9% with £85,000 taking it to £11.4m from eight weekends, close to the £12.1m made by the 2018 first film.
Munro Films opened friendship drama Off The Rails to £75,305 from 327 locations, at an average of £230. Including previews the film has £80,598.
Warner Bros' slate also includes Lin-Manuel Miranda-created musical In The Heights, which dropped just 4.2% with £66,089 taking it to £4.3m from six weekends; and The Conjuring 3: The Devil Made Me Do It, falling 17.8% with £40,256 bringing it to £9.37m.
Elsewhere for Disney, Cruella saw a strong 25% rise on its ninth weekend, with £64,000 taking it to £9.15m total. The studio also had the second weekend of Summer Of Soul (…Or, When The Revolution Could Not Be Televised), which dropped just 8% on its second session, with £46,000 taking it to £168,000.
Studiocanal's Oscar best international feature film winner Another Round dropped just 6% including a 22% increase on Sunday, with £40,358 taking it to £647,750 in total after four weekends.
The Hitman's Wife's Bodyguard went up 8.4% for Lionsgate, with £37,497 bringing it to £3.7m total.
For Vertigo Films, Riders Of Justice starring Mads Mikkelsen opened to £21,551 from 58 locations, with £25,434 including previews at an average of £439.
Philippe Lacôte's Ivorian Oscar entry Night Of The Kings opened to £5,522 from 19 locations for Altitude, at an average of £291. Including previews, the film has £6,115.
Rep distributor Park Circus re-released Claudia Weill's 1978 comedy Girlfriends to £3,331 from 25 locations, at a £133 average.