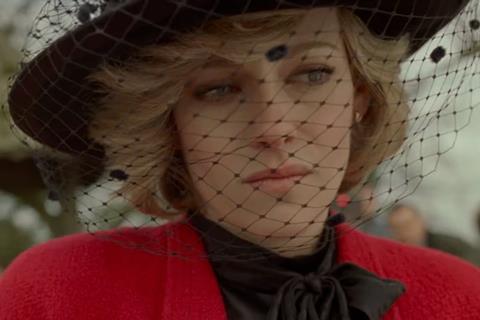 Pablo Larrain's Princess Diana drama Spencer, starring Kristen Stewart, will be aiming to entice several demographics at the UK-Ireland box office this weekend as STX Entertainment opens it in 183 locations, the same weekend as Disney's Eternals and Universal's The Card Counter.

Spencer debuted in Competition at the Venice Film Festival in September, with subsequent screenings at Telluride, Toronto, Zurich and London film festivals among others. It depicts a semi-fictionalised Christmas visit to Sandringham for the Windsors, during which Diana struggles with the pressures of royal life.
The Princess of Wales has been depicted in film previously – most recently in Oliver Hirschbiegel's Diana starring Naomi Watts. Poorly received by critics, it opened to £623,051 in 2013, ending on £1.9m. Other representations have typically been TV movies, including Serena Scott Thomas in 1993's Diana: Her True Story and Genevieve O'Reilly in 2007's Diana: Last Days Of A Princess; while Screen Star of Tomorrow Emma Corrin recently took on the role in Netflix's The Crown, with Elizabeth Debicki carrying it on in next year's fifth season.
Although she appears solely through archival footage and not as a character in the film, the death of Diana is central to Stephen Frears' The Queen, written by Peter Morgan (who went on to create The Crown) and for which Helen Mirren won the best actress Oscar and Bafta in 2007.
That film opened to £856,273 in September 2006, going on to £9.4m – a strong total for that time.
Looking outside of Diana, films about the royal family can prove a significant box office draw – most notable of which was The King's Speech, which opened to £3.5m, ending on an enormous £45.7m.
The audience for films about Diana and the royal family is typically older, and distinct from the arthouse audience – that which would turn out for a Pablo Larrain film.
Spencer is the Chilean director's ninth feature. His first UK-Ireland theatrical release was his second film, Tony Manero (£32,756 total in 2009). Grosses have grown steadily since then, with highlights of 2012's No (£345,571 total, a record for now-defunct distributor Network Releasing) and especially 2017's Jackie (opened: £663,110, closed: £3.8m). The latter is a useful yardstick for Spencer, as another semi-fictionalised drama about an isolated, glamourous female icon under threat from powerful organisational forces.
This leads to a third group that STX will hope show up for Spencer this weekend: fans of lead actress Stewart. Stewart has engaged in an extensive press tour from the film, and is tipped to feature heavily in best actress categories in the 2021/22 awards race.
After a key childhood role in Panic Room (opened: £2m, closed: £8.4m), Stewart broke out in the Twilight series, which grossed a colossal £135.5m across five films, peaking with 2012 closer Breaking Dawn – Part 2 which opened to £15.8m including previews, ending on £35.9m.
Her output since has been predominantly independent fare. Two titles with French director Olivier Assayas, 2015's Clouds Of Sils Maria and 2017's Personal Shopper, took £217,831 and £277,557 respectively; while Kelly Reichardt's ensemble drama Certain Women reached £155,478, also in 2017.
Spencer will expect to land between the two: Twilight's blockbuster numbers will be out of reach, but STX will hope the various interested demographics will push the film well into seven-figure territory.
Latest Marvel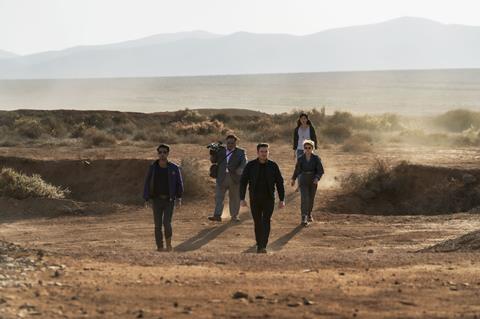 Disney is debuting its latest Marvel title this weekend: Chloe Zhao's Eternals, following the saga of a race of immortal beings who lived on earth and shaped its history and civilisations.
Playing in 649 locations, the film was originally set for a November 2020 release, before a pandemic-induced delay. It boasts an all-star cast, including Gemma Chan, Kumail Nanjiani, Angelina Jolie, Salma Hayek, Lia McHugh, Brian Tyree Henry and Screen Stars of Tomorrow Richard Madden and Barry Keoghan.
The latest Marvel title, Shang-Chi And The Legend Of The Ten Rings, topped the UK-Ireland chart on debut in September with £5.8m – a post-pandemic record until No Time To Die came out four weeks later. Shang-Chi is still in select cinemas, standing at £21.2m as of last weekend – the 15th highest-grossing of 24 Marvel Cinematic Universe titles.
Black Widow, the other 2021 MCU film to date, ended slightly behind on £19.1m, hampered by the gradual reopening of cinemas throughout the summer; but both films demonstrate that the Marvel interest has sustained across the pandemic. Disney will be hoping for a first session strong enough to displace No Time To Die from top spot.
Universal has Paul Schrader's The Card Counter starring Oscar Isaac in 128 sites. Another Venice 2021 Competition title, it is a revenge thriller about an ex-military interrogator turned gambler, who is haunted by the ghosts of his past.
Known as a writer for his legendary collaborations with Martin Scorsese on Taxi Driver and Raging Bull, Schrader's recent work as a director includes 2018's First Reformed (opened: £73,206, closed: £370,383) and 2015's Dying Of The Light (£485 total).
Qube Cinema is distributing Tamil-language action title Annaatthe in 43 sites; while Signature Entertainment has Paul Andrew Williams' UK thriller Bull starring Neil Maskell in 32 sites.
Magic Light Pictures is playing family animations The Gruffalo and The Snail And The Whale in 83 locations; while Dartmouth Films is starting a rollout for Dylan Williams' documentary Men Who Sing, which will play in 19 venues across November. Jaclyn Bethany's Highway One is playing in a single site through Miracle Comms.
The League Of Legends: World Finals 2021 is playing in seven UK sites through National Amusements.
Among holdovers, No Time To Die continues its chase of Spectre (possible) and Skyfall (less likely); while Dune and Venom: Let There Be Carnage are both reaching for the £20m mark.