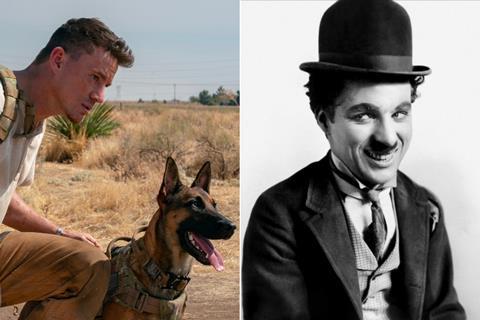 Channing Tatum comedy Dog and Altitude documentary The Real Charlie Chaplin are debuting in a quiet weekend for new openers at the UK-Ireland box office.
Directed by Tatum and Reid Carolin from a screenplay by Carolin, Dog stars Tatum in the story of a US army ranger who must escort the dog of his fallen commander to the funeral. Entertainment Film Distributors is releasing the title in the UK and Ireland.
Animal-themed titles can be a profitable venture: eOne's Clifford The Big Red Dog opened to a healthy £1.29m in December, just behind West Side Story; and quickly surpassed the musical, topping the £9m mark this week. Universal's animation Sing 2, about a group of animals in a rock band, had an impressive £3.2m third weekend last time out to reach £16.8m.
The highest-grossing animal-themed film of all time in the territory is Disney's 2019 The Lion King remake, which opened to £16.7m on its way to a huge £76m.
Tatum, who is also a producer on Dog, has scored his biggest hits in the comedy genre, with titles including 2012's 21 Jump Street (opened: £1.6m; closed: £10.1m) and 2014 sequel 22 Jump Street (£4.9m; £18.6m).
Dear John, another film to feature Tatum as a member of the US armed forces, opened to £2m in 2010, going on to £5.5m.
Altitude is opening Peter Middleton and James Spinney's documentary The Real Charlie Chaplin in 47 locations. The film is a look at the life and work of UK screen legend Chaplin, featuring an in-depth interview he gave to Life magazine in 1966.
The Real Charlie Chaplin debuted at Telluride Film Festival in August 2021, going on to play events including Zurich and the BFI London Film Festival.
Previous films to have considered the comic's legacy include Richard Attenborough's 1992 Chaplin starring Robert Downey Jr. as the eponymous character, and Chaplin's daughter Geraldine playing his mother Hannah. Released by Paramount, the film opened to £31,513 from just one location through Pathé, going on to £1.8m – equivalent to £4m in 2021.
Eddie Izzard also played the role of Chaplin in Peter Bogdanovich's 2001 The Cat's Meow; with Clive Revill taking it on in 1980 TV movie The Scarlett O'Hara War.
Directors Middleton and Spinney previously collaborated on non-fiction feature Notes On Blindness, which scored three Bafta nominations in 2017, after six Bifa nominations and one win for best documentary the previous December. The film opened to £20,114 through Curzon, ending on £85,174.
Limited titles
This weekend bucks the trend of a recovering box office, with no wide release and limited screenings for the few films that are coming out.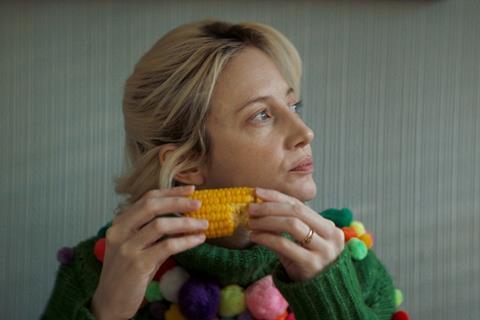 Wildcard Distribution is releasing Stacey Gregg's debut feature, thriller Here Before, which stars Andrea Riseborough as a woman whose painful memories of her deceased daughter are stirred up by the arrival of a new family.
Backed by BBC Film and Northern Ireland Screen and sold by the UK's Bankside Films, the film debuted at SXSW in March 2021.
Bulldog Film Distribution is holding a retrospective of the films of US director Patrick Wang. Screenings of In The Family, The Grief of Others, A Bread Factory – Part One: For The Sake of Gold and A Bread Factory – Part Two: Walk With Me A While will take place at five venues across England and Scotland, with a digital release to follow next month.
London's Bertha DocHouse is screening Anais Taracena's non-fiction title The Silence of the Mole, about journalist Elias Barahona's attempts to infiltrate Guatemala's repressive 1970s government.
Polish-language distributor Magnetes Pictures is handling the release of Anna Wieczur-Bluszcz's comedy Eggnog 4.
The holdovers will dominate the top titles again this weekend, led by Sony's Uncharted, which made a strong £4.7m start last time out. As well as Sing 2, other key titles include the second weekend of Disney's Death On The Nile, plus Universal's Belfast and Paramount's Jackass Forever.