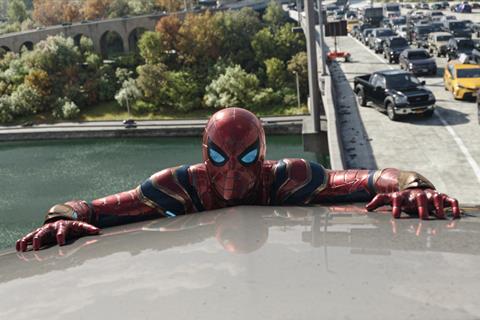 Sony blockbuster Spider-Man: No Way Home is looking to challenge the highest openings of all time at the UK-Ireland box office this weekend, following a record-breaking £7.6m opening day on Wednesday.
The film is playing in 648 locations, and took an average of £11,728 on Wednesday. It brought in a further £4.7m on Thursday, standing at a total of £12.37m after two days.
Were it to replicate this performance across the three-day weekend, it would bring in £18.6m. That would be comfortably the second-highest weekend of the year, slightly behind the £21m start of Universal's James Bond title No Time To Die from early October. However, it may well surpass this, as weekend days should see stronger audiences than a Thursday.
The same performance across all five days through to Sunday would put No Way Home at £30.9m. This would be the fourth-highest opening gross of all time including pre-weekend days, behind 2015's Spectre with £41.3m, which had four pre-weekend days compared to No Way Home's two; 2019's Marvel Studios stablemate Avengers: Endgame with £43.4m; and 2015's Star Wars: The Force Awakens with £34m, the latter two of which had just one pre-weekend day.
Sony will hope No Way Home can build towards the stellar totals regularly achieved by Marvel Studios films prior to the pandemic. Endgame is the highest-grossing of the 27 MCU titles released so far, with £88.7m.
Almost half of that total came through its opening, which indicates how MCU titles, especially the biggest ones, tend to front-load – the audience for them turns up substantially on the opening weekend, then decreases sharply compared to other releases.
Next in the total MCU grosses is 2018's Avengers: Infinity War with £70.8m; followed by 2012's Marvel Avengers Assemble with £51.9m.
All three of these top three MCU titles are collective narratives, centring on a number of different superheroes (Spider-Man himself appears in Infinity War and Endgame).
No Way Home differs in this respect, being primarily a Spider-Man film. However, the film may be able to replicate this effect, given that it heavily features Marvel character Doctor Strange; and brings back several former foes of the web-slinging hero from previous iterations of the franchise.
It is 2012 Screen Star of Tomorrow Tom Holland's sixth credited outing as the character, and third standalone Spider-Man film, after 2017's Spider-Man: Homecoming (opened: £9.4m; closed: £30.7m) and 2019's Spider-Man: Far From Home (opened: £14.2m; closed: £37.3m). Sony will be confident of surpassing those total figures, given the film's strong start.
Holland is the third actor to have played the role in the last two decades. He was preceded by 2007 Star of Tomorrow Andrew Garfield, who appeared in two films: 2012's The Amazing Spider-Man (opened: £11.1m, closed: £26m) and 2014's The Amazing Spider-Man 2 (£9m; £24.1m).
Before that came Tobey Maguire, who was in three titles: 2002's Spider-Man (£9.4m; £29m), 2004's Spider-Man 2 (£8.8m; £26.7m) and 2007's Spider-Man 3 (£11.8m; £33.6m).
Also of note is 2018 animated feature Spider-Man: Into The Spider-Verse, which opened to £2.3m, closing on £10.9m; two sequels are in production, scheduled for release on October 7, 2022 and at an unconfirmed 2023 date respectively.
One unknown among these impressive figures is how the latest wave of Covid-19 cases will affect cinema audiences; at the time of writing, cinema attendees in the UK and Ireland are required to wear masks in the auditorium, apart from while eating or drinking or for those with exemptions.
There are no capacity restrictions in place in the UK; a 50% capacity limit is in place in Ireland.
Limited releases
With No Way Home dominating cinema screens, there are few other releases this weekend; most of the titles coming out are doing so far awards-qualifying runs.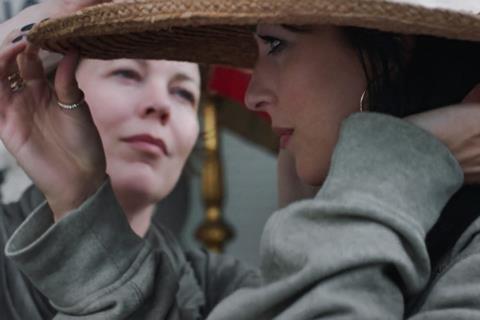 These include Maggie Gyllenhaal's contender The Lost Daughter released by Netflix, which does not provide location numbers for its titles.
Based on the novel by Elena Ferrante, the film follows a woman whose beach vacation takes a dark turn when she begins to confront the troubles of her past.
It premiered in competition at Venice 2021, with Gyllenhaal winning the best screenplay prize. Olivia Colman leads a star-studded cast, which also includes 2017 Screen Star Jessie Buckley, Dakota Johnson, Peter Sarsgaard, Ed Harris and 2020 Star Paul Mescal.
Apple, which also does not provide location numbers, is releasing Benjamin Cleary's Swan Song, a near-future sci-fi about a terminally ill man who considers duplicating himself to save his wife and son from grief. Mahershala Ali stars alongside Naomie Harris, Awkwafina and Glenn Close.
On behalf of Amazon Studios, Curzon is handling the release for George Clooney's The Tender Bar. William Monahan has adapted J.R. Moehringer's book, about a boy growing up on Long Island in New York State, who seeks out father figures among the patrons at his uncle's bar. Ben Affleck and Tye Sheridan head the cast, with Affleck nominated for best supporting actor at the 2022 Golden Globes.
Dogwoof is distributing Mark Cousins' latest cinema documentary, The Story of Film: A New Generation. It debuted in the Documentaries section of Cannes Classics in July 2021, and follows Cousins' recent documentaries The Story of Looking, The Storms of Jeremy Thomas and Women Make Film: A New Road Movie Through Cinema.
Peccadillo Pictures is handling a five-location UK release for Laurent Mitchell's drama Lola And The Sea, about a transgender woman going on a road trip to fulfil the dying wish of the mother she never knew. The film comes out in Ireland on December 27.
Key holdovers include Disney's West Side Story, which will look to bounce back from a flat opening now that schools are breaking up for Christmas; plus Clifford The Big Red Dog from Paramount and eOne; and Universal's House Of Gucci.