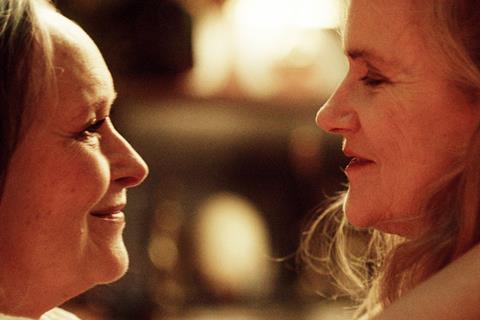 A treacherous summer at the independent box office underscored by several misfire acquisitions from Sundance slowed on-site deals to a crawl during Toronto International Film Festival (TIFF), although the days and weeks ahead tend to be when business kicks in.
With the festival now over, the major festival acquisitions were: Netflix for most of the world on Galder Gaztelu-Urrutia's high-concept Spanish Midnight Madness breakout The Platform; Amazon Studios for US rights on Darius Marder's Platform entry Sound Of Metal, and the world on Andrew Patterson's Midnight Madness sci-fi The Vast Of Night (a Slamdance title); Magnolia Pictures for North America on Filippo Meneghetti's Two Of Us in Discovery, and a pre-festival buy on worldwide rights to TIFF opener Once Were Brothers: Robbie Robertson And The Band; Bleecker Street for the US on Peter Cattaneo's Military Wives in Special Presentations; and Sony Pictures Classics for a pair of Special Presentations films – North America and select territories on Dan Friedkin's Lyrebird, and the US on Michael Winterbottom's Special Presentations selection Greed, which was hardly a surprise given Sony Pictures International Productions and Film 4 were behind the satire starring Steve Coogan.
Heading into TIFF, Cory Finley's school embezzlement satire Bad Education starring Hugh Jackman and Allison Janney and Gabriela Cowperthwaite's drama The Friend with Dakota Johnson, Jason Segel and Casey Affleck were two of the must-sees for international buyers. They remained unsold at time of writing, although it is understood a deal on the former is close. The consensus among buyers was that both played well, but not well enough to spark all-night bidding wars. The uncertainty fuelled by a difficult US distribution sector that finds itself more challenged than ever by a horde of deep-pocketed streaming platforms has led to extreme caution.
"There's no denying it's been a rough year," said Dori Begley, executive vice-president at Magnolia Pictures. "We picked up two fantastic titles, have our eye on a few more and got thrilling reactions to Cunningham [TIFF Docs]. But the overall pace of sales is illustrative of that pain. This is an especially concerning period if your business model doesn't involve a nimble approach to navigating the vicissitudes of the market. Magnolia is very well positioned in that regard.
"Specialised theatrical stakeholders endlessly debate whether we should blame the overall quality of available titles, by the way, there have been some stellar exceptions, or the dramatic change in audience habits," she continued. " I would say all of the above and more, but am also optimistic. Challenges like this present opportunities for companies like Magnolia. We should also consider a collective approach to evaluate the problems, blindspots and potential solutions. A reframing of the collective theatrical experience is in order and there are myriad ways, big and small, we can potentially get there – none of which involve passively fretting and waiting to see who's right."
Another buyer who spoke under condition of anonymity said while the selection of acquisition titles was largely uninspiring compared to those from previous years, in fairness TIFF can only work with what it is offered. Whether that means producers are holding back for Sundance or simply weren't ready to screen in Toronto remains to be seen.
TIFF co-head and artistic director Cameron Bailey remained phlegmatic. "We're less focused on those overnight bidding wars because that's maybe not the most sustainable way to run a distribution business, but we think the films shown here that were available for acquisition have definitely been well received and in the weeks to come you're going to see some of those sales announcements."
Two festivals in one
Many in the industry say there are two Torontos: the public-facing festival of euphoria, and the more muted market that grows its support apparatus each year but has not yet consistently captured the deals frenzy of Sundance. For Bailey, the public-facing nature of TIFF is one of its great strengths, and reinforces its status as a platform that launches world premieres for potential awards contenders, such as A Beautiful Day In The Neighborhood, Hustlers, and audience award winner Jojo Rabbit – all of which were well received – and brings the season into focus after general audiences get to see films that premiered in Venice and Telluride, such as Venice Golden Lion best film winner Joker, Marriage Story, Judy, and The Two Popes.
"It's a public audience and if you're going to another festival that's smaller or more industry-focused you don't get to see how a general audience reacts to Renée Zellweger's performance in Judy, for instance," noted Bailey. "Or what kind of impact that has and how it helps clarify for awards bodies and [observers] what the general reaction out there is going to be. Joker is another one, Waves has done so well – there are so many where the public reaction has been so strong."
Of the acquisition titles, Alice Winocour's astronaut drama Proxima in Platform starring Eva Green caught a wave and won admirers, as did Sound Of Metal and The Platform. The Aeronauts at Amazon Studios and Knives Out at Lionsgate were among the most popular world premieres of films already spoken for at TIFF, although neither is regarded as an awards contender.
International buyers are taking their time to weigh up what was on show, although Toronto is mostly a good chance to view completed titles or promos for the first time ahead of a 2020 release. Focus Features snapped up international rights to Trey Edward Shults' Special Presentations entry Waves, and FilmNation was on the ground with international theatrical rights to a quintet of Netflix titles that included Marriage Story, The Two Popes, and The Irishman – the biggest of the unseen awards hopefuls and set to open New York Film Festival at the end of the month.
"Netflix looks like it has one of the best awards season line-ups," one buyer said, adding: "Those companies combined [Amazon Studios, HBO Max, Apple TV+, Disney+] are dominating the conversation and we are going to have to line up behind them."
Lining up behind the streamers
TIFF buyers and members of the public hoping to watch any festival selection from a streamer learned they would not be lining up at Scotiabank to see them, after the 14-screen venue's owner Cineplex informed TIFF that in its support of the traditional 90-day theatrical window it would not allow any screenings of films from Netflix or Amazon Studios at the site.
As Screendaily first reported, TIFF rescheduled those screenings elsewhere, in what is thought to be the first time an exhibitor's policy on windowing has affected scheduling at a major film festival. All eyes turn to BFI London Film Festival next month.
"We had been talking to [Cineplex] about this for a while," said Bailey. "They're very focused on the traditional theatrical windows and they and other exhibitors in North America are continuing to talk to the streaming platforms about how they will come to agreement. They haven't yet and I'm optimistic they will at some point.
"In the meantime they had some new restrictions on our use of the Scotiabank cinemas for this year's festival, which meant that that affected our scheduling of the screenings of films in selections. Thankfully we were able to schedule the screenings before we had to make any significant changes. It all worked out OK. They're a longtime partner and we hope that will continue and that was just a new wrinkle in the landscape."
Does this mean TIFF will keep all festival selections away from Scotiabank in 2020? "We have to see where we are a year from now," said the festival co-head. "A lot can change when it comes to the industry in this particular area."