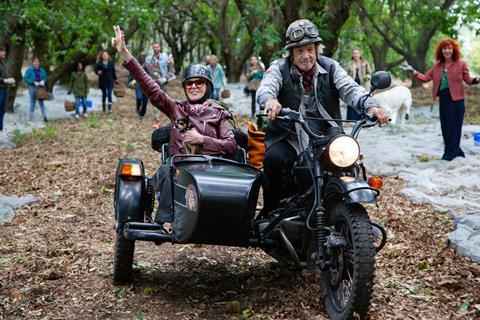 Around two-thirds of France's sales companies will officially participate in the Pre-Cannes Screenings running June 21-25.
There are a variety of gameplans. Companies with mainstream slates and non-festival titles expect to do the bulk of their meetings next week. Those with a combination of both will get the ball rolling on titles across their slates, focusing on buyers who do not plan or are unable to travel to Cannes in July.
Official Selection and parallel sections are strictly not allowed to screen in the Pre-Cannes event but many sellers plan to lay the groundwork for pre-sales. A handful of companies focused purely on festival titles will be sitting out the online event to focus on the physical festival and market in July.
Screen highlights the buzz titles due to be rolled out by French companies next week.
Wild Bunch International will begin talks on one of its largest Cannes slates to date, featuring 12 Cannes selections as well as new projects from Jean-Pierre and Luc Dardenne (Tori And Lokita) and Arnaud Desplechin (Brother And Sister), and portmanteau film Shining Sex, a joint work by Lucile Hadzihalilovic, Sion Sono, directorial duo Helene Cattet and Bruno Forzani, Bertrand Mandico and Kleber Mendonça Filho.
Elle Driver launches pre-sales on Arnaud des Pallières's period thriller Party Of Fools starring Léa Seydoux, Charlotte Rampling and Cécile de France. It will also show the first promo for Thomas Kruithof's political drama Promises, starring Isabelle Huppert and Reda Kateb; first images for dystopian drama The Visitor From The Future and road movie Freestyle; and the first teaser for Pablo Berger's animated feature Robot Dreams. It will also market premiere Tribeca 2021 home-invasion thriller See For Me.
Charades will launch Laurent Tirard's new comedy Oh My Goodness!, about five nuns who enter a major cycling race as part of a money-raising scheme, and Sébastien Marnier's upcoming thriller The Origin Of Evil, starring Laure Calamy. It will also tease images for Un Certain Regard selection La Traviata, My Brothers And I and Critics' Week title Zero Fucks Given. The slate also features Palme d'Or contender Petrov's Flu for which it has already unveiled the trailer.
SND unveils two films in pre-production: Eric Barbier's Tehu about the adventures of a berber boy and a camel and featuring Charlotte Gainsbourg in the cast; and Anne Le Ny's thriller Spiral, starring André Dussollier as a man who accidentally kills his cheating wife and then gets caught in a web of deception and lies. It will also market premiere family animation Pil's Adventures and Song Express about an Uber-style start-up supplying songs on demand.
Gaumont will introduce four upcoming films to the market: ballet school drama Neneh Superstar, starring big-screen debutant Oumy Bruni Garrel, Maïwenn and Aïssa Maïga; martial-arts comedy drama Kung Fu Zohra; Belle And Sebastian Next Generation, a reboot of the popular Belle And Sebastian franchise; and Natural Born Liar, the latest comedy from Olivier Baroux who directed the hit The Tuche Family trilogy. Its Cannes titles include Mathieu Amalric's family drama Hold Me Tight and Valérie Lemercier's long-awaited Céline Dion-inspired The Voice Of Love.
Studiocanal will begin sales on psychological thriller Cat Person, adapted from Kristen Roupenian's short story which became one of the most downloaded pieces of fiction when The New Yorker published it in 2017. Susanna Fogel directs and Nicholas Braun and Emilia Jones are confirmed to star. Other new buzzy projects on its slate include horror-thriller Baghead, starring Freya Allan. Cannes titles comprise Marseille-set police thriller Bac Nord by Cédric Jimenez and Emmanuelle Bercot's Peaceful, both of which screen Out of Competition.
Pathé International kicks off sales on Italian director Emanuele Crialese's 1970s Rome-set family drama L'Immensita starring Penelope Cruz. It is due to start shooting in Rome on July 5. It will also roll out David Moreau's drama King about a French brother and sister's quest to get a trafficked lion cub back to Africa. Other upcoming titles include Guillaume Canet's upcoming China-set feature Asterix & Obelix, The Silk Road which is currently shooting. At Cannes, it has Paul Verhoven's Palme d'Or contender Benedetta.
TF1 Studio kicks off sales on comedy Two Much For The Job, starring Melha Bedia and Audrey Fleurot as two teachers competing for the same dream job in Barcelona, and Alexandra Leclère's Price Of Parenting, reuniting Josiane Balasko and Didier Bourdon as a couple suffering from empty nest syndrome who pretend they have won the lottery to draw their children back. It will also market premiere When Granny Meets Grandpa [pictured], about a grandmother with amnesia who connects with a mysterious man from her past; Philippe Lacheau's superhero spoof SuperWho?; and Michèle Laroque's Dancing On.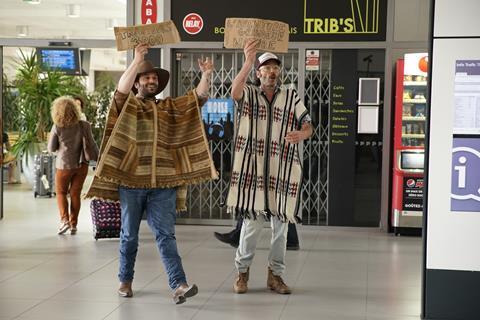 Pulsar Content launches Edouard Deluc's horse trekking comedy Wilderness Therapy, starring Pio Marmaï and Philippe Rebbot, which is currently shooting in the French Pyrenees. It will also continue pre-sales on biopic Lady Nazca and will show a new promo for the Russian crime thriller The Execution. It is also handling Critics' Week title Olga.
Memento International will focus on the human-trafficking thriller Catch The Fair One, which has just world-premiered in Tribeca's US narrative competition to warm reviews. It will also launch sales on Israeli director Gidi Dar's animated feature Legend Of Destruction which recounts the story of the ruin of Jerusalem's Second Temple, to which Waltz With Bashir animators David Polonsky and Michael Faust are attached. At Cannes, it is handling Asghar Farhadi's Palme d'Or contender A Hero.
Totem Films will begin talks on its three Cannes titles comprising Palme d'Or contender Compartment No. 6, for which it has just released the trailer, Un Certain Regard selection Moneyboys and Softie, which will world premiere in Cannes Critics' Week. It will also continue sales on My Sunny Maad following its premiere in competition at Annecy.
Urban Distribution International will market premiere live-action and animated feature Coppelia, starring celebrity dancer Michaela DePrince, following its world premiere in Annecy, and will also show the first promo for Dutch director Floor van der Meulen's debut feature Pink Moon, about a woman who kidnaps her father and takes him on a trip to the mountains after he declares he no longer wants to live. It is also handling the Mexico-set kidnap drama La Civil which debuts in Un Certain Regard.
Reel Suspects will market premiere Belgian director Christophe Hermans' drama The Hive about three sisters battling to save their self-destructive, bipolar mother, played by Ludivine Sagnier; Russian thriller Another Name from Veta Gerskina; coming-of-age horror We're All Going To The World's Fair, which premiered at Sundance; and Branko Tomovic's Serbia shot Vampir.
Alpha Violet will tease footage of Laura Samani's debut feature Small Body ahead of its world premiere in Critics' Week. Set in Italy in 1901, it follows a woman desperate to get her stillborn baby baptised. It also screens Baris Sarhan's Rotterdam 2021 title The Cemil Show.
France TV Distribution will show the first trailer for actress Sandrine Kiberlain's debut feature A Radiant Girl ahead of its debut in Critics' Week. It will be keeping its other Cannes title, Emmanuel Carrère's drama Between Two Worlds, under wraps until its world premiere in Directors' Fortnight. It will also show the first images for Sylvie Audcoeur's psychological thriller An Ordinary Mother, starring Karin Viard.
Orange Studio launches sales on Pietro Marcello's upcoming romantic drama L'Envol, set in Normandy during the early days of aviation and starring Serge Nicolaï, Juliette Jouan and Louis Garrel. It will also market premiere Sylvie Ohayon's drama Haute Couture, about a young thief who is offered a fresh start by the head seamstress for fashion house Dior, and Pan Nalin's Tribeca 2021 title Last Film Show. Its Cannes titles comprise Samuel Benchetrit's Love Songs For Tough Guys in Cannes Premiere and two films in the new eco section, Animal and Marcher Sur L'Eau, as well as Cannes Critics' Week title The Gravedigger's Wife.
WTFilms will market premiere crime thriller The Gateway, starring Shea Whigham, Olivia Munn, Frank Grillo and Bruce Dern; SXSW 2021 horror title Offseason, for which Shudder has acquired English-language territories; and female assassin revenge thriller Moderator.
Loco Films screens Georgian director Levan Koguashvili's warmly reviewed Tribeca 2021 title Brighton 4th and will market premiere The Champion Of Auschwitz about a Polish boxing champion who was interned in the concentration camp and joined its resistance movement.
Indie Sales market premieres Florence Miailhe's animated feature La Traversée, following its world premiere in competition at Annecy. It follows two children separated from their parents and forced into exile by conflict. It will also screen Lebanese director Jimmy Keyrouz's Cannes 2020 label title Broken Keys. Cannes 2021 titles on its slate comprise Palme d'Or contender France, Un Certain Regard selection Playground, Magnetic Beats in Directors' Fortnight, Critics' Week titles Robust and Bruno Reidal and Bigger Than Us in the new eco sidebar.
Other Angle Pictures market premieres Mona Achache's Valiant Hearts, about six Jewish children who take refuge during the Second World War in Chateau de Chambord. Camille Cottin (Call My Agent!) stars.
MPM Premium will market premiere documentary Into The Wine, about wine-making in Burgundy as well as Argentinian coming-of-age thriller Fall Of The Queens. It is also handling Directors' Fortnight title Europa.
Pyramide International market premieres Philippe Béziat's documentary Gallant Indies, following its recent festival outings at Hot Docs, Shanghai and Sheffield DocFest. Cannes titles include Arnaud and Jean-Marie Larrieu's Tralala in Midnight Screenings and Maxime Roy's The Heroics in Special Screenings. It is also handling Critics' Week closing film A Tale Of Love And Desire by Leyla Bouzid.
Bac Films International will show the first promo for French whodunnit The Murder Party and market screen thriller A Decent Man. At Cannes, it is handling French director Rachel Lang's Our Men which is the closing film of Directors' Fortnight.
The Party Film Sales will begin talking to buyers about its Cannes titles, comprising Cannes Première selection Jane By Charlotte by Charlotte Gainsbourg and Directors' Fortnight titles Returning to Reims and The Sea Ahead. It will also market screen a selection of festival films from the first half of the year including Claus Drexel's Ladies Of The Wood.
Cité Films market premieres Mathieu Rozé's drama Azuro about a group of friends whose annual holiday together is shaken up by the arrival of a mysterious man.
Wide Management will kick off sales on new acquisitions Phil Connell's JUMP, Darling, about a rookie drag queen who takes refuge with his grandmother after a setback.