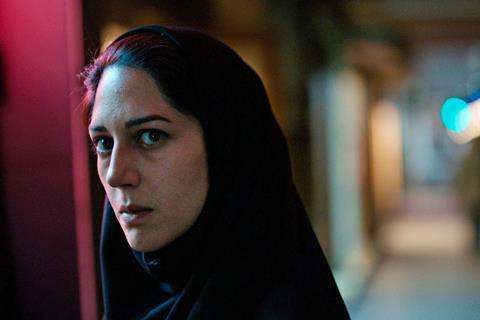 The Academy's 2023 international feature film shortlist manages to be both predictable and refreshing at the same time.
It's predictable in that the 15-strong shortlist contains most of the front runners expected to make it to this stage, including France's Saint Omer, Austria's Corsage, Denmark's Holy Spider, Argentina's Argentina, 1985, Belgium's Close, South Korea's Decision To Leave and Mexico's Bardo. Among the few surprising omissions are Maryna Er Gorbach's Ukrainian war drama Klondike and Carla Simon's Berlinale winner Alcarràs.
The shortlist is refreshing in that there is a wider geographical spread to the selection than usual. Europe is less dominant than last year, with eight selected titles. (Europe nabbed 10 of the 15 places last year).
There is a stronger showing from Asia, with four titles making the shortlist: Cambodia's Return To Seoul, India's Last Film Show, Pakistan's Joyland and South Korea's Decision To Leave. Africa is also represented this time, thanks to Morocco's The Blue Caftan, after failing to make the shortlist last year. Latin America has two titles going forward to Oscar voters: Argentina's Argentina, 1985and Mexico's Bardo.
Just three shortlisted films in the category are directed by women – Alice Diop with Saint Omer, Marie Kreutzer with Corsage, and Maryam Touzani with The Blue Caftan.
All Quiet On The Western Front (Germany)
Dir. Edward Berger
This is the first German-language adaptation of Erich Maria Remarque's classic anti-war novel, published in 1928. Its English-language predecessor was hailed as the war film to end all war films when it won the best picture Oscar in 1930. Berger (Patrick Melrose) has gone back to the German-language source for this Netflix film. Newcomer Felix Kammerer leads as Paul, the teenage volunteer who joyfully dashes to the front only to spend the rest of his short life brutally fighting over mere metres of land. Berger spares the viewer little in this TIFF-premiering title, and the result is a stylish, almost grotesquely beautiful film about one of the ugliest times in modern history. It was released in cinemas in Germany in September, and in US cinemas in October before debuting on Netflix later in the month. It is also nominated for a Golden Globe in the best motion picture, foreign language, category.
Eligible for Bafta Film Awards (Netflix)
Argentina,1985 (Argentina)
Dir. Santiago Mitre
Ricardo Darin starred in The Secret In Their Eyes – a foreign language film Oscar winner in 2010 – and reaches new international audiences here as Julio Strassera, the quietly determined chief prosecutor in the historic 1985 trial of Argentina's military government. He even has a clear 'Oscar moment' – a 10-minute speech closing his prosecution case that is both chilling and rousing. The film made its world premiere in competition at Venice Film Festival where it won the critics' prize. Argentina also screened at San Sebastian, winning the audience award. It is also nominated for a Golden Globe in the best motion picture, foreign language, category. Argentina has won the Oscar twice: in 1985 for Luis Puenzo's The Official Story and in 2009 for Juan José Campanella's The Secret In Their Eyes.
Eligible for Bafta Film Awards (Amazon Studios)
Bardo, False Chronicle Of A Handful Of Truths (Mexico)
Dir. Alejandro G Inarittu
Now edited down from the original three-hour epic that premiered at Venice to decidedly mixed reviews, Inarittu's very personal opus is centred around an expatriate Mexican filmmaker (Daniel Giminez Cacho) who returns to his native country to accept a prestigious award. Tour-de-force lensing by Darius Khondji helps draw lines through the main character's reveries in this expensive Spanish-language production from Netflix. Inarittu has won five Oscars to date: twice for best director (The Revenant, 2016; Birdman, 2015), twice for best film (The Revenant, 2016; Birdman, 2015), and writing (Birdman, 2015). It is the third time he has made the international feature film shortlist, after Biutiful in 2010 and Amores Perros in 2000.
Eligible for Bafta Film Awards (Netflix).
The Blue Caftan (Morocco)
Dir. Maryam Touzani
Premiering at Cannes in Un Certain Regard, where it won the Fipresci prize, The Blue Caftan is a superbly acted, emotionally resonant melodrama that centres on a woman (Lubna Azabal) and her closeted homosexual husband (Saleh Bakri) who run a caftan shop in the Moroccan city of Sale. This is Touzani's second submission to the Oscars following 2019's Adam (though she did collaborate on the screenplay for last year's Oscar submission - Nabil Ayouch's Casablanca Beats). Since its Cannes debut, the film has won a string of prizes on the festival circuit, including the audience award at Athens and the prix du jury at Marrakech. Morocco came close to a nomination in 2011 when Roschdy Zem's Omar Killed Me made the shortlist.
Cairo Conspiracy (Sweden)
Dir. Tarik Saleh
Saleh's Cairo-set political thriller (which was released as Boy From Heaven in some territories) is about a fisherman's son who is thrown into a brutal power struggle between Egypt's religious and political elite. The film world premiered at this year's Cannes Film Festival in Competition where it won the best screenplay prize. Saleh previously won the grand jury award at the 2017 Sundance Film Festival for his feature The Nile Hilton Incident. Sweden has submitted a total of almost 100 films for Oscar contention since 1956. Its most recent nomination came in 2018 for Ruben Ostlund's The Square while Ingmar Bergman's Fanny And Alexander was its last winner, in 1984.
Eligible for Bafta Film Awards (Picturehouse Entertainment).
Close (Belgium)
Dir. Lukas Dhont
Dhont's debut feature and Cannes Camera d'Or winner Girl was submitted by Belgium for the 2019 Oscars but didn't make the international feature shortlist. The filmmaker stands a much stronger chance with Close – his depiction of an intense friendship between two 13-year-old boys, who then pull apart after their comfortable bond is misunderstood by class mates. Close won the Grand Jury Prize in Cannes this year, going on to pick up multiple festival prizes including best film at the Sydney Film Festival. It is also nominated for a Golden Globe in the best motion picture, foreign language, category, and was nominated for a European Film Award in the European Film category.
Eligible for Bafta Film Awards (Mubi).
Corsage (Austria)
Dir. Marie Kreutzer
Although selected for Un Certain Regard in Cannes rather than the main Competition, Corsage exited the festival with major momentum, helped along by Vicky Krieps' best actress win for the sidebar. Festival pit stops at New York and BFI London followed – winning the Official Competition at the latter. The 1870s-set film stars Krieps as Empress Elizabeth of Austria – a woman ahead of her time, seeking emancipation from her gilded cage. Austria has twice won the international feature prize — Michael Haneke's Amour in 2013 and Stefan Ruzowitzky's The Counterfeiters in 2008 — and has received a further two nominations. Corsage was also nominated in the European Film category at the European Film Awards, where Krieps won the best actress prize.
Eligible for Bafta Film Awards (Picturehouse Entertainment).
Decision To Leave (South Korea)
Dir. Park Chan-wook
South Korea didn't select Park's The Handmaiden as its Oscar submission in 2017, but the acclaimed film was eligible at the Baftas a year later – and won for film not in the English language. Decision To Leave, which premiered at Cannes this year, winning best director, tells the story of a detective (Park Hae-il) developing an unprofessional attachment to a woman (Tang Wei) suspected of being involved in the death of her husband. Tang was nominated for the Bafta rising star award in 2008. It is also nominated for a Golden Globe in the best motion picture, foreign language, category, and as a film of the year by the London Critics' Circle. Eligible for Bafta Film Awards (Mubi).
EO (Poland)
Dir. Jerzy Skolimowski
Featuring Isabelle Huppert among its ensemble cast, EO follows the life of a donkey from a Polish circus to an Italian slaughterhouse and is a contemporary adaptation of Robert Bresson's 1966 cult classic Au Hasard Balthazar. Premiering in Competition at Cannes, the drama picked up the jury prize, sharing it with Eight Mountains, and the soundtrack award. Earlier this month, EO was named best international feature at The New York Film Critics Circle. Poland has won the Oscar once, in 2015 with Pawel Pawlikowski's Ida, and has been nominated a further 11 times out of 57 submissions. A painter and director, Skolimowski's credits also include 2010's Essential Killing and 2015's 11 Minutes.
Eligible for Bafta Film Awards (BFI).
Holy Spider (Denmark)
Dir. Ali Abbasi
Premiering in Competition at Cannes, Holy Spider is based on the real-life story of an Iranian serial killer at the turn of the century. Tehran-born, Copenhagen-based Abbasi (Borderland) shot Holy Spider in Jordan, recreating Iran's holy city of Mashhad where a family man preys on what the local police refer to as 'dirty whores', strangling women with his bare hands. Playing a female journalist who has to first fight the morality police before she can even try to bring his crimes to light, Zar Amir Ebrahimi won the best actress prize at Cannes. Denmark has been on something of a hot streak at the Oscars in recent years: its 2022 submission Flee secured a nomination following Thomas Vinterberg's win with Another Round. Altogether Denmark has had four wins and a further 10 nominations.
Eligible for Bafta Film Awards (Mubi).
Joyland (Pakistan)
Dir. Saim Sadiq
Sadiq's debut feature world premiered at Cannes in Un Certain Regard as the festival's first ever Pakistani film, and went on to win the jury prize and the Queer Palm. Having been submitted as the country's international Oscar contender, the film then suddenly faced a ban in its home nation for being "un-­Islamic" and "containing objectionable material" – only for the ban to overturned at the last minute. Joyland follows a young man from a patriarchal family who secretly joins an exotic dance theatre as a background performer and falls for a trans actress, while his wife is expecting their first child. Pakistan has submitted 10 entries to the Oscars in recent years with no nominations as of yet. Its last entry was in 2020 with Sarmad Khoosat's Circus Of Life.
Eligible for Bafta Film Awards (Studio Soho).
Last Film Show (India)
Dir. Pan Nalin
The country's 55th Oscar submission is a semi-autobiographical fable by Nalin that is set in 1990s Gujarat. It centres on a young boy who falls in love with film at his local cinema and forms a close friendship with the projectionist. Last Film Show premiered at Tribeca in 2021 where it was nominated for a narrative audience award and has also screened at Beijing and Los Angeles film festivals. India has scooped up three nominations previously - Mehboob Khan's Mother India in 1957 (its first submission); Mira Nair's Salaam Bombay! in 1988; and Ashutosh Gowariker's Lagaan in 2001.
The Quiet Girl (Ireland)
Dir. Colm Bairéad
Irish director-producer duo – and husband-and-wife –Bairéad and Cleona Ni Chrualaoi's feature debut The Quiet Girl first struck a chord at Berlin, where it clinched the grand prize in the Generation Kplus strand. A lengthy festival run followed, including Dublin, Taipei, Helsinki and Busan. The drama is based on Claire Keegan's novella Foster, about a neglected young girl's life-changing summer. It is the first Irish-language film to win best film at the Irish Film and Television Academy awards, the highest-grossing Irish-language film of all time around the world, and the first to gross more than €1m ($1.02m) at the UK-Ireland box office. DoP Kate McCullough's work on the film won her the cinematographer prize at this year's European Film Awards.
Eligible for Bafta Film Awards (Curzon).
Return To Seoul (Cambodia)
Dir. Davy Chou
Inspired by the director's own life as a French-born Cambodian, the country's 11th Oscar submission follows a French woman who returns to Korea for the first time since being adopted as a baby. The film had its world premiere at Cannes in Un Certain Regard and also screened at Busan, Zurich, New York, Toronto, and Athens, where it won best picture. Return To Seoul was Davy Chou's second feature to screen at Cannes: his first, Diamond Island, showed in Critics' Week in 2016, where it won the SACD Prize and went on to take several more awards on the festival circuit. Cambodia's only nomination so far is 2013's The Missing Picture by Rithy Panh.
Saint Omer (France)
Dir. Alice Diop
Saint Omer is the debut fiction feature from documentarian Alice Diop, who draws on real events for her story, and scooped the Grand Jury Prize Silver Lion at Venice in September. Kayije Kagama stars as an academic captivated by the trial of a woman (Guslagie Mlanda) who admits to killing her own child. France will be hoping the film breaks a 30-year barren streak in the international feature film Oscar category. Its Oscar submission last year – Julia Ducournau's provocative Titane - didn't even make the shortlist, prompting a revamp of the French selection committee this year. Saint Omer went on to play at TIFF, and multiple other festivals including LFF, Ghent, Chicago and Stockholm. It is nominated as a film of the year by the London Critics' Circle.
Eligible for Bafta Film Awards (Picturehouse Entertainment)