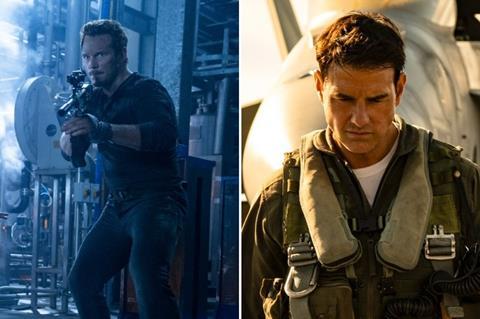 | | | | | |
| --- | --- | --- | --- | --- |
| Rank | Film (distributor) | Three-day gross (June 10 - 12) | Total gross to date | Week |
| 1. | Jurassic World Dominion (Universal) | £12.1m | £12.1m | 1 |
| 2. | Top Gun: Maverick (Paramount) | £5.6m | £50.1m | 3 |
| 3. | Doctor Strange In The Multiverse Of Madness (Disney) | £397,350 | £41.5m | 6 |
| 4. | Everything Everywhere All At Once (A24) | £205,252 | £4.5m | 5 |
| 5. | Sonic The Hedgehog 2 (Paramount) | £182,000 | £26.5m | 11 |
GBP to USD conversion rate: 1.22
Universal's Jurassic World Dominion has strutted straight to the top of the UK-Ireland box office in its opening weekend, taking £12.1m from 709 locations.
This gives a site average of £17,066, and puts it ahead of Top Gun: Maverick's opening weekend figure (excluding previews) of £11.2m, but behind the opening of Doctor Strange In The Multiverse Of Madness (£14.9m) and The Batman (£13.5m) – the top UK-Ireland weekend debuts for 2022.
Colin Trevorrow's Jurassic World Dominion is the last in the Jurassic World trilogy, and sees Jurassic Park's Laura Dern, Jeff Goldblum and Sam Neill return to the franchise, alongside Chris Pratt, Bryce Dallas Howard and Isabella Sermon. It hasn't managed to beat Jurassic World, which took £16.9m in its opening weekend back in 2015, but has overtaken the £10.6m first weekend of the second instalment, Jurassic World: Fallen Kingdom, in 2018.
Paramount's Top Gun: Maverick slipped 46% in its third week, taking £5.6m. Irrespective of the reduction, its cumulative total stands at an impressive £50.1m – making it the highest-grossing film of the year, so far, in the UK and Ireland, and the first film in the territory to cross the £50m threshold in 2022.
Disney's Doctor Strange In The Multiverse Of Madness has also fallen, down 66% from the previous week, taking £397,350. Its total now stands at £41.5m – the second highest-grossing film of the year so far in the UK and Ireland.
A24's Everything Everywhere All At Once added £205,252 in its fifth session to give a total of £4.5m, and in doing so has shifted up in the top five from fifth to fourth place. Last week, it was confirmed that the Daniel Kwan and Daniel Scheinert directed title is US-based A24's biggest global hit of all time.
In its 11th weekend, Paramount's Sonic The Hedgehog 2 took £182,000, down 60% on the previous week, bringing its total to £26.5m.
Bad Guys brought in £125,520 in its 11th weekend for Universal, with its cumulative figure rising to £13.2m, while Universal's other key holdover, Downton Abbey: A New Era, took £117,593 in its seventh session, with an overall figure now of £14.5m.
Indie openers
BFI Distributing's All My Friends Hate Me took £29,451 from 72 sites in its opening weekend, with an average of £409 per location. The UK comedy and Tribeca premiere directed by Andrew Gaynord, with a cast including Tom Stourton, Georgina Campbell and Dustin Demri-Burns, is about a birthday party that takes a dark turn. With previews, its total stands at £42,887.
Peccadillo Pictures' Swan Song, a US comedy directed by Todd Stephens, about a retired hairdresser who escapes his nursing home to fulfil a former client's dying wish, opened with £9,141 from 25 locations, to an average of £366, and an overall total of £9,665.
Il Buco took £6600 from 21 sites for New Wave Films in its first session, giving an average of £314. Its total including previews stands at £9513. The Venice 2021 competition title is directed by Michelangelo Frammartino and set amid a cave expedition in 1960s Calabria, southern Italy.
Modern Films took £1,150 from 11 locations for Jan P. Matuszyński's Venice competition title Leave No Traces, giving an average of £105. It's set in 1983 in Poland and based on the true story of a high-school student arrested and beaten to death.
Holding up
In other key holdovers, Alex Garland's horror Men, released through Entertainment Film Distributors, brought in £82,243 in its second weekend, plumping its overall takings up to £847,197.
Disney's The Bob's Burgers Movie took £42,764 in its third session, down 78% from its previous weekend, with a total of £1.1m. Paramount's The Lost City took £39,000 in its ninth weekend, bringing its cumulative total to £10.6m.
Mubi's release of Mia Hansen-Love's Cannes 2021 competition title Bergman Island, took £8,141 in its second weekend, with a total now of £65,678.