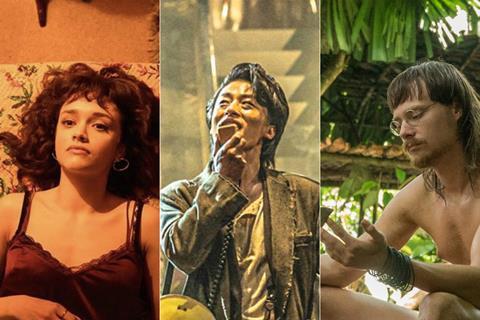 France, opening Wednesday, October 21
A dozen new films opened in France this week into a complex reality for the country's distributors and exhibitors following the introduction of a night-time curfew for Paris and eight other major cities on October 17. It was announced yesterday (Oct 22) that the measure will be extended to more than half the country this Saturday (Oct 24) following a further surge in cases over the past week.
Prior to the announcement, a dozen distributors had taken the plunge to release films on Wednesday against already difficult odds. In the backdrop, this period of the year is traditionally a busy time for cinemas due to the autumn half-term holiday.
After much deliberation, Gaumont Distribution maintained its release of Albert Dupontel's comedy Bye Bye Morons (Adieu Les Cons), giving it one of the biggest openings of the week on some 700 sites.
Other French-language, live-action releases included Ruben Alves's comedy Miss on 290 sites for Warner Bros. Starring androgynous model Alex Wetter as a man who sets his heart on winning the Miss France title, the feature was originally scheduled for a spring release but was pulled ahead of the national lockdown in March.
Under normal conditions, mainstream comedy Bye Bye Morons, starring Dupontel opposite Virginie Efira, would likely have been the top opener of the week. It was pipped at the post on the first day of opening, however, by Nicolas Vanier's family film Poly, which released on some 680 screens for SND. It revolves around the adventures of a 10-year-old girl and a pony she rescues from a circus.
Other family fare on release this week included Joann Sfar's feature animation Little Vampire on some 400 sites for Studiocanal and South African animation The Whale And The Snail on 180 sites for Les Films du Preau.
The biggest non-French language release of the week was Yeon Sang-ho's Korean blockbuster Peninsula on some 500 sites for ARP Sélection. Like Gaumont, distributor ARP Sélection deliberated about pulling the release but went ahead after cinemas outside the original curfew area pleaded for it to go ahead. It was one of two Cannes 2020 label titles hitting cinemas this week alongside Jonathan Nossiter's dystopian drama Last Words on some 43 sites for Jour2Fête.
Other non-French language releases included Andrei Konchalavsky's Michelangelo biopic Sin on 135 sites for UFO Distribution and Frederick Wiseman's Venice selection City Hall on 28 sites for Météore Films.
The latter title was one of two documentaries hitting cinemas this week alongside French director Eric Guéret's Le Feu Sacré on 17 sites for boutique distributor New Story. It follows the battle of workers at a northern French steelworks to save their plant.
Germany, opening Thursday October 22
The US majors have two releases this week: Universal opens Miranda July's crime comedy-drama Kajillionaire, while Warner Bros is launching actor Moritz Bleibtreu's directorial debut, the psychological thriller Cortex. The latter was co-produced by Warner's German office and had its world premiere at this year's Filmfest Hamburg at the end of September.
Tobis brings the Gerard Butler disaster movie Greenland forward by a week, having already pulled the film forward from a December 24 opening date to October 29.
Wild Bunch and Capelight team up to release French director Caroline Vignal's romantic comedy My Donkey, My Lover & I (Antoinette Dans Ses Cévennes); and the late Swiss actor Bruno Ganz can be seen in his last role in Winter Journey co-directed by Anders Ostergaard and Erzsébet Rácz, which Real Fiction is releasing.
Horror film fans can choose between Jeffrey A Brown's feature debut The Beach House (Koch Films) and Ryan Spindell's fantasy horror The Mortuary Collection (Capelight).
Other releases are Chilean filmmaker Pablo Larrain's Venice 2019 title Ema (Koch Films); Kantemir Balagov's Un Certain Regard award-winning Second World War drama Beanpole (Eksystent Distribution); Niklaus Hilber's adventure drama Paradise War: The Story of Bruno Manser (Camino); and Yulia Lokshina's documentary Rules Of The Assembly Line, At High Speed (JIP), her graduation film which won the student award at this year's DOK.fest in Munich.
UK, opening Friday October 23
After a tough weekend last time out, there are signs of hope at the UK box office, with several major distributors returning to cinemas despite Ireland and Northern Ireland still being closed for business.
eOne returns to 344 UK cinemas with its first new release since the pandemic began – animation Two By Two: Overboard!. The Germany-Ireland-Luxembourg co-production is a family-oriented adventure about two misfit castaway animals who struggle to reunite an unorthodox family, outrun a volcano, and negotiate a peace deal on a creaking Ark.
Paramount is also back, with Barnaby Thompson's crime comedy Pixie on 326 sites. Starring Screen Stars of Tomorrow Olivia Cooke (2014) and Ben Hardy (2015) alongside Alec Baldwin, the film follows a young woman who masterminds a heist to avenge her mother's death, but must flee across Ireland from gangsters.
Signature Entertainment has Liam Neeson's latest action title, Honest Thief, playing in 313 sites; the film has grossed over $5m on its first week on release in the US. Signature is also releasing historical drama A Call To Spy in 32 sites, following the recruitment and training of women as British spies at the beginning of the Second World War.
Universal is releasing romantic drama All My Life in 238 sites. Starring Jessica Rothe and Harry Shum Jr, the film centres on a couple whose wedding plans are thrown off-course when the groom is diagnosed with liver cancer.
Sony Pictures has its second post-lockdown title in over 200 sites – Michael Angelo Covino's The Climb, a comedy about the long friendship of two men which is tested when a woman comes between them.
Altitude is releasing The Secret Garden on a similar number of sites for Sky Cinema. Produced by David Heyman's Heyday Films, the latest big-screen adaptation of Frances Hodgson Burnett's 1911 novel stars Screen Star of Tomorrow 2019 Dixie Egerickx alongside Colin Firth and Julie Walters, in the story of an orphaned girl who discovers a magical hidden garden at her strict uncle's estate.
Covid-19 documentary Totally Under Control, from renowned US documentarian Alex Gibney, also receives a 10-site release through Altitude.
Munro Film Services has two titles out this weekend: family sci-fi thriller Max Winslow And The House Of Secrets starring Chad Michael Murray at 169 sites; and a single-site release of Canadian horror Antrum, about a cursed film from the 1970s.
Repertory titles and re-releases continue to find space at UK venues. Arrow Films is sending a 4K restoration of Giuseppe Tornatore's 1990 best foreign-language film Oscar winner Cinema Paradiso to 70 locations; while Studiocanal is releasing its own 4K resurrection, Alexander Mackendrick's crime comedy The Ladykillers, in four sites for the 65th anniversary.
Limited releases this weekend include One Man And His Shoes (announced yesterday as part of BBC Film and BFI's new British film broadcast series) in 11 locations through Dartmouth Films; François Ozon's Cannes 2020 label title Summer Of 85 in 29 sites through Studiocanal on behalf of Curzon Artificial Eye; documentary Raise Hell: The Life & Times Of Molly Ivins through Modern Films; Soho jazz club doc Ronnie's through Bird Box; thriller Huracán in 23 locations through Studio Soho Distribution; and Russian comedy Goodbye, America in 26 locations through Magnetes Pictures.