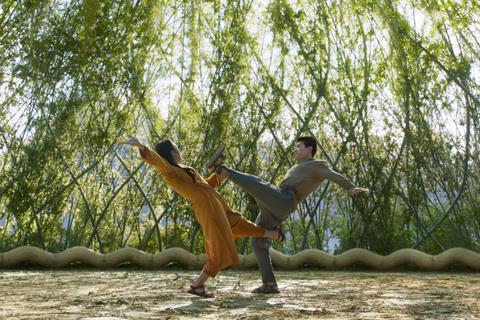 | Rank | Film (Distributor) | Three-day gross (Sep 3-5) | Total gross to date | Week |
| --- | --- | --- | --- | --- |
| 1 | Shang-Chi and the Legend of the Ten Rings (Disney) | £5.76m | £5.76m | 3 |
| 2 | Free Guy (Disney) | £956,000 | £13.2m | 4 |
| 3 | Candyman (Universal) | £754,097 | £2.9m | 2 |
| 4 | The PAW Patrol Movie (Paramount) | £465,000 | £6.86m | 4 |
| 5 | Jungle Cruise (Disney) | £265,928 | £11.76m | 6 |
GBP to USD conversion rate: 1.38
Disney's latest superhero blockbuster Shang-Chi And The Legend Of The Ten Rings set a new record opening in the UK and Ireland since cinemas reopened, topping the box office with a £5.76m start.
Shang-Chi scored an outstanding £9,011 average from 635 locations – also the highest for any film since the reopening in the spring.
The previous high mark was Universal's Fast And Furious 9, which started with a £4.83m weekend, averaging £8,125 from 595 locations.
The figures will come as welcome news for the theatrical industry in the UK and Ireland, and a further sign that conditions are returning towards their pre-pandemic state.
Disney also secured second place at the box office, with former number one Free Guy adding £956,000 – a moderate drop of 31% - to reach £13.2m from four weekends
Candyman had a similar drop of 32% on its second weekend for Universal, bringing in £754,097 to reach £2.9m.
Paramount took fourth spot with PAW Patrol: The Movie, down just 18% on its fourth session with £465,000 taking it to £6.86m.
Another Disney title, adventure Jungle Cruise, rounded out the top five, dropping £265,928 on its sixth weekend and reaching £11.76m.
Openers including Annette, Wildfire

The Suicide Squad continues to lead the way for Warner Bros, falling 51% with £205,000 bringing it to £13.8m from six sessions. Elsewhere for the studio, Space Jam: A New Legacy added £184,000, falling 24%, and has £12.3m from eight weekends; while Reminiscence is closing out, with £5,000 taking it to £545,000.
Elsewhere on Universal's slate, The Croods 2: A New Age fell just 24% on its eighth weekend with £185,755. It has now taken an impressive £9.2m. People Just Do Nothing: Big In Japan dropped 49% on its third session, with £137,501 taking it to just short of £2m; while Spirit Untamed posted a 20% drop, with £72,557 bringing it to £3.2m from six weekends.
Signature Entertainment's Rise of the Footsoldier: Origins opened to £122,859 from 243 locations at an average of £506; while the distributor also has animation Ainbo: Spirit of the Amazon, which added £20,447 to reach £127,664 from two weekends.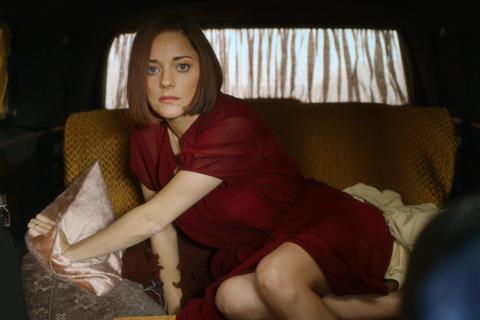 Cannes 2021 opener Annette began with £75,327 for Mubi from 147 locations, at an average of £512. Including previews, the film has £86,669.
After a strong start last time out, Picturehouse Entertainment's The Nest starring Jude Law and Carrie Coon took £64,000 on its second session – a fall of just 28% - and has £293,989. This is the highest-grossing non-family film released by an independent distributor since cinemas reopened, according to Picturehouse.
Disney also has The Night House, which added £53,000 to reach £864,371 from three sessions.
Our Ladies took £45,000 on its second session to reach £288,000 for Sony. The film's overall drop of 61% was countered by a strong performance in Scotland, where venues saw increases including Film Edinburgh (+95%), Eden Inverness (+16%), Glasgow Film Theatre (+14%) and Showcase Paisley (+8%).
The distributor also has Peter Rabbit 2, which added £33,000 for £20.3m; Don't Breathe 2, which added £28,000 for over £1m total cume; and Billy Crystal comedy Here Today, which opened to £27,000 including Edinburgh Film Festival previews.
For Parkland Entertainment, The Last Bus dropped 35% on its second session, with £38,507 taking it to £163,930 total; while The Champion of Auschwitz opened to £15,732 from limited shows.
Modern Films' Wildfire directed by Cathy Brady took £25,477 on its first weekend at an average of £397 and has £41,476 including previews.
Snake Eyes: G.I. Joe Origins suffered another sizeable drop on its third weekend, falling 82% with £21,000 taking it to the £1.05m mark.
Janine Jensen: Falling For Stradivari took £6,980 on opening, including a preview on Thursday September 2.
Sundance 2021 documentary Misha and the Wolves opened to £5,463 from 24 screens at an average of £228, and has £6,440 including previews.