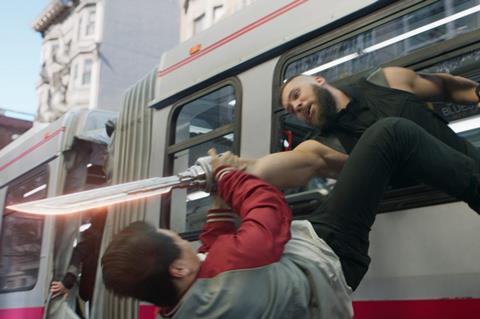 | | | | | |
| --- | --- | --- | --- | --- |
| Rank | Film (Distributor) | Three-day gross (Sep 10-12) | Total gross to date | Week |
| 1 | Shang-Chi And The Legend Of The Ten Rings (Disney) | £3.6m | £11.9m | 1 |
| 2 | Free Guy (Disney) | £689,906 | £14.3m | 5 |
| 3 | Respect (Universal) | £424,060 | £424,060 | 1 |
| 4 | Candyman (Universal) | £418,414 | £3.76m | 3 |
| 5 | Malignant (Warner Bros) | £409,449 | £409,449 | 1 |
GBP to USD conversion rate: 1.38
Disney's blockbuster Shang-Chi And The Legend Of The Ten Rings is racing towards the £12m mark, topping the UK-Ireland box office for a second consecutive weekend.
The Marvel Studios title dropped 37.7% on its second session, with £3.6m taking it to £11.9m total. Shang-Chi is the second film in Phase Four of the Marvel Cinematic Universe (MCU); it is now 23rd out of 25 titles as regards total gross, ahead of The Incredible Hulk and Captain America, and coming up on Thor (£14m).
It is one of only nine titles released in 2021 to pass the £10m mark, with four of these released by Disney. It is also one of just three films in that time, alongside Black Widow and Fast & Furious 9, to pass the £10m after two weekends, and has higher takings from that time than either of those two titles (Black Widow was at £11.2m, Fast & Furious 9 at £10.8m).
Disney will be looking for Shang-Chi to kick on past the £20m mark, in the two-and-a-half weeks before James Bond title No Time To Die eats up cinema screens.
Fellow Disney title and former number one Free Guy held second spot, falling 27.8% with £689,906 taking it to £14.3m from five weekends – a decent performance for a rare blockbuster not based on or connected to pre-existing material.
Universal's Aretha Franklin biopic Respect was the highest-grossing new title this weekend, opening to £424,060 from 605 locations at a modest average of £700.
The studio also had the number four title, with horror Candyman dropping 44.5% with £418,414 taking it to £3.76m total from three weekends.
Warner Bros' Malignant opened to £409,449 from 524 locations at an average of £783, just making it into the top five.
Herself makes strong Ireland start
The PAW Patrol Movie moved to sixth spot for Paramount, dropping 31% in its fifth weekend with £324,000 taking it to £7.29m.
Joe Carnahan's action thriller Copshop opened to £198,000 from 491 locations for Eros STX, at a low average of £403.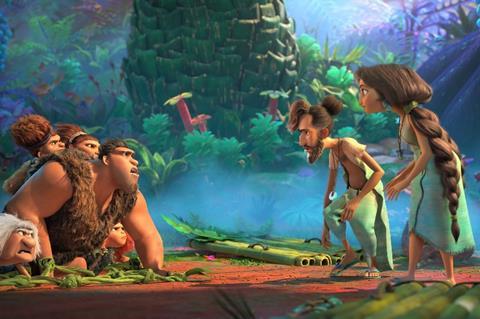 The Croods 2: A New Age continues to perform well for Universal on an impressive ninth weekend, falling just 25% with £139,390 taking it to £9.3m. Also for the studio, People Just Do Nothing: Big In Japan added £70,035 – a 49% drop - to reach £2.1m from four sessions; while Spirit Untamed put on £50,416 to hit £3.2m from seven.
Elsewhere on Warner Bros' slate, Space Jam: A New Legacy fell 27% with £134,259 taking it to £12.4m. It has now overtaken the weekend-by-weekend takings of The Suicide Squad, which dropped 53% with £95,400 taking it just past £14m.
Jungle Cruise dropped 38% for Disney on its seventh session, with £165,412 taking it just past the £12m mark.
Phyllida Lloyd's Herself opened to £47,077 across the UK and Ireland, including €31,536 (£26,858) in the Republic of Ireland and Northern Ireland, where Element Distribution is handling the film's release with Picturehouse Entertainment distributing in England, Scotland and Wales. Including previews, the film has €38,988 (£33,208) in ROI and Northern Ireland; and £85,650 in total across UK and Ireland including previews.
Rise of the Footsoldier: Origins dropped a sizeable 68% on its second session, with £38,841 taking it to £221,130. This was still enough for it to surpass the previous high mark of the Footsoldier series, the £170,853 taken by the 2007 first film.
Also for Picturehouse Entertainment, Sean Durkin's The Nest dropped 49% with £32,761, and has £365,000 total from three weekends.
Leos Carax's Cannes 2021 opening film Annette dropped 59.3% on its second weekend, adding £30,656 to reach £173,494 in total.
Parkland Entertainment's The Last Bus took £27,340 on its third weekend, a fall of 29%, to reach £245,720 to date. It performed particularly strongly in midweek matinee showings, breaking into the top 10 on Thursday September 9 with £19,496 on that day. The film's strong midweek performance goes against the idea that older audiences are not comfortable returning to cinemas since they reopened in May. Parkland also started From The Vine on a limited release over several weeks, with the film taking £771 to date.
CinemaLive event release Mick Fleetwood & Friends stands at £84,257, having taken £59,187 on its Tuesday September 7 original release date.
Having debuted on the first weekend cinemas reopened back in May, Peter Rabbit 2 is still in select cinemas 17 weekends later, with £25,000 taking it to £20.42m for Sony. The studio also has Michael Caton-Jones' Our Ladies, which added £15,000 to reach £339,000.
Closing out for Disney are The Night House, adding £12,509 to reach £913,053 from four weekends; and Black Widow, adding £12,484 to reach £18.8m from 10.
Studiocanal's release of Joseph Losey's 1963 feature The Servant took £6,460 including previews for Studiocanal.
Ninjababy took £372 from two venues for Curzon, with the film continuing its run online on the company's Curzon Home Cinema platform.