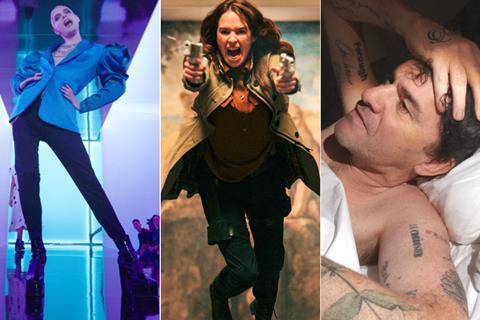 Musical adaptation Everybody's Talking About Jamie, action thriller Gunpowder Milkshake and Mark Cousins' documentary The Story of Looking are three of 19 new films landing in UK-Ireland cinemas this weekend, as distributors look for screen space in advance of No Time To Die in two weeks.
The number of releases each week has been steadily increasing throughout the summer, with just eight on June 4, two weeks after cinemas reopened in England. This has risen to 15 last weekend, and jumped further to 19 this time out.
The increase is a welcome sign for the theatrical industry, with screens available to show this number of titles. However, none of the new releases are fully wide, with 273 the highest number of locations for any one film. For comparison, Disney opened Shang-Chi And The Legend Of TheTen Rings on 643 sites two weeks ago.
The impending release of No Time To Die on September 30 is also a factor in the high numbers, with distributors looking to gain exposure for films before the Bond behemoth takes over. Only five other films are scheduled for theatrical release in the same week as No Time To Die, all on limited screens.
For this weekend, Amazon is conducting a 20-location release for Everybody's Talking About Jamie, with Curzon assisting in a distributing servicing role. Directed by Jonathan Butterell, the film is adapted from the hit stage musical with music by Dan Gillespie Sells and lyrics by Tom MacRae.
Produced by Mark Herbert and Peter Carlton for the UK's Warp Films alongside Arnon Milchan for New Regency, the film was set for distribution in October 2020 by Disney subsidiary 20th Century Studios. However, Disney cancelled the theatrical release in June 2020 due to the pandemic; and sold distribution rights for over 240 territories to Amazon Prime Video in May 2021.
Screen Star of Tomorrow 2020 Max Harwood stars in the story of a 16-year-old in Sheffield, UK who longs to be a drag queen.
The limited release reduces the value of box office comparisons on the title; however audiences have demonstrated strong interest in musicals in recent years, on titles including The Greatest Showman, Rocketman and Bohemian Rhapsody.
Studiocanal's Gunpowder Milkshake, playing in 160 sites, is an action thriller following three generations of women who fight back against those who could take everything from them. It is the third feature from Israeli filmmaker Navot Papushado, after 2010's Rabies and 2013's Big Bad Wolves. Karen Gillan, Lena Headey, Paul Giamatti, Michelle Yeoh and Angela Bassett lead the cast.
Latest Cousins, plus remasters
Modern Films is launching the latest documentary from Mark Cousins, The Story Of Looking, in 15 locations including five in Scotland. Special screenings include Q&As at London's Institute of Contemporary Art and Manchester's Home this weekend; with future partnerships with Science Gallery Dublin, the Photographer's Gallery and the Vision Foundation as part of a widening rollout of the film in coming weeks.
In The Story of Looking, Cousins examines the role that visual experience plays in our individual and collective lives through a kaleidoscope of images from across ages and cultures. It premiered as the closing night film of Sheffield Doc/Fest in June; it is Cousins' third feature of the year, alongside Cannes 2021 titles The Story Of Film: A New Generation and The Storms of Jeremy Thomas.
Among the releases in a mid-range number of screens is Thomas & Friends: Race For The Sodor Cup, an hour-long animation from the popular Thomas the Tank Engine series, heading into 257 locations through National Amusements.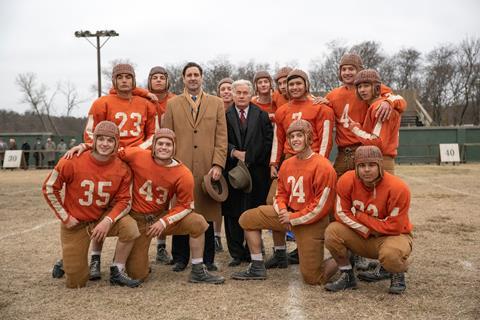 Sony is releasing Ty Roberts' 12 Mighty Orphans in 140 locations. The film is based on the true story of an American football team in Fort Worth, Texas composed of young players from a local orphanage.
Warner Bros' 273-location release of a 4k restoration of Stanley Kubrick's 1972 A Clockwork Orange is one of several repertory titles in cinemas this weekend, alongside 1995 anime sci-fi Ghost In The Shell in 49 Imax screens through Lionsgate; and The Maltese Falcon in 21 sites through BFI Distribution.
Further indie titles include Joe Lawler's BFI London Film Festival 2019 premiere Rose Plays Julie in 45 sites through New Wave Films; Darragh Carey and Bertrand Desrochers' London-set romance A Brixton Tale in 12 sites through Bulldog Film Distribution; food industry documentary Eating Our Way to Extinction narrated by Kate Winslet, in 12 locations on its first weekend through Dartmouth Films; and Altitude's limited release for Quentin Dupieux's Venice 2020 title Mandibles, about two friends who try to train a giant fly that gets trapped in their car.
Kinostar has Patryk Vega's Polish crime thriller Small World in 197 locations across the UK and Ireland.
Elysian Film Group Distribution is handling Sion Sono's Prisoners of the Ghostland starring Nicolas Cage, which debuted at the online Sundance Film Festival in January; Kaleidoscope has endangered animals documentary Escape From Extinction; Dogwoof has John Hoffman and Janet Tobias' Fauci, about the life and work of infectious disease specialist Dr. Anthony Fauci; while MusicFilmNetwork has Kevin Allen's caravan park comedy La Cha Cha.
Fresh from its Toronto premiere, Netflix is releasing Theodore Melfi's comedy-drama The Starling starring Melissa McCarthy; while Koch Films has horror The Djinn, about a mute boy trapped in his apartment with a sinister monster.
Key holdovers from last weekend include two-time number one Shang-Chi; fellow Disney blockbuster Free Guy; and Universal's Aretha Franklin biopic Respect.