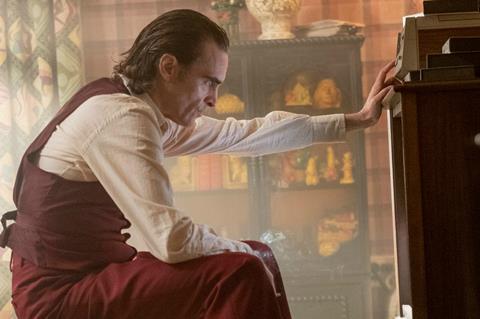 | | | | | |
| --- | --- | --- | --- | --- |
| Rank | Film (Distributor) | Three-day gross (Oct 18-20) | Total gross to date | Week |
| 1 | Joker (Warner Bros) | £5.5m | £40.3m | 3 |
| 2 | Maleficent: Mistress Of Evil (Disney) | £3.3m | £3.3m | 1 |
| 3 | Zombieland: Double Tap (Sony) | £1.3m | £1.3m | 1 |
| 4 | A Shaun The Sheep Movie: Farmageddon (Studiocanal) | £1.1m | £1.3m | 1 |
| 5 | Abominable (Universal) | £988,083 | £3.7m | 2 |
Today's GBP to USD conversion rate: 1.30
Warner Bros
Supervillain origin story Joker topped the box office for the third weekend in a row, adding £5.5m to take it to £40.3m in total.
The film scored an £8,047 site average, proving a very impressive total for a third session. It also held off the challenge of three strong new openers in the top five: Maleficent: Mistress Of Evil; Zombieland: Double Tap; and A Shaun The Sheep Movie: Farmageddon.
Its 44% third-weekend drop was better than all major comic book adaptations this year to date, apart from Alita: Battle Angel in February, which was coming from a much lower total.
After just three weekends, Joker has risen to fourth spot in the UK's 2019 box office rankings, passing the £39.9m of Captain Marvel in fifth.
It is now Warner Bros' highest-grossing title in the UK since 2017's Dunkirk, and with a strong tail could reach the £56.8m of Christopher Nolan's war film.
It: Chapter Two added £36,000 for £18.9m; while a re-release of Stanley Kubrick's classic horror The Shining grossed £12,800, ahead of the planned October 30 release of Doctor Sleep, an adaptation of Stephen King's sequel to The Shining.
Disney
Franchise sequel Maleficent: Mistress Of Evil had a slow start to its box office run, taking £3.3m with a £5,372 screen average for second place in the chart and behind the £3.8m opening of first Maleficent in 2014.
This puts it comfortably behind the opening of Disney's other tentpole releases this year, including Captain Marvel (£12.8m), Dumbo (£6.1m), Avengers: Endgame (£31.4m), Aladdin (£5.7m), Toy Story 4 (£13.3m) and The Lion King (£16.7m).
M. Night Shyamalan's Glass, another Disney title, also pipped it with £3.33m in January.
Disney will hope the autumn half term, starting today (Monday, October 21) in most schools, will give the Angelina Jolie movie a boost.
Toy Story 4 took £50,000 on its 18th weekend and is up to £66m as it comes out today on DVD; while The Lion King added £44,000 on its 14th weekend and has £75.6m.
Sony
Comedy horror sequel Zombieland: Double Tap brought in £1.3m on its first weekend from 449 locations for a £2,776 site average.
The first film had a £4,164 average on opening in October 2009, but a lower opening total of £945,256.
The Angry Birds Movie 2 added £25,000 for £5.6m, while Once Upon A Time… In Hollywood is closing out its run at £21.3m, the seventh highest-grossing 18-rated title of all time in the UK.
Studiocanal
The third new sequel to reach the top five this weekend, A Shaun The Sheep Movie: Farmageddon brought in £1.1m from 588 sites for a £1,911 location average. With previews, the film has £1.3m.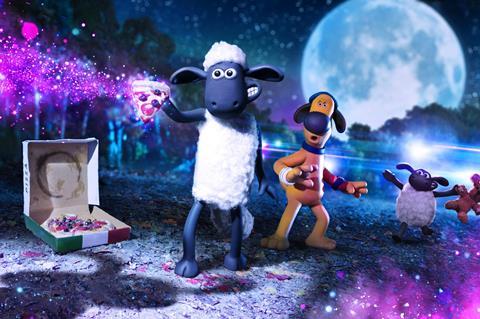 This is around half of the £2.1m start and £4,116 average of the first film in February 2015, and represents a below-par result for Studiocanal, although like Maleficent: Mistress Of Evil, it will expect a decent hold over half-term.
Universal
Abominable kept its top five spot on its second weekend, dropping 53% and taking £988,083 for £3.7m to date.
Downton Abbey fell 57% on its sixth session with £413,795, and has £26.7m, making it the eighth highest-grossing title of 2019 so far.
Paramount
Gemini Man fell 57% in taking £713,000 over the weekend and has £3.2m to date. Dora And The Lost City Of Gold added £56,000 on an impressive 10th session, and is up to £6.4m.
20th Century Fox
In a week when most holdovers performed consistently with each other, Judy fell 54% on its third session, with £519,455 bringing it to £6.3m to date.
Ad Astra went down 69% on its fifth session, with £47,281 taking it to £6.1m; while Ready Or Not dropped 67%, with £24,625 taking it to £2m.
eOne
Another new opener, Keira Knightley spy drama Official Secrets, started with £537,889 from 379 locations for a £1,341 location average.
Chris Morris' satire The Day Shall Come dropped a heavy 76% on its second session, with £32,191 bringing it to £305,684.
STX
STX's highest-grossing UK title Hustlers held a top 10 spot for the sixth week in a row, with a 52% drop to £174,000 bringing it to £7.3m cume.
Vertigo
Corpus Christi, Jan Komasa's Polish Oscar entry, opened to £61,141 from 90 sites for a £679 location average, and has £64,141 total.
Signature Entertainment
Tyler Nilson's adventure comedy The Peanut Butter Falcon, starring Shia LaBoeuf, Dakota Johnson and Zack Gottsagen, started with £39,609 from 65 sites.
National Theatre Live
Encore screenings of Phoebe Waller-Bridge's stage adaptation of Fleabag continue to bring in box office, with £34,739 taking the film to £3.9m to date.
After bringing in £496,138 on its Thursday, October 17 event cinema release, encore showings of A Midsummer Night's Dream took £17,063 over the weekend for a £513,201 total.
Curzon
Olivier Assayas' Venice 2018 title Non-Fiction starring Juliette Binoche opened to £31,840, with its £1,327 average being the best outside the top five. It has £43,448 including previews.
Entertainment Film Distribution
Lulu Wang's Sundance 2019 title The Farewell added £27,196 on its fifth weekend and has a decent £812,314 in total.
More2Screen
The event cinema release of Gauguin From The National Gallery grossed £60,623 on Tuesday, October 15 and with encore screenings is up to £74,843.