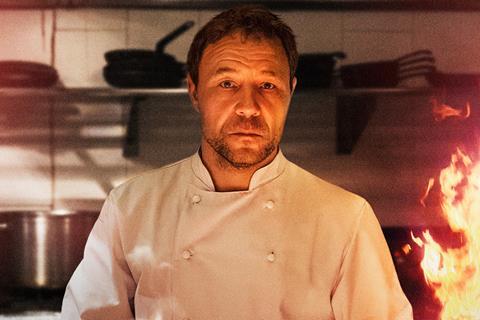 Philip Barantini's one-shot chef drama Boiling Point will hope to have timed its release to perfection when it opens in 52 UK-Ireland cinemas this weekend.
The film stars Stephen Graham as the head chef dealing with personal and professional crises on one of the busiest nights of the year for his restaurant.
Having had its world premiere in the main competition at Karlovy Vary Film Festival last August, Boiling Point received a joint-most 11 nominations at the 2021 British Independent Film Awards, winning four: best supporting actress for Vinette Robinson as Graham's second-in-command, plus best casting for Carolyn Mcleod, best cinematography for Matthew Lewis and best sound for James Drake. It is adapted from Barantini's 2019 short of the same name, which also starred Graham and was Bifa-nominated.
Distributor Vertigo Releasing has delayed the release on several occasions as the buzz around the film has increased; it will hope that the Bifa recognition will spur the film towards similar acclaim at the Baftas, with nominations announced on February 3.
Boiling Point is a second feature for Liverpudlian director Barantini, after 2020 crime drama Villain, with both titles produced by Bart Ruspoli's Ascendant Films (Hester Ruoff is also a producer on Boiling Point).
Villain had a limited theatrical release in February 2020, just prior to the pandemic taking hold. It found a second life when arriving on Netflix in autumn 2021, topping the streamer's own rankings for the UK for several days.
Advances in camera technology are making the one-shot feature increasingly viable for filmmakers. Sam Mendes' 2020 war drama 1917 (opened: £7.5m; closed: £44.1m) gestured towards this effect, composed of several long takes stitched together; while titles to have achieved it as Boiling Point does include Sebastian Schipper's 2016 Victoria (opened: £108,602; closed: £520,285).
The film is a key lead film role for Graham, whose CV includes supporting parts in The Irishman, Rocketman, Journey's End, Tinker Tailor Soldier Spy, The Damned United and the Pirates of the Caribbean franchise.
He is known to many for playing the troubled Combo in Shane Meadows' This Is England, first in the 2006 film (opened: £207,676; closed: £1.5m) then in three follow-up TV series. Graham has also received acclaim for his TV work in recent years, in projects such as Meadows' The Virtues, Andrew Haigh's The North Water and Marc Munden's TV movie Help.
Quiet week for releases
The first full weekend of 2022 is proving to be a quiet one for new films, with just six new titles and one re-release. Although cinemas can open to full capacity at regular hours in the UK, they must close at 8pm in Ireland, and some distributors are waiting to see how the Omicron variant progresses before confirming dates for the coming weeks.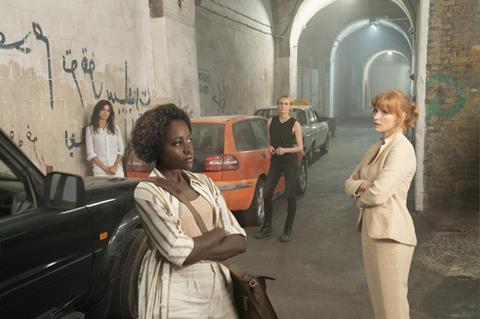 Universal is releasing Simon Kinberg's action thriller The 355 in 494 sites. Having been introduced to buyers by FilmNation at Cannes 2018, Universal won a bidding war and set a January 2021 release; but delayed it a year in November 2020 as the pandemic continued.
It will hope for a better start than in the US, where it is tracking for a low $6m opening weekend.
The 355 follows a wild card CIA agent who joins forces with three international colleagues on a lethal mission to retrieve a top-secret weapon.
Jessica Chastain leads an all-star cast, which also includes Penelope Cruz, Diane Kruger, Lupita Nyong'o, Bingbing Fan, Sebastian Stan and Edgar Ramirez.
It is a second feature for British-born US filmmaker Kinberg after 2019's X-Men: Dark Phoenix (opened: £3.8m; closed: £7.3m). He has worked predominantly in the blockbuster sphere, as a producer on films including Logan, Deadpool, Cinderella and several X-Men films.
Universal also has a first full weekend for Paul Thomas Anderson's awards contender Licorice Pizza in 203 sites, after it began playing in cinemas on New Year's Day.
Curzon is handling a 24-site release for Asghar Farhadi's A Hero. Having premiered in Cannes Competition last summer, the film is representing Iran on the 15-strong international feature Oscar shortlist.
It is a major contender for at least a nomination, given Farhadi's pedigree in the section: he won the award for A Separation in 2012 (opened: £57,085; closed: £381,105) and for The Salesman in 2017 (opened: £89,621; closed: £269,257), with Curzon releasing both in the UK and Ireland.
LGBTQIA+ distributor Peccadillo Pictures is releasing Eric Steel's Minyan, about a young Jewish man caught between thrilling private trysts and his repressive family, in three locations. It debuted in the Panorama strand at Berlin 2020.
Dogwoof is releasing Jamila Wignot's documentary Ailey, a portrait of dance pioneer Alvin Ailey; while Netflix, which does not disclose location numbers or box office gross, is releasing Christian Schwochow's Munich - The Edge of War starring Jeremy Irons, George Mackay and Jannis Niewohner.
BFI Distribution is releasing a 4k restoration of Francois Truffaut's 1959 classic The 400 Blows in 24 sites.
Key holdovers include Spider-Man: No Way Home, which will be confident of a fourth weekend on top of the chart; plus the second weekend of Disney's The King's Man.