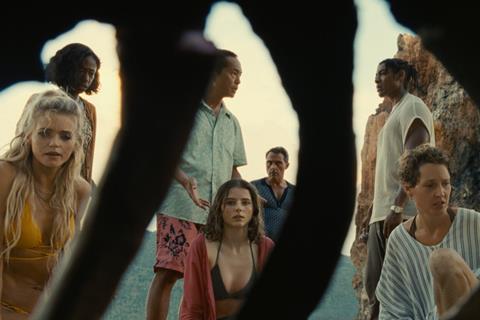 M. Night Shyamalan's ageing thriller Old heads the new openers at the UK-Ireland box office this weekend, as new releases persist despite concerns over rising Covid-19 cases.
The UK and Ireland reported a combined 41,094 new cases on Thursday, July 22 (39,906 in the UK, 1,188 in Ireland). This is up 565% from 6,180 on May 17, the day cinemas reopened in England (5,628 in the UK; 552 in Ireland).
The vaccine rollout should reduce the spread and potency of the virus, with all UK adults now offered a first dose. However there are still concerns that the third wave will affect box office releases; yesterday Entertainment Film Distributors pulled the UK debut of David Lowery's The Green Knight two weeks before release, reportedly due to Covid-19 concerns; while Warner Bros has moved Roger Michell's The Duke from September 3, 2021 to March/April 2022.
For now, distributors are holding firm, with 11 new theatrical releases this weekend, compared to 10 and 11 in the two weeks before.
Universal is debuting Old in 567 locations from today. M. Night Shyamalan's latest centres a family on a tropical holiday who find a secluded beach which seems idyllic; until they realises it causes those on it to age rapidly.
This is Shyamalan's 14th feature film; his high watermark remains 1999 horror The Sixth Sense, which opened to £292,295 in just nine locations, going on to a huge £25.8m. While subsequent releases haven't hit quite those heights, he is still a reliable box office draw, with titles including 2000's Unbreakable (£11.6m), 2002's Signs (£16.2m), and 2004's The Village (£10.3m).
After a run of sub-£10m titles, he has returned to eight-figure territory with the sequels to Unbreakable (known as the Eastrail 177 trilogy) – 2017's Split (opened: £2.6m, closed: £11.4m) and 2019's Glass (opened: £3.4m, closed: £11m).
Although cinemas in England can now operate at full capacity, many are making cautious changes towards this; so an eight-figure total may be out of reach for Universal on this one.
Sony is distributing Mona Fastvold's romance The World To Come starring Katherine Waterston and Vanessa Kirby in 104 locations. The film debuted in Competition at Venice 2020, going on to play San Sebastián, Sundance, and Rotterdam.
It centres on an affair between two women, both from couples battling hardship in rural 19th century America.
Norwegian filmmaker Fastvold is best known for her collaborations with her partner Brady Corbet. Her only previous directorial feature, 2014's The Sleepwalker which she wrote with Corbet, did not receive a UK-Ireland release; however she co-wrote 2015's The Childhood Of A Leader (£169,982) and 2018's Vox Lux (£153,505), both directed and co-written by Corbet.
Waterston broke through with her role in Paul Thomas Anderson's 2014 Inherent Vice (£1m) and has since starred in Harry Potter spin-off series Fantastic Beasts; while Screen Star of Tomorrow 2011 Kirby is in demand following her recent Oscar nomination for Kornél Mundruczó's Pieces Of A Woman, which also debuted in the Venice 2020 Competition.
Arthouse releases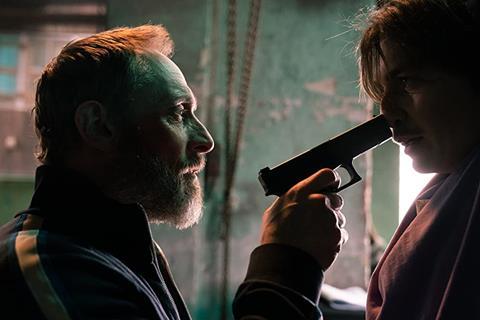 Vertigo is releasing Anders Thomas Jensen's action comedy Riders Of Justice starring Mads Mikkelsen, as a man dealing with the fallout of the train accident which killed his wife – and may not have been an accident.
The film opened the 2021 International Film Festival Rotterdam which took place largely online.
Denmark's Jensen has directed four previous features, going back to 2000's Flickering Lights. However he is better known as a writer, having co-written the characters for Andrea Arnold's 2006 Red Road, and with credits including 2008's The Duchess starring Keira Knightley, 2014 thriller The Salvation with Mikkelsen, and several films with compatriot Susanne Bier, including 2006's After The Wedding and the 2019 English-language remake of the same name.
Mikkelsen can also currently be seen in Oscar best international feature winner Another Round, which was up to £563,907 after three sessions last weekend for Studiocanal.
Munro Film Services is conducting a 337-location release for Jules Williamson's UK title Off The Rails. The film stars Kelly Preston, Jenny Seagrove and Sally Phillips as three friends in their mid-50s embarking on a European train adventure to celebrate the life of their recently deceased friend.
It was Preston's final film role before her death in July 2020 aged 57; her career included key parts in US titles Jerry Maguire, Twins and Mischief.
Altitude is releasing Philippe Lacôte's drama Night Of The Kings in 19 sites. The film, which was Ivory Coast's third-ever Oscar international feature entry and made the shortlist, debuted in the Horizons section at Venice 2020, going on to Toronto, Sundance, Busan and Rotterdam film festivals.
It has also picked up several international prizes from ceremonies recognising Black film achievements, including from the African-American Film Critics Association, the Black Film Critics Circle, the Black Reel Awards and the Image Awards.
It centres on a young man sent to a jail in a forest ruled by the prisoners, to whom he must tell a story.
Park Circus is conducting a re-release of Claudia Weill's 1978 comedy Girlfriends in 32 locations; while Fractured Visions is releasing fantasy title Luz: The Flower Of Evil; and Demand Film has documentary Phil Liggett: The Voice Of Cycling.
Further foreign-language titles in UK-Ireland cinemas this weekend include Piotr Domalewski's I Never Cry in 10 sites through Eureka; Albert Dupontel's Bye Bye Morons in a single location through Curzon; and Nir Bergman's Israeli drama Here We Are through Studio Soho Distribution.
Holdovers from a warm previous weekend include number one Black Widow for Disney; Warner Bros' animation-live action hybrid Space Jam: A New Legacy; and Universal franchise title The Forever Purge.