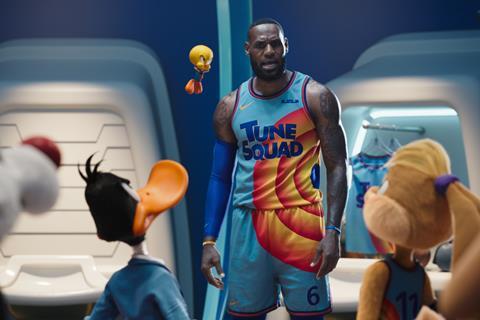 Animation-live action hybrid Space Jam: A New Legacy leads the new titles at the UK-Ireland box office this weekend, released by Warner Bros.
The film is a sequel to Space Jam, released in 1997 in the territory; this edition stars basketball star LeBron James as a fictionalised version of himself, as he teams up with the Looney Tunes to win a match against digitised champions, to rescue his son from a rogue AI program.
The first film opened to £1.5m from 366 locations, going on to gross £11.7m – a strong result for a mid-90s release.
Space Jam: A New Legacy will look to benefit from the cult status gained by the original film since its release – as an example of this, Warner Bros has maintained the website for the first film in its original form since 1996. Exact number of locations for the sequel is to be confirmed.
Now 36 years old, James is nearing the end of his basketball career, and may see the screen as a profitable next venture. His previous on-screen credits include playing himself in Judd Apatow's 2015 Trainwreck opposite Amy Schumer (£3.2m total), while he also voiced a character in 2018 Warner animation Smallfoot (£11.5m).
James owns his own production company, SpringHill Entertainment, which has multiple projects in the works. These include sports comedy Hustle starring Adam Sandler, Ben Foster and Robert Duvall in post-production, on which James is a producer.
This will be the final weekend in England when cinemas are subject to 50% capacity limits. However, it is expected that many exhibitors will continue Covid-19-related measures after this date; the Showcase chain has already confirmed it will leave a single seat between all separate groups in its screens.
Hot weather forecast for much of the country, combined with the impending removal of legal restrictions around Covid, may restrict box office takings.
Two is the magic number
Sequels rule the roost this weekend, with Universal finally distributing animated follow-up The Croods 2: A New Age. The long-delayed film had been scheduled for release as far back as 2017; however delays first in post-production, then latterly through the pandemic, have repeatedly pushed it back.
It was released in the US and Canada in November 2020, and has taken £42.4m ($58.6m) to date. The first film, 2013's The Croods, opened to £5.4m in the UK and Ireland through Fox, taking £26.9m total.
The sequel sees the prehistoric Croods brood challenged by a rival family who claim to be better and more evolved. A stellar voice cast is led by Nicolas Cage, Emma Stone, Ryan Reynolds, Catherine Keener and Peter Dinklage.
Sony is also in the sequel sphere with Escape Room: Tournament Of Champions - a psychological horror that follows 2019's Escape Room - in over 400 sites.
The first film opened to £820,713, reaching £2.6m in total. Horror-themed titles have made headway at the box office since cinemas reopened in England on May 17, with Paramount's A Quiet Place Part II at £10.9m and Warner Bros' The Conjuring 3 up to £9.1m as of last weekend.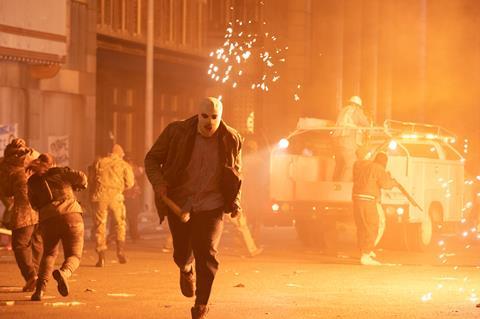 Universal has a horror of its own: The Forever Purge, the fifth title in the Purge franchise - another title that was scheduled for release last summer before the pandemic hit. The series began with 2013's The Purge (opened: £1m, closed £3.4m), with the highest-grossing being the most recent – 2018's prequel The First Purge (opened: £1.8m, closed £6m). This instalment sees a group of people attempt to escape from the US after an insurrectionist movement continues committing crimes and murders nationwide following the events of 2016's The Purge: Election Year.
Disney is releasing music documentary Summer Of Soul (…Or, When The Revolution Could Not Be Televised), directed by music artist Questlove, in over 130 locations. The film debuted at Sundance Film Festival in January, and has gone on to play significant events on the documentary circuit including True/False, Hot Docs, and as the opening film of Sheffield Doc/Fest in June.
Indie titles
Picturehouse Entertainment has horror-comedy Deerskin opening in 61 sites from today. The film, which launched in Directors' Fortnight at Cannes 2019, is the latest feature from French director Quentin Dupieux, also known by his musical stage name Mr. Oizo. The film centres on one man's obsession with his designer deerskin jacket, which causes him to blow his life savings and turn to crime. Jean Dujardin and Adèle Haenel star; Dujardin's highest-grossing lead role here remains 2011's The Artist (£9.8m total), while Haenel co-led 2020's Portrait Of A Lady On Fire, which took £554,398 before its release was cut short by the pandemic.
Curzon is releasing Uberto Pasolini's 2020 Venice Horizons title Nowhere Special in 83 sites from today. Screen Star of Tomorrow 2013 James Norton leads the story of a terminally-ill window cleaner who attempts to find a better family for his young son. Norton, who continues to be linked with the soon-to-be-vacant James Bond role, has big-screen credits including Little Women (£22.2m total) and Mr. Jones (£129,313). He is currently shooting fellow Screen Stars Declan Lawn and Adam Patterson's conman story Freegard, on which he is also a producer through his UK firm Rabbit Track Pictures.
Also this weekend, Signature is debuting Jimmy Giannopoulos' crime thriller The Birthday Cake starring Shiloh Fernandez, Ewan McGregor and Val Kilmer; Modern Films has documentary The Witches of the Orient, about the 1964 Japanese Olympic volleyball team; while Peccadillo Pictures has Filippo Meneghetti's romance Two Of Us, which was France's submission to the 2021 Oscars, making the shortlist.
Holdovers beside the aforementioned horror titles are the second weekend of Disney's Black Widow; and continuing runs for Universal's Fast And Furious 9, Sony's Peter Rabbit 2 and Warner Bros' In The Heights.