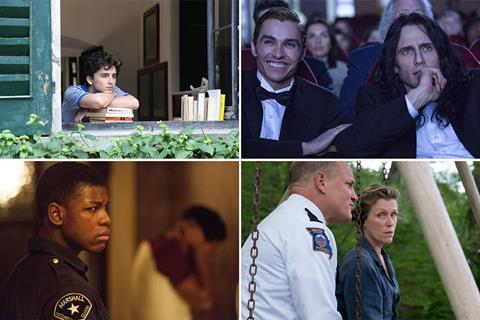 The blurry waters of the 2017 awards race are beginning to clear post Venice, Telluride and Toronto.
With some big titles yet to open – Steven Spielberg's The Post, Paul Thomas Anderson's Phantom Thread, Woody Allen's Wonder Wheel, amongst others – some fore-runners are emerging from the films which have opened, particularly in the acting categories.
It looks like the strongest ever year for actresses, yet there is – to date – no black or minority actor emerging in this category.
Our early awards predictions are below.
Best picture early contenders:
The Shape Of Water (dir. Guillermo del Toro)
Our review said: "Guillermo del Toro channels all the streams that make him unique into The Shape Of Water, pouring his heart, soul and considerable craft into an exquisite creature fable."
Dunkirk (dir. Christopher Nolan)
Our review said: "A masterful Christopher Nolan flings the viewer into the air, the sea, and that beach for Dunkirk, his tense new navigation of the war film."
Call Me By Your Name (dir. Luca Guadagnino)
Our review said: "Call Me By Your Name is an intensely languorous seduction from Luca Guadagnino."
Three Billboards Outside Ebbing, Missouri (dir. Martin McDonagh)
Our review said: "A whimsical modern-day Western with the boiler-suited Frances McDormand playing the lone ranger in a fight for justice."
Mudbound (dir. Dee Rees)
Our review said: "Mudbound starts with great promise, and its central setting—a waterlogged and mud-soaked farm, which struggles to yield any crops—is a fitting metaphor for the sinking hopelessness of racial harmony in the U.S."
Detroit (dir. Kathryn Bigelow)
Our review said: "A cauldron of anger, fear and chaos, Detroit is guided by the unbridled emotions of its imperilled characters, resulting in a drama which is at times inelegant in its rage but nonetheless produces a grim wallop."
Best Actress contenders:
Sally Hawkins (The Shape Of Water)
Our review said: "Sally Hawkins [is] so intuitive and nuanced at the film's mute centre."
Margot Robbie (I,Tonya)
Our review said: "I, Tonya gives Robbie the chance – her first, really – to show her full range as an actress. And she shines."
Emma Stone (Battle Of The Sexes)
Our review said: "Stone is fully convincing as King, giving her character great charm and warmth, and managing to look athletic enough to keep audience members who may not remember the match's outcome on the edge of their seats."
Jessica Chastain (Molly's Game)
Our review said: "It's a role which is familiar territory for Chastain: like her ruthless lobbyist in Miss Sloane, Molly Bloom is a woman used to running intellectual rings around the smartest guys in the room. [She is] a near certainty for a clutch of nominations."
Annette Bening (Film Stars Don't Die In Liverpool)
Our review said: "Our attention is focused on Bening's central performance. The pout and the poise, not to mention the Mae West-style one-liners charge the earlier scenes with unpredictable energy."
Frances McDormand (Three Billboards Outside Ebbing, Missouri)
Our review said: "[The film] is anchored by a funny, foul-mouthed performance from McDormand."
Jennifer Lawrence (mother!)
Our review said: "Awards play seems likely, particularly for Aronofsky's muse Jennifer Lawrence, embodying and responding to all his considerable neuroses, fears and desires, as an artist, a lover, and a citizen of the planet."
Saoirse Ronan (Lady Bird)
Our review said: "A captivating central performance from Saoirse Ronan… [her] 17-year-old Christine McPherson is the embodiment of every trapped adolescent who yearns for a life less ordinary than the one she is currently enduring."
Judi Dench (Victoria & Abdul)
Our review said: "The mix of splendour, wry chuckles and the odd tear - together with Dench's typically rich, mischievous performance – make for imperial status at the box-office, particularly with older viewers."
Glenn Close (The Wife)
Our review said: "Glenn Close's seething but self-possessed performance could conceivably gain her entry onto this year's awards circuit."
Best Actor contenders:
James Franco (The Disaster Artist)
Our chief critic said: "James Franco delivers an outsize performance as the mysterious maker of cult bad film The Room, Tommy Wiseau, which is deliciously broad, knock-out funny, and turns out to be deadly accurate."
Gary Oldman (Darkest Hour)
Our review said: "Oldman ensures that every line hits home as surely as any bullet. It's a towering performance which wavers only in one slightly contrived scene."
Denzel Washington (Roman J Israel, Esq)
Our review said: "Denzel Washington gives a terrifically off-kilter performance in [this] fascinating and flawed character study."
Timothee Chalamet (Call Me By Your Name)
Our review said: "It's a beautiful, supremely touching performance from Chalamet which gives this surprisingly safe story its moving purity."
Christian Bale (Hostiles)
Our review said: "A fastidiously understated Bale is highly effective at conveying the deep waters running beneath his stern features."
Ben Stiller (Brad's Status)
Our review said: "Brad's Status features one of Ben Stiller's richest and most bittersweet performances as a husband and father whose considerable obstacle to happiness is himself.[It is] a more nuanced, less brazenly caustic variation of the uptight, dissatisfied men he played in Greenberg and While We're Young."
John Boyega (Detroit)
Our review said: "As the one law-enforcement officer wanting to stop him, Boyega exudes stoic determination."
Daniel Kaluuya (Get Out)
Our review said: "Kaluuya's engaging performance does a lot to make the mix shocks and commentary work, which bodes well for his upcoming turns in Marvel's Black Panther and Steve McQueen's Widows."