| Rank | Film (Distributor) | Three-day gross (Nov 12-14) | Total gross to date | Week |
| --- | --- | --- | --- | --- |
| 1 | Eternals (Disney) | £2.9m | £10.6m | 2 |
| 2 | No Time To Die (Universal) | £1.6m | £92.7m | 7 |
| 3 | Dune (Warner Bros) | £1.2m | £18.9m | 4 |
| 4 | Spencer (STX) | £696,000 | £1.5m | 2 |
| 5 | The Boss Baby 2 (Universal) | £571,439 | £6.5m | 4 |
GBP to USD conversion rate: 1.34
STX's Spencer broke into the top five on its second weekend in UK-Ireland cinemas, as Disney's Marvel title Eternals held the number one spot.
Studio holdovers continued to perform well, but the market remains tough for independent titles.
Eternals fell 47% on its first session, with a £2.9m weekend taking it to £10.6m from 10 days in cinemas.
It has now passed the lifetime grosses of two other Marvel Cinematic Universe titles: 2008's The Incredible Hulk with £8.3m, and 2011's Captain America: The First Avenger with £10.4m. Next in its sights is Thor, also from 2011, with £14m.
No Time To Die posted its best hold to date for Universal, falling just 21.6% with a £1.6m weekend.
The film now has £92.7m from seven weekends in cinemas, and is coming up on the £95.2m of 2015's Spectre. On current trajectory, it should pass the previous Bond entry in around a fortnight's time.
It is now taking around double what Spectre took at the same stage, with that title having grossed £805,000 on its seventh weekend. It has also surpassed the like-for-like cume of £92m – even with Spectre having played for 49 days by that point, compared to No Time To Die's 46.
No Time To Die is still slightly behind the weekend-on-weekend of Skyfall, which took £1.4m on its seventh session for a £96.2m cume. It is gradually catching up, with Skyfall's £103.2m final number an unlikely target but still not entirely written off.
Warner Bros' Dune posted a decent hold on its fourth weekend, dropping 26.8% with £1.2m taking it to an £18.9m total to date. It now looks certain to become Denis Villeneuve's first film to break £20m in the territory.
Spencer was the big gainer of the weekend, going up 67% on its opening session with £696,000 enough for fourth spot. The film expanded to 650 locations, having opened in 183 last time out; it now stands at just over £1.5m, and will look to continue its run into the Christmas season – the period during which the film is set.
Universal's The Boss Baby 2 held fifth spot with a strong performance, dropping just 5.7% with £571,439 taking it to almost £6.5m from four sessions.
Ron's Gone right
Sony's Venom: Let There Be Carnage was the one title to drop out of last week's top five, although still registered a decent performance, dropping 23% with £516,000 taking it to £17.1m from five weekends. It will finish in the region of the first film, which took £20.2m in 2018.
The Addams Family 2 added £336,682 for Universal – a 23.8% drop – for £9.9m from six weekends, and has now topped the £9.89m of the 2019 first film in the franchise reboot.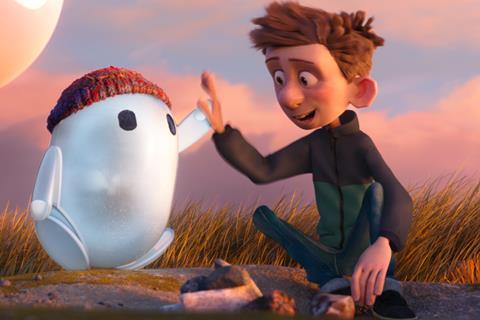 Ron's Gone Wrong, the Disney release made by independent UK animation studio Locksmith, is carving out a good space at the box office after a quiet start. It rose 2% on last weekend's figures – the second time it has scored an increase in a run now up to five weeks – with £275,059 taking it to a £4.2m cume.
Also for Disney, Wes Anderson's The French Dispatch added £266,425 – a 21% drop – for £3.4m from four weekends.
Edgar Wright's Last Night In Soho took another hit on its third weekend for Universal, dropping 74.7% with £181,247 bringing it to a £1.9m cume.
Eva Husson's Cannes 2021 title Mothering Sunday opened to £122,001 from 170 locations, for an average of £718. Including previews, the film has £156,821.
Magnetes Pictures' latest Polish-language drama Wesele opened to £74,118 from 119 sites, for an average of £623.
Clint Eastwood's latest Western Cry Macho opened to £71,950 for Warner Bros, at a low location average of £211.
Universal continues to have more titles in cinemas than any other distributor, with Halloween Kills adding £45,281 (60.1% drop) for £5m; Dear Evan Hansen adding £29,086 for £731,447; and The Card Counter adding £19,090 (60.7% drop) for £119,925 from two weekends.
The Harry Potter And The Philosopher's Stone re-release took a further £37,319 for Warner Bros, and has made £1.27m from three sessions, in addition to the £65.8m the film made on its 2001 release.
Football documentary Arsene Wenger: Invincible took £12,349 from just six locations, for a strong location average of £2,058. The film has £13,573 in total through Park Circus, and will add further locations this week.
BFI Distribution's re-release of Mike Leigh's Naked in a 4k remaster took £10,559 across the weekend – another limited release to score a decent average, of £2,112 from five locations. It has £13,284 including BFI London Film Festival screenings.
Trinty Film's Raging Fire opened to £4,560 from 29 sites, with a £157 average

Curzon's Natural Light opened to £3,344 from 12 sites at an average of £279, and has £5,622 including previews.
Amjad Abu Alala's You Will Die At Twenty – Sudan's first-ever entry for the international feature Oscar, for the 2021 awards – opened to £1,432 from six sites, with £2,244 including previews.