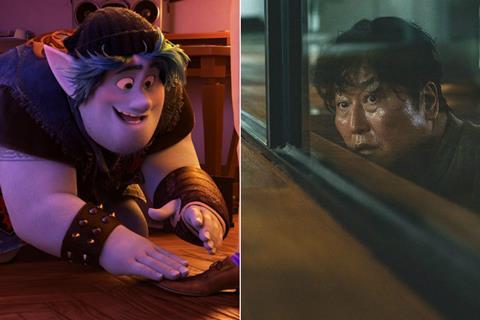 | Rank | Film (Distributor) | Three-day gross (Mar 6-Mar 8) | Total gross to date | Week |
| --- | --- | --- | --- | --- |
| 1 | Onward (Disney) | £2.6m | £3.4m | 1 |
| 2 | The Invisible Man (Universal) | £1.5m | £5m | 2 |
| 3 | Sonic The Hedgehog (Paramount) | £951,000 | £18.5m | 4 |
| 4 | Military Wives (Lionsgate) | £890,307 | £964,373 | 1 |
| 5 | Parasite (Curzon/Studiocanal) | £528,864 | £11.5m | 5 |
GBP to USD conversion rate: 1.31
Disney
Disney topped the UK box office charts with Pixar animation Onward for the first time since the first week of January. The film grossed £2.6m on its three-day weekend and has £3.4m in total following previews on February 29.
This is down on the openings of recent Disney-Pixar collaborations Toy Story 4 (£13.3m), Incredibles 2 (£9.6m) and Coco (£5.2m), as well as previous standalone hits Inside Out (£7.4m) and Up (£6.4m).
The Call Of The Wild fell 63% on its third session with £188,000 taking it to £2.7m, while Bollywood threequel Baaghi 3 opened to £165,000.
In lower-grossing titles, Frozen II added £32,000 for £53.6m after 16 weekends; Jojo Rabbit added £25,000 for £8.1m after 11; Downhill added £17,000 for £330,000 after two; and Spies In Disguise added £14,000 for £7.6m after 11.
Universal
Last week's number one The Invisible Man posted a 28.9% fall with £1.5m. It has £5m after two weekends and is closing in on the top 10 grosses by Blumhouse Productions titles in the UK (2012's Sinister currently 10th with £6.6m).
Dolittle fell 56.7% with £362,179 taking it to £15.7m after five weekends; while Emma performed similarly, dropping 57.9% with £283,706 taking it to £7.1m after four weekends.
Romance The Photograph struggled on opening, grossing just £29,671 from 179 locations, a low £166 average; while Robert Eggers' The Lighthouse is nearing the end of its run with £15,370 taking it to £1.4m after six weekends.
Paramount
Sonic The Hedgehog dropped 51% on its fourth weekend, with £951,000 taking it to an impressive £18.5m cume to date.
Like A Boss added £38,000 for £982,000 after three; Paw Patrol: Ready Race Rescue put on £30,000 for £1.9m; while Playing With Fire is nearly extinguished with £16,000 for £3.2m total.
Lionsgate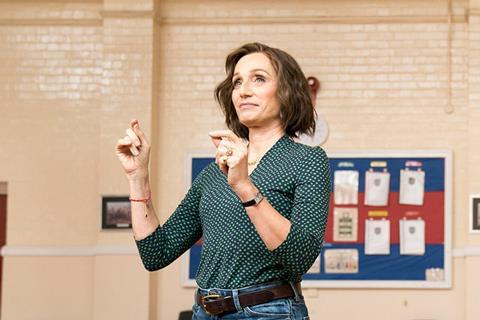 Feelgood choir drama Military Wives opened to £890,307 from 671 locations, for a £1,327 average. Including previews, the film has £964,373.
The Personal History Of David Copperfield added £15,072 on its seventh weekend and has £6.3m in total.
Curzon/Studiocanal
Bong Joon Ho's Oscar and Palme d'Or winner Parasite has now broken the record for highest-grossing non-English language film of all time in the UK.
It grossed £528,864 on its fifth weekend, taking it to £11.5m in total – past the £11.1m of Mel Gibson's 2004 title The Passion Of The Christ.
Its fall of 49.2% on its previous session was its biggest to date; however, it is still to fall more than 50% on any weekend.
It is the sixth highest-grossing 2020 release so far in the UK, behind 1917, Bad Boys For Life, Sonic The Hedgehog, Dolittle and The Gentlemen.
eOne
Todd Haynes' Dark Waters fell 42% on its second weekend, with £499,276 bringing it to £1.9m to date.
1917 dropped 59.5% on its ninth session with £246,594 and is up to £43.4m; while Queen And Slim topped up £23,908 on its sixth session and has grossed £1.4m in total to date.
More2Screen
Event cinema release Riverdance 25th Anniversary Show took £320,961 and a £756 location average on its Tuesday, March 3 opening date. Through the weekend it has a £637,094 total amount.
Warner Bros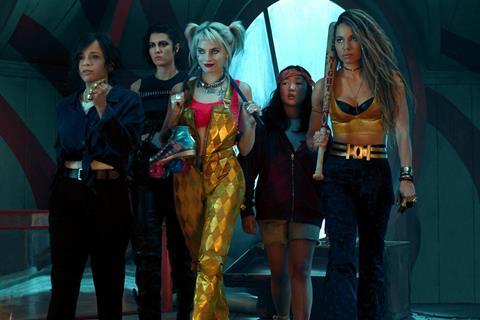 DC Extended Universe title Birds Of Prey added £135,000 on its fifth session – a 62.3% drop – and has £8.7m in total.
Curzon
Céline Sciamma's Portrait Of A Lady On Fire added £91,009 on its second weekend, a decent drop of just 31.5%. It has £431,366 in total. It is now Sciamma's highest-grossing film in the UK, heading towards double the £232,511 of 2015's Girlhood.
Picturehouse Entertainment
True History Of The Kelly Gang fell just 39% to gross £48,296 over teh three-day weekend. It has now garnered £202,111 to date.
Entertainment Film Distributors
The Gentlemen added £34,339 and has now taken £12m after 10 sessions; while Brahms: The Boy II added £33,609 for £1m after three.
Republic Film Distribution
Documentary Toni Morrison: The Pieces I Am opened to £11,433 from 16 locations – a £715 average. Including previews the film has £19,209. It increased its takings from Saturday to Sunday, with the latter being International Women's Day.
Modern Films
Julian Jarrold's UK title Sulphur And White opened to £13,700 from 11 locations including previews – a decent total from a small release.
Studiocanal
Color Out Of Space starring Nicolas Cage is up to £78,496 after two weekends on release.
Element Pictures Distribution
An event release of The Cherry Orchard pulled in £2,140 from seven UK locations, roughly two-thirds of which came from one site in Northern Ireland.
Sony
Figures yet to be supplied.