| Rank | Film (Distributor) | Three-day gross (Sep 17-19) | Total gross to date | Week |
| --- | --- | --- | --- | --- |
| 1 | Shang-Chi And The Legend Of The Ten Rings (Disney) | £2.4m | £15.8m | 3 |
| 2 | Free Guy (Disney) | £674,645 | £15.3m | 6 |
| 3 | Respect (Universal) | £377,395 | £1.2m | 2 |
| 4 | Candyman (Universal) | £323,350 | £4.3m | 4 |
| 5 | The PAW Patrol Movie (Paramount) | £262,000 | £7.6m | 6 |
GBP to USD conversion rate: 1.37
The UK-Ireland top five was comprised entirley of holdovers for the three-day September 17-19 weekend.
Disney's Shang-Chi and the Legend of the Ten Rings held top spot for a third consecutive week, with a drop of 34% bringing in £2.4m. It now has a decent £15.8m in total, rising to 22nd out of 25 Marvel Cinematic Universe titles by total gross, and coming up on Ant-Man (£16.3m), Iron Man (£17.4m) and Ant-Man and the Wasp (£17.8m).
Disney did a one-two for a third weekend in a row, with Free Guy posting an impressive drop of just two percent. It added £674,645 to reach £15.3m from six weekends; as far as Ryan Reynolds titles go, it has passed the totals of Pokemon: Detective Pikachu (£13.8m), The Proposal (£11.9m) and is coming up on X-Men Origins: Wolverine (£16.4m), all of which were released pre-pandemic.
Universal's Aretha Franklin biopic Respect held third spot, dropping just 15% with £377,395 taking it to £1.2m from two weekends; while the studio's Candyman was in fourth, slipping back 21% with £323,350 bringing it to £4.3m from four sessions.
After dropping out last week, Paramount's The PAW Patrol Movie pipped Malignant to rise back into the top five, falling 20% with £262,000 taking it to £7.6m cume from six weekends.
Malignant was Warner Bros' leading title this weekend, dropping 36% on its second session with £260,115 taking it to £952,976.
Disney also held seventh spot in the chart, with Dwayne Johnson and Emily Blunt starrer Jungle Cruise dropping only one percent with £164,436 taking it to £12.2m total.
For the second time in its 10-week run, Universal's The Croods 2: A New Age increased its takings going up an impressive nine percent on last time out with £156,011 taking it to £9.5m.
Space Jam: A New Legacy also performed well for Warner Bros, dropping just nine percent with £121,785 bringing it to £12,6m cume from 10; while The Suicide Squad fell 22% with £64,325 taking it to £14.1m from eight weekends. The studio also played a 4k restoration of Stanley Kubrick's A Clockwork Orange, which brought in £34,693 at an average of £142.
Highest opener
Patryk Vega's Polish-language crime drama Small World was the highest-grossing new film in cinemas this weekend, opening in 10th place through Kinostar with £107,000 from 197 locations at an average of £543.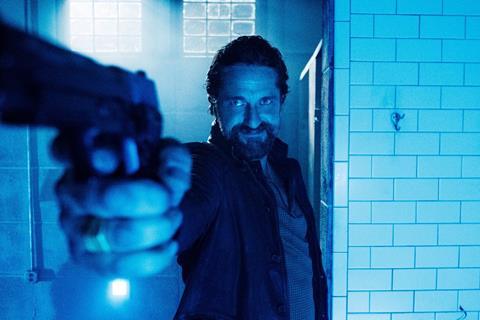 Copshop dropped 46% - a greater fall than other titles this weekend – for STX Entertainment, adding £92,700 to reach £431,000 total.
Also for Universal, People Just Do Nothing: Big In Japan put on £64,504 – a 17% drop – and has £2.2m from five weekends. The studio also has animation Spirit Untamed, which went up two percent with £51,735 taking it to £3.3m from eight sessions.
Distributed by Picturehouse Entertainment in England, Scotland and Wales, and Element Distribution in the Republic of Ireland and Northern Ireland, Phyllida Lloyd's Herself put on £47,518. This marked a strong 1% increase on its opening weekend, aided by an expansion to an additional 130 venues in the UK. England, Scotland and Wales takings alone were up 35%. The film is now up to £182,687 total, and should cross the £200,000 mark tomorrow.
Picturehouse also has Jude Law and Carrie Coon drama The Nest, which dropped 29% on its fourth weekend with £24,000 and £415,481 total, representing a success for the independent sector since cinemas reopened in May.
Gunpowder Milkshake opened to £35,578 through Studiocanal at a low average of £224 from 160 sites.
Thomas the Tank Engine animation Thomas And Friends: Race For The Sodor Cup opened to £25,064 at a 101 average.
49 Imax screenings of 1995 anime Ghost in the Shell brought in £21,130 for Lionsgate.
Parkland Entertainment's The Last Bus continues its road trip, adding £20,523 at a 17% drop, to reach £312,000.
12 Mighty Orphans opened to £17,000 for Sony from 143 locations, averaging £123; while Sony also has Peter Rabbit 2, which is now up to £20.4m having been in cinemas for the 18 weekends since they reopened.
New Wave Films opened Rose Plays Julie to £13,382, with the film having £15,675 including previews; while Mubi's Cannes opener Annette is closing out with £14,841 taking it to £217,576 total.
BFI Distribution opened The Maltese Falcon to £10,322 with a few figures still to come.
Playing in just six locations, Prisoners of the Ghostland opened to £5,105 for Elysian Film Group Distribution – an average of £851, which compares favourably with other independent titles.
Playing in 11 sites, A Brixton Tale opened to £4,972 for Bulldog Film Distribution.