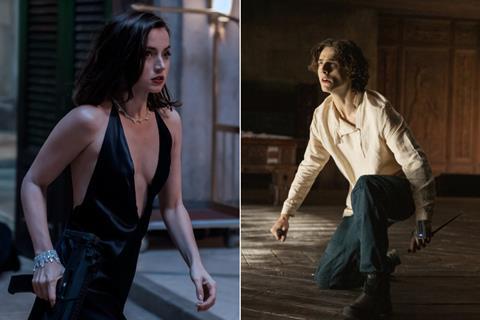 | Rank | Film (Distributor) | Three-day gross (Oct 29-31) | Total gross to date | Week |
| --- | --- | --- | --- | --- |
| 1 | No Time To Die (Universal) | £3.5m | £85.9m | 5 |
| 2 | Dune (Warner Bros) | £3.3m | £13.2m | 2 |
| 3 | Venom: Let There Be Carnage (Sony) | £1.5m | £14.8m | 3 |
| 4 | The Addams Family 2 (Universal) | £1.5m | £8.9m | 4 |
| 5 | The Boss Baby 2 (Universal) | £1.3m | £5m | 2 |
GBP to USD conversion rate: 1.37
Universal's No Time To Die has regained the box office lead from Warner Bros' Dune, with the James Bond blockbuster reaching an impressive £85.9m from five weekends in cinemas.
No Time To Die added £3.5m on its fifth session – an excellent hold, falling just 24% on its previous weekend session.
It is now the sixth-highest-grossing film of all time in the UK & Ireland, overtaking Titanic (£80.3m) and Star Wars: The Last Jedi (£82.7m) in the last week.
It will catch Avengers: Endgame (£88.7m) this week, and will still have Avatar (£94m) and fellow Bond title Spectre (£95.2m) in its sights.
No Time To Die is now well ahead of Spectre on a weekend-by-weekend basis, with the latter taking £2.2m on its fifth session. It had £88.4m total by this point, but had been playing for 35 days compared to No Time To Die's 30.
Skyfall (£103.2m) may just be beyond No Time To Die now; it is down on the former's £3.9m in its fifth session, and £90m after just 29 days.
However, the film has broken one record of Sam Mendes' first Bond effort, becoming the first film ever to gross at least £1m every day for 30 consecutive days, beating the previous record of 24 days held jointly by Skyfall, Mamma Mia! and Star Wars: The Force Awakens.
Dune moved to second place in the chart, falling 30.7% on its opening weekend with £3.3m taking it to £13.2m – a decent second-weekend performance in the context of a crowded box office.
It is already become Denis Villeneuve's second-highest-grossing title of all time in the UK and Ireland, passing Arrival's £9.7m. Warner Bros will be confident of it topping the £19.2m of Blade Runner 2049 by the end of its run.
On its third weekend, Sony's Venom: Let There Be Carnage dropped 40%, with £1.5m taking it to a £14.8m cume. It has broken into the top 10 highest-grossing films of the year already; and will look to chase down the £20.2m total of the 2018 first film in the coming weeks.
Universal's The Addams Family 2 recorded an outstanding 66.8% increase on its opening session, fuelled by the Halloween weekend and the convergence of half-term weeks across the country. It added £1.46m for an £8.9m total; and while takings will drop off with the festivities out the way, it will still expect to surpass the £9.9m total of the 2019 first film by the end of its run.
In a strong weekend for the studio, it scored another uptick on The Boss Baby 2, going up 13% with £1.3m taking it to just short of £5m total, although it will not catch the £29.1m of the 2017 first film.
Warner Bros again demonstrated the enduring popularity of the Harry Potter franchise, with the 20th anniversary re-release of Harry Potter And The Philosopher's Stone grossing £965,008 from 426 locations at an average of £2,265.
With a £65.8m total, the title is the second-highest-grossing of the eight in the original Potter series behind The Deathly Hallows: Part 2 (£73.1m); and the 17th -highest title of all time in the UK and Ireland.
Halloween Kills held steady on the festive weekend, falling just 1.2% with £759,241 taking it to £4.6m from three sessions. It will finish below the 2018 first title in the franchise reboot, with ended just short of £9m.
This final weekend of October pushed box office takings for the month to £147m, well ahead of the £127m from October 2019.
First night for Last Night
Edgar Wright's Last Night In Soho was the highest-grossing opening title of the weekend with £716,248 from 519 locations at an average of £1,380.
While this was only enough for eighth place in the chart, it was still the highest new opener by almost £500,000, and recorded a respectable score for an 18-rated film in a busy marketplace.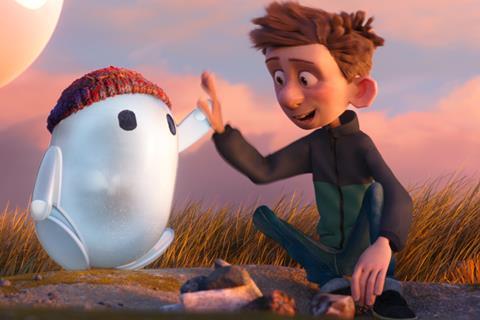 Disney's Ron's Gone Wrong is finding its audience, scoring an excellent 8% increase on its previous session, with £609,119 taking it to £3.6m from three sessions.
That took it above The French Dispatch, which posted a decent hold on its opening session, falling 31% with £530,712 taking it to £2.07m from two weekends.
It has now passed the totals of Anderson's The Darjeeling Limited (£1.5m), The Life Aquatic With Steve Zissou (£1.6m) and Moonrise Kingdom (£2.06m), with The Royal Tenenbaums next in line (£3.3m).
In the event cinema realm, CinemaLive's Cliff Richard: The Great 80 Tour took £515,617 last week, including £360,793 from a 449-location release on Wednesday, October 27.
Antlers opened with £250,673 for Disney at a flat £737 average, with £251,099 including previews.
Sony's anime title My Hero Academia: World Heroes' Mission opened to £215,000 from 260 locations at an average of £827.

Event cinema specialists Trafalgar Releasing's The Rocky Horror Live Show 2021 played at 384 venues on Thursday, October 28 only, taking £204,597.
Dear Evan Hansen did not match the success of other Universal titles, dropping a sizeable 68.9% on its opening session with £72,609 taking it to £587,358.
Paramount's PAW Patrol: The Movie rolled on in its 12th weekend, as another beneficiary of the half-term holidays with a 31.2% increase adding £57,800 for an £8.6m total. The distributor also had the 25th anniversary re-release of Scream, which added £44,000 for a £161,000 cume.
Disney's Shang-Chi And The Legend Of The Ten Rings dropped 54% on its ninth weekend, with £28,344 taking it to £21.2m; while The Last Duel is falling off the chart after just three weekends, with £19,204 – a 67% drop – taking it to £741,627.
Park Circus' re-release of Blade took £20,132 from 183 locations.
For Mubi, Andreas Fontana's Azor opened to £15,172 including previews.
Dogwoof's Thai cave operation documentary The Rescue took £13,841 from 17 locations on its first weekend, and has £45,213 including preview screenings.
A BFI Distribution re-release of Akira Kurosawa's Seven Samurai took £8,670 from 11 locations, with £17,155 total including previews.
With final figures still to come in, Sadie Frost's Quant opened to £13,548 including previews from 29 locations. A further 137 locations are playing the film from next weekend; with the number increasing to over 200 throughout its run.
Modern Films' documentary-fiction hybrid The Nowhere Inn had a single screening featuring a Q&A with pop star St Vincent, the film's subject, at the Barbican in partnership with Doc N Roll film festival. The sold-out event brought in £3,498; the film will now tour venues around the country in cities including Glasgow, Sheffield, Manchester and Newcastle.
Playing mainly in one-per-day screenings, animation Chuck Steel: Night Of The Trampires took £1,937 on its first weekend for Animortal and Blue Dolphin Films, with a £2,403 total including previews.