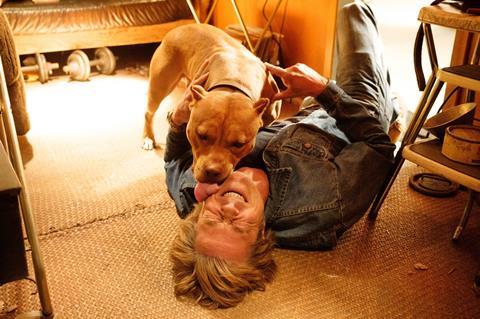 Today's GBP to USD conversion rate: 1.21
| Rank | Film (Distributor) | Three-day gross (Aug 30- Sept 1) | Total gross to date | Week |
| --- | --- | --- | --- | --- |
| 1 | Once Upon A Time… In Hollywood (Sony) | £1.8m | £16.3m | 3 |
| 2 | The Lion King (Disney) | £1.2m | £71.7m | 7 |
| 3 | Angel Has Fallen (Lionsgate) | £1.2m | £4.5m | 2 |
| 4 | Dora & The Lost City Of Gold (Paramount) | £622,000 | £4.1m | 3 |
| 5 | Fast & Furious: Hobbs & Shaw (Universal) | £609,873 | £19.1m | 5 |
Sony Pictures
Once Upon A Time… In Hollywood retained its place at the top of the UK box office chart for a third straight weekend, adding £1.8m for £16.3m to date. That was only 14% down on its previous session.
The result means the film is now Quentin Tarantino's biggest release in the UK, surpassing the £15.7m taken by Django Unchained in 2013.
This weekend also marked the widest point of release for the title, with it rising to 704 sites.
Overall, the majority of new releases failed to make a significant impact on the UK box office this weekend. However, there were strong returns among many of the holdover titles, and even a few upticks registered on more family-focused releases.
Angry Birds 2 was up a healthy 36%, adding £258,000 for £4.7m to date. Spider-Man: Far From Home was also up, rising 4% with £204,000 taking it to £36.5m.
Disney
The Lion King was another title to post an uptick, rising 11% with £1.2m seeing it move up a place to second in the chart this weekend. The film sits on a cume of £71.7m, which means it has surpassed Avengers: Infinity War to become the tenth biggest film of all time in the UK and Ireland.
Toy Story 4 was up a hefty 29% on its previous weekend with £580,000 taking it to £63.8m to date.
Aladdin added £35,000 for £36.9m.
Lionsgate
Angel Has Fallen posted an impressive hold in its second weekend, dropping a slim 15% with £1.2m. The film has now risen to £4.5m, meaning it will likely move close to the lifetime of predecessor Olympus Has Fallen (£6.2m) by next weekend.
The Queen's Corgi added £37,880 and is now on £2.4m.
Paramount
Dora And The Lost City Of Gold added £622,000, an uptick of 28% this weekend. The film is now on £4.1m from its UK run.
Crawl added £225,000, a drop of 36% on its opening. The film is now on £1.1m.
Universal
Fast & Furious: Hobbs & Shaw was another title to post an impressive hold, dropping 4% with £609,873 taking it to £19.1m in the UK. That takes it past 2011's Fast Five in the Fast & Furious canon, though it looks unlikely to reach 2013's Fast & Furious 6 (£25.3m).
Good Boys dropped a slim 11% this weekend, posting £307,127 for £2.5m to date.
The Secret Life Of Pets 2 added £71,240 for £19.5m. Yesterday added £65,301 for £13.5m.
The Mustang, Laure de Clermont-Tonnerre's French drama which was executive produced by Robert Redford and premiered at Sundance this year, opened with £37,215 from 117 sites, a weak site average of £318.
Entertainment One
Scary Stories To Tell In The Dark added £484,600, a drop of just 15%, for £1.6m cume.
A Million Little Pieces, Sam Taylor-Johnson's film about a young drug-addled writer who spends two months of detox at a treatment centre in Minnesota, opened with £25,747 from 59 locations, an average of £436.
Blinded By The Light added £101,582 for £2.8m cume.
Warner Bros
The Informer, Andrea Di Stefano's crime drama with Joel Kinnaman, Rosamund Pike, and Ana de Armas, opened to £301,000 from 450 sites, a disappointing site average of £669.
Annabelle Comes Home added £18,000 for £6.6m.
Pathe / 20th Century Fox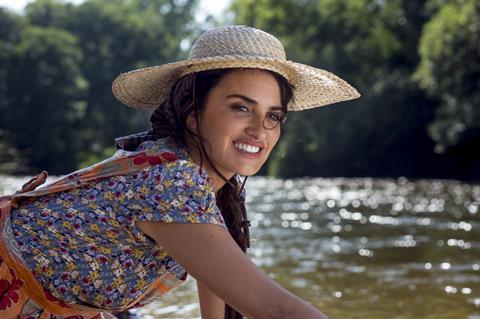 Pedro Almodovar's Pain And Glory posted a great hold this weekend, dropping only 1% on its initial session with £234,774 taking it to £795,750 to date. That puts the film well on course to crack £1m, a rare feat for a foreign language film at the UK box office, and it should challenge Almodovar's 2016 feature Julieta, which ended on £1.3m.
Vertigo Releasing
Mrs Lowry & Son, Adrian Noble's drama about the titular painter, played by Timothy Spall, and his mother, played by Vanessa Redgrave, opened with a £250,232 Fri-Sun from 194 sites, a strong site average of £1,290.
With previews of £75,841 from Tuesday, Aug 27, the film is on £250,232 and should continue to perform strongly during the week.
Curzon
Joanna Hogg's The Souvenir, starring Honor Swinton Byrne and Tom Burke in the story of a young film student who becomes romantically involved with a complicated man in 1980s London, opened with £99,186 from 43 sites, a strong average of £2,307. The film also took £9,568 in previews for a cume of £108,754.
That result means the film has surpassed the grosses of two previous Joanna Hogg films, Unrelated (£101,899) and Exhibition (£58,020). The release will have Archipelago's £306,656 in its sights but will need a long tail.
Altitude
Horrible Histories: The Movie - Rotten Romans added £64,293 for the weekend, an uptick of 33%, for £2.7m cume.
Asterix The Secret Of The Magic Potion opened with £12,683 from 83 sites in a day-and-date released, £12,907 with previews. It was
Studiocanal
Playmobil added £33,564 in its fourth week, down 6%. The film is now on £1.1m.
BFI Distribution
Bait, Mark Jenkin's 16mm, black-and-white drama about a fisherman threatened by the influx of tourism to a coastal Cornish town left defenceless by recession, opened with a strong £32,264 weekend from 23 sites, for an average of £1,386 (with a couple of locations yet to report). Including previews, the film has £48,342.
Picturehouse
Reggae doc Inna DeYard opened with £16,812 from 31 sites this weekend. With extensive previews, the film is up to £49,279.
Animals added £3,525 and is up to £323,230.