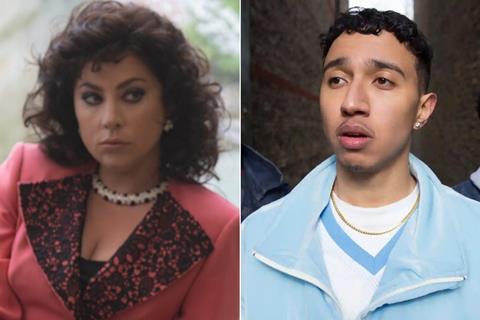 Ridley Scott's House Of Gucci and Reggie Yates' Pirates head the openers at the UK-Ireland box office, in another bumper week of 17 theatrical debuts.
House Of Gucci is Scott's second film to arrive in cinemas in six weeks, after medieval epic The Last Duel in mid-October.
Like that title, House Of Gucci tells a true story and boasts a stellar cast, led by Lady Gaga as Patrizia Reggiani, an ambitious woman who marries fashion heir Maurizio Gucci, played by Adam Driver. She pushes him to take over the family business, leading to a protracted power battle. Jared Leto, Jeremy Irons, Salma Hayek and Al Pacino also star.
Opening the film in a substantial 685 sites, Universal will be looking for a stronger performance than Disney achieved with The Last Duel, which opened to a low £325,033 at a location average of just £739, and was at £859,877 as of last weekend. It has grossed $28.8m worldwide, against a reported $100m budget.
In an interview this week with a US film journalist, Scott criticised millennials – a generation of people born between 1981 and 1996 – for the film's box office struggles.
Although this didn't help The Last Duel, the cast of House Of Gucci has strong box office pedigree. Gaga's breakthrough film role in 2018's A Star Is Born opened to £4m, and went on to a sizeable £40m; while Driver was the main antagonist in Star Wars: The Force Awakens, the highest-grossing film of all time in the territory with £123.3m.
For films about the fashion industry, 2006's The Devil Wears Prada is a high watermark, having opened to £3.3m and closed on £14.1m.
From the independent sector, this weekend sees Reggie Yates' directorial debut feature Pirates drive into cinemas. It is Picturehouse Entertainment's widest ever release with 181 sites (ahead of Babyteeth, released in 140 sites).
The film, about a trio of young men on a London roadtrip trying to score tickets to the hottest millennium New Year's Eve party, was 10 days from wrapping production in March 2020 when the pandemic necessitated a shutdown.
It was able to restart production in autumn 2020. The three leads were longlisted for breakthrough performance at the 2021 British Independent Film Awards (Bifas); with Yates on the longlist for debut director, and making the nomination stage for debut screenwriter.
Disney animation heritage
Disney is distributing its latest animated blockbuster, Encanto, in 598 locations. Based on a story co-written by Lin-Manuel Miranda, the film is about a young Colombian girl who has to face the frustration of being the only member of her family without magical powers.
It is the 135th animated film released theatrically by Walt Disney Studios. Recent titles include Onward, which opened to £3.5m in March 2020, reaching £7.7m before its run was cut short by the pandemic; and Ron's Gone Wrong, produced by UK animation studio Locksmith Animation, which started on a moderate £865,333 but is up to £4.5m as of last weekend, having found its audience across a six-week run.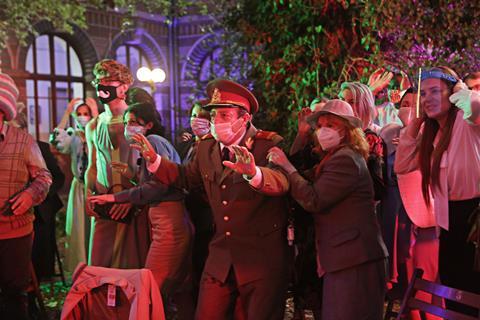 Sovereign Film Distribution is releasing satirical comedy Bad Luck Banging Or Loony Porn, from Romanian director Radu Jude, in 12 locations.
The film won the Golden Bear at the online Berlinale in February, where Jude decried the excess of film premieres.
Coming from the arthouse, often non-English language space, Golden Bear winners can struggle to translate to significant box office takings. Recent winners include Touch Me Not in 2018 (opened: £3,290, closed: £6,420), Fire At Sea in 2017 (opened: £13,115, closed: £57,728) and Jafar Panahi's Taxi Tehran in 2015 (£27,890 and £192,143).
Strong performers include co-winner Spirited Away in 2003 (£149,419 and £1.1m) and Paul Thomas Anderson's Magnolia in 2000 (£36,695 and £1.4m).
The film is Romania's entry for the best international feature award for the 2022 Oscars, where it faces strong competition from France's Titane, Finland's Compartment No. 6 and Denmark's Flee.
Dartmouth Films is distributing another international feature entry – UK title Dying To Divorce. Directed by Chloe Fairweather, the film centres on the clients of Turkish lawyer Ipek Bozkurt, who risk their lives while fighting the culture of violence in court. The film has also been nominated for best documentary at the Bifas.
BFI Distribution and Bohemia Media are collaborating on a 14-location release for documentary Rebel Dykes, which will add a further two sites over the course of its first week.
Matthew Heineman's latest documentary The First Wave, about the medical response to the first weeks of the coronavirus pandemic, is released through Dogwoof.
Darkland, the genre releasing arm of Parkland Entertainment which launched in 2010, is releasing Russell Owen's mystery horror Shepherd in 72 sites.
Further UK titles include Oliver Stone's Cannes-launched documentary JFK Revisited: Through The Looking Glass from Altitude; A Boy Called Christmas, an adaptation of Matt Haig's book of the same name, in 174 sites through Studiocanal; and Bulldog Film's Lapwing in three sites. Irish distributor Eclipse Pictures is playing Tadhg O'Sullivan's documentary To The Moon in four sites.
In the event cinema sector, Trafalgar Releasing is playing musical Anything Goes on Sunday 28 in 454 sites.
Non-English language releases include Satyameva Jayate 2 through Cinestaan AA Distributors; and Antim from Zee Studios.
Netflix has Nora Fingscheidt's drama The Unforgivable starring Sandra Bullock; while Vue is playing Timmy's Cinema Adventure: Christmas Edition across its sites.
Key holdovers include last week's number one Ghostbusters: Afterlife for Sony; James Bond blockbuster No Time To Die for Universal, which may overtake the lifetime of Spectre this weekend; and Warner Bros' Dune.