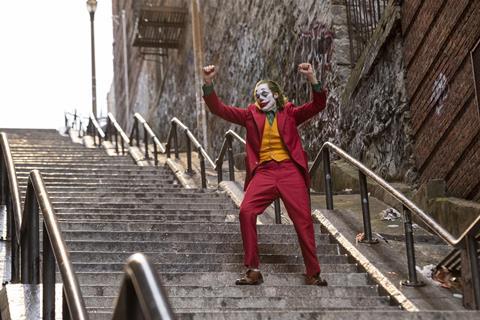 | Rank | Film (Distributor) | Three-day gross (Nov 8-10) | Total gross to date | Week |
| --- | --- | --- | --- | --- |
| 1 | Joker (Warner Bros) | £1.7m | £54.3m | 6 |
| 2 | Maleficent: Mistress Of Evil (Disney) | £1m | £13.1m | 4 |
| 3 | The Addams Family (Universal) | £1m | £11.6m | 3 |
| 4 | The Good Liar (Warner Bros) | £956,000 | £956,000 | 1 |
| 5 | Midway (Lionsgate) | £753,585 | £753,585 | 1 |
Today's GBP to USD conversion rate: 1.29
Warner Bros
Joker topped the UK box office again this weekend, becoming the first film in a decade to hold the number one spot for six weeks.
It grossed £1.7m from Friday to Sunday, a fall of 32%, which takes it to £54.3m overall – the fourth highest-grossing film of the year and 30th highest of all time in the UK.
The last film to hold the number one spot for six weeks was James Cameron's Avatar, released in December 2009, by 20th Century Fox. That film topped the chart for 10 weeks in total, of which eight were consecutive.
As a sign of Joker's achievement, in the ensuing decade, only two films have managed even five-week runs in first place. Jurassic World: Hidden Kingdom did it consecutively from June 2018, while Toy Story 3 did five weeks at the top, non-consecutively, from July to August 2010.
Joker held off yet another opening title, Warner Bros' stablemate The Good Liar, which opened to £956,000 from 545 locations for a low £1,754 average.
Doctor Sleep fell 51.6% on its second weekend, with £524,000 taking it to £2.6m total.
Disney
Maleficent: Mistress Of Evil dropped 46% on its previous session, with £1m taking it to £13.1m after four weeks. This was enough to take it back above The Addams Family into second place.
Terminator: Dark Fate dropped 55% on its third weekend, with £530,000 taking it to £6.5m; while Indian comedy Housefull 4 added £40,000 and is at £571,000 total.
Universal
Animation The Addams Family dropped 54.7% on its third weekend, with £1m taking it to £8.3m total – its goal will still be to top the £10.4m of 1991's The Addams Family.
Creature feature Abominable had a £406,060 fifth session and has £7.4m in total.
Julius Onah's thriller Luce starring Naomi Watts, Octavia Spencer, Kelvin Harrison Jr. and Tim Roth opened to £71,214 and has £115,925 including previews.
Downton Abbey took £53,428 and has £27.9m total, while The Last Black Man In San Francisco added £11,596 for £179,889.
Lionsgate
Second World War drama Midway opened to £753,585 from 495 locations for a £1,522 location average.
eOne
After launching on Monday, November 4, Tom Harper's The Aeronauts disappointed on its first weekend, with £569,095 not enough for a top five spot (with some sites still to report). Playing in 576 locations over the weekend, it took an average of £986. Including its first four days in cinemas, the film has just tipped the £1m mark.
Ken Loach's Sorry We Missed You added £172,892 and has now grossed £785,544 after just two weeks on release, while Official Secrets topped up £106,596 and has £2.1m after four weeks on screens.
Sony
Zombieland: Double Tap added £239,000 and has £4.1m to date.
The Angry Birds Movie 2 put on £10,000 for £5.7m, while Black And Blue added £1,900 for £65,000.
STX
Phone app horror Countdown dropped 43% with £131,000 taking it to £1.3m. Hustlers added £23,000 and now has £7.6m in total.
Paramount
Gemini Man added £89,000 and now has £4.6m, while Dora And The Lost City Of Gold is closing out its run with £8,000 taking it to £6.6m.
20th Century Fox
Judy took £80,015 on its sixth weekend and has £7.8m in total.
Picturehouse Entertainment
Alejandro Landes' Colombian Oscar entry Monos took £19,231 and has grossed £242,808 to date so far.
Altitude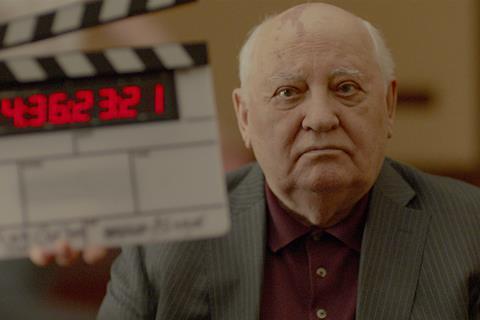 Werner Herzog's latest documentary Meeting Gorbachev took £11,777 over the weekend and has £20,400 including previews.
MUBI
PJ Harvey documentary A Dog Called Money took £2,926 from 9 screens and has £13,057 including previews and its festival screenings.
National Theatre Live
An event cinema release of Simon Woods' political play Hansard brought in £735,971 on Thursday, November 7, with a decent £1,282 location average. Encore screenings are planned for this coming week.
Trafalgar Releasing
Event specialists Trafalgar had two releases in the past week. Slayer: The Repentless Killogy took £46,796 from 148 locations on Wednesday, November 6; while Met Opera: Madame Butterfly took £238,560 from 166 locations on Saturday, November 9, and has £241,109 including encores.
National Amusements
In a busy week for event cinema, screenings of esports event League Of Legends: World Finals took £23,324 from 30 locations for a £777 average on Sunday, November 10.