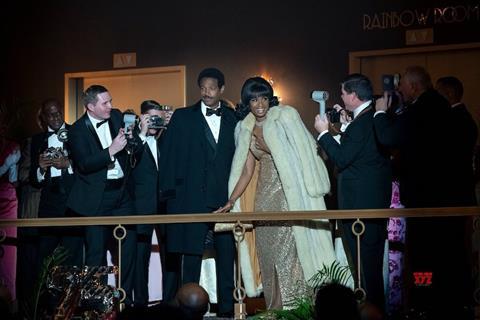 Universal's Aretha Franklin biopic Respect faces the challenge of at least 11 different new independent titles this weekend, as distributors continue to screen releases postponed by the pandemic.
Directed by Liesl Tommy and opening in 605 locations, Respect follows the rise of Franklin from a child singing in her father's church choir to international superstardom. The screenplay is by Tracey Scott Wilson, who wrote FX series The Americans; and Thelma & Louise writer Callie Khouri.
It is Tommy's first feature; she has previously directed for TV series including Queen Sugar, The Walking Dead and Jessica Jones, as well as regularly for stage productions including Hamlet, Les Misérables and Frozen.
Biopics of popular music stars are a reliable box office draw, at both independent and studio level; as are films featuring the songs of a major artist.
Bohemian Rhapsody, about UK rock group Queen, opened to £9.5m in October 2018, going on to £55.4m through Fox; while Elton John biopic Rocketman started with £5.3m, ending on £23.5m through Paramount.
Judy Garland biopic Judy, one of Fox's last releases before the merger with Disney completed, opened to £2.1m in October 2019, closing on £8.3m. Franklin's fame is of smaller scale in the UK than in the US; however the ubiquity of the title track, plus a cast led by Jennifer Hudson, could still push it to a good result.
The other major studio release this weekend is James Wan's Malignant through Warner Bros, in which a woman paralysed by visions of grisly murders is horrified to discover they are, in fact, realities.
Horror stalwart Wan made his name with the Saw series. He wrote the story for and directed the 2003 first title, which opened to £1.2m and ended on £6.8m. He has since gone on to greater figures with the Insidious series, directing the first (opened: £1.4m, closed £7.1m) and second (£2.9m; £7.2m) entries; and The Conjuring films, again directing the first (£2.2m; £10.5m) and second (£4.6m; £11m).
The film was originally scheduled for release in August 2020, before the pandemic caused its delay. In the US, it is being released simultaneously on HBO Max for one month, as per Warner Bros' plans for all its 2021 releases.
Indie challengers
Another title long-delayed by the pandemic, Phyllida Lloyd's Herself is one of multiple titles from indie distributors competing for space in cinemas this weekend. The film is starting in 71 England, Scotland and Wales locations through Picturehouse Entertainment, with Element Distribution handling the Ireland and Northern Ireland release in 58 sites.
The film, which premiered at Sundance 2020, was scheduled for release on October 30; before moving two weeks earlier to October 16, and then removed from the release schedule in early October, less than two weeks before its release. It was reinstated for its current date in June 2021.
Written by Clare Dunne and Malcolm Campbell, Herself stars Dunne as a young mother who escapes her abusive husband, and looks to fight back against a broken housing system by building her own property.
After an extensive career directing for stage including for the Royal Shakespeare Company, Lloyd scored a huge hit with the film version of musical Mamma Mia!, which she had previously directed for stage.
The film opened to £6.6m, going on to £68.9m; it is still the 13th highest-grossing film of all time in the territory. Lloyd went on to direct 2012 release The Iron Lady, a biopic of UK politician Margaret Thatcher, who died in 2013. The film opened to £2.2m and ended on £9.9m, winning Oscars for best actress for Meryl Streep and best makeup for Mark Coulier and J. Roy Helland.
Eros STX is releasing Joe Carnahan's action thriller Copshop in 491 sites. Starring Frank Grillo and Gerard Butler, the film centres on a con artist hiding out in a small-town police station, who is hunted down by a hitman, with a rookie cop caught in the crosshairs. Carnahan wrote the story and screenplay for franchise title Bad Boys For Life, which opened to £3.8m, reaching £16.2m in early 2020.
Modern Films is distributing Anne Zohra Berrached's Copilot, a fictionalised account of the relationship between a 9/11 terrorist and his wife, based on United 93 hijacker Ziad Jarrah. The film debuted in Panorama at the online Berlinale in March this year.
Starting from this weekend, Parkland Entertainment is conducting a staggered release for Sean Cisterna's drama From The Vine starring Joe Pantoliano. The film will play in five locations this weekend, expanding to 25 across the next two months.
Indian biographical drama Thalaivii is coming out through Zee Studios International. The Hindi-language version of the film will play in 36 locations, with 29 sites for the Tamil version.
Further new titles include documentary The Lost Leonardo in 11 cinemas through Dogwoof; First World War drama The War Below from Vertigo Films; crime thriller The Collini Case from Peccadillo Pictures; Yngvild Sve Flikke's Ninjababy in two Curzon sites; Alexandre Rockwell's Sweet Thing from Eureka Video in eight locations; and a restoration of Joseph Losey's 1963 The Servant, based on Harold Pinter's play, in 21 sites through Studiocanal.
Key holdovers include Shang-Chi and the Legend of the Ten Rings, which made a great start last weekend; Disney's former number one Free Guy; and Universal horror Candyman.