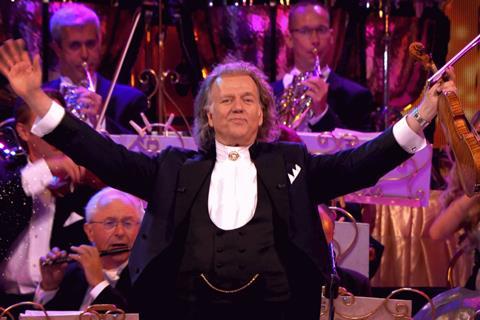 | | | | | |
| --- | --- | --- | --- | --- |
| Rank | Film (distributor) | Three-day gross (Aug 26-28) | Total gross to date | Week |
| 1. | Andre Rieu's 2022 Maastricht Summer Concert (Piece Of Magic) | £798,706 | £816,375 | 1 |
| 2. | Beast (Universal) | £600,259 | £781,947 | 1 |
| 3. | DC League Of Super-Pets (Warner Bros) | £598,941 | £12.5m | 5 |
| 4. | Bullet Train (Sony) | £593,000 | £8.2m | 4 |
| 5. | Nope (Universal) | £576,643 | £6.2m | 3 |
GBP to USD conversion rate: 1.17
Dutch violinist and event cinema favourite Andre Rieu topped the UK-Ireland box office this weekend with his latest concert film, Andre Rieu's 2022 Maastricht Summer Concert; as no film reached the £1m mark for the first time since December 2020.
Andre Rieu took £415,319 on Saturday and £383,387 on Sunday for a £798,706 weekend, at a £1,316 average. Including Monday encores, the show has £816,375. Distributor Piece of Magic expects it to end around the £900,000 mark – below nine of Rieu's previous concerts, but well above the £499,030 of last summer's edition.
It was well ahead of the highest-grossing new feature film – Universal's Beast starring Idris Elba. Baltasar Kormakur's thriller opened in second place, with £600,259 at the weekend from 601 locations at a £999 average. Including Monday screenings, the film has £781,947.
DC League Of Super-Pets dropped 26.2% on its fifth weekend, with £598,941 bringing it to £12.5m for Warner Bros.
Former number one Bullet Train dropped to fourth spot for Sony, with £593,000 – a 29.1% drop. It is now up to £8.2m from four weekends.
Universal's Nope fell 47.8% on its third weekend, with £576,643 from Friday-to-Sunday and £6.2m total including Monday. It will most likely finish below the £10.5m and £10.1m of filmmaker Jordan Peele's previous films Get Out and Us; although Nope has still performed well for a title not based on previous material.
In a worrying sign for the exhibition industry, takings for the top five dropped a further 24.7% to below £3.2m; the top five total is now down over 80% from the second weekend of July. No title reached £1m this weekend – the first time that has occurred since December 2020, when many cinemas were closed in the second wave of the pandemic. The dry spell may continue for several weeks longer, with the next major studio title not until Universal's Halloween Ends on October 14.
Top Gun passes Titanic
Nope just had enough to hold off the ninth weekend of Universal stablemate Minions: The Rise Of Gru, which added £573,512 – a 23.8% drop – to reach an impressive £42.6m. Having looked like it would be well short of the £47.8m of 2015's Minions, it has held consistently well and will now finish in the same ballpark, even if slightly down.
It may be 14 weeks into its cinema run, but Paramount's Top Gun: Maverick is showing no signs of running out of fuel. It was the only film in the top 10 to increase its takings this time, going up 5% with £550,000 enough for seventh place.
It now has £80.7m, so has passed the £80.3m of Titanic to become the ninth-highest-grossing film of all-time in the territory. All this came despite the film being available on streaming platforms from last Wednesday (August 24). Should it continue to balance both audiences, it could catch the £82.7m of 2017's Star Wars: The Last Jedi in eighth on the all-time chart.
Elvis fell back 22.7% for Warner Bros, adding £381,965 on a stellar 10th weekend in cinemas to reach just shy of £26m. It is now in the top 200 highest-grossing films of all time in the territory.
Thor: Love And Thunder added £332,000 on its eighth weekend – a 32.5% drop. It is now up to £36.7m for Disney – still the 12th -highest-grossing of the 28 Marvel Cinematic Universe titles to date, but likely to catch the £37m of 2013's Iron Man 3 and 2016's Captain America: Civil War within the next week.
Entertainment Film Distributors' sequel Fisherman's Friends: One And All dropped 51.8% on its opening weekend, with £316,523 contributing to a £1.9m total by close on Monday. It will struggle to get towards the £7.4m of the 2019 first film.
Horror sequel Orphan: First Kill posted a decent hold for Signature Entertainment, dropping 27.8% with £313,770 bringing it to over £1.2m from two weekends, including Monday's figures. That makes it Signature's highest-grossing release of all time in the UK and Ireland, topping the £769,699 of 2020's Honest Thief.
Sony opened horror The Invitation to £262,000 from 428 sites at a flat £612 location average.
Where The Crawdads Sing, also for Sony, added £167,000 on its sixth session – a 38.4% drop – to reach £3.4m.
A third Sony title, Dragon Ball Super: Super Hero dropped 69% on its opening with £124,000, but this was still enough to cross the £1m barrier.
National Theatre Live's Prima Facie starring Jodie Comer is about to become the highest-grossing event cinema release of all-time in the UK and Ireland. It added £79,039 at the weekend to reach a £4.35m total - just shy of the £4.4m of NTLive stablemate Fleabag from 2019, which it should pass within the next fortnight.
On the eve of this year's festival, Gaston Duprat and Mariano Cohn's Venice 2021 title Official Competition opened to £72,386 through Curzon, at a £952 average, and has £101,916.
Studiocanal's The Railway Children Return continues to find a committed audience, falling just 10.7% on its seventh weekend with £63,045 taking it to £2.9m total.
Jurassic World: Dominion added £44,814 for Universal – a 44.4% fall – on its 12th session, and is up to £34.9m cume. The drop from the £64.5m and £41.6m of the first two films suggests the current end of the franchise has come at the right time.
Vertigo Releasing opened Emma Holly Jones' period romantic comedy Mr. Malcolm's List to £43,467 from 233 at an average of £187 per cinema. Including Monday screenings, the film has £60,093.
On its third weekend, Paramount's Forrest Gump remake Laal Singh Chaddha added £35,000, and is up to £816,000.
Trinity Film added £22,327 to the total for Mama's Affair at the weekend, and is up to a decent £112,966 total from two weekends.
Universal horror The Black Phone added £20,723 across the weekend and is now up to £4.6m from 10 weekends.
Dogwoof documentary My Old School added £18,960 on its second weekend, and is up to £97,441.
Nana Mensah's Queen Of Glory opened to £9,842, with £14,204 including previews for Bohemia Media.
French debut feature Her Way by Cecile Ducrocq opened to £3,311 at the weekend from 10 sites; with £5,589 in total to date through Blue Finch Films.
The 4k release of Star Trek: The Motion Picture – The Director's Edition by Paramount added a further £1,500 to reach £96,000 cume.