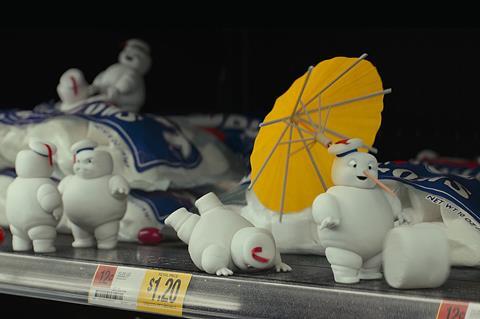 | | | | | |
| --- | --- | --- | --- | --- |
| Rank | Film (Distributor) | Three-day gross (Nov 19-21) | Total gross to date | Week |
| 1 | Ghostbusters: Afterlife (Sony) | £3.7m | £4.3m | 1 |
| 2 | Eternals (Disney) | £1.2m | £12.8m | 3 |
| 3 | No Time To Die (Universal) | £940,075 | £94.5m | 8 |
| 4 | Dune (Warner Bros) | £634,769 | £20.2m | 5 |
| 5 | King Richard (Warner Bros) | £540,878 | £570,180 | 1 |
GBP to USD conversion rate: 1.34
Sony's Ghostbusters: Afterlife dominated the UK-Ireland box office this weekend with a £3.7m first session – more than the other four titles in the top five combined.
Playing in 670 locations, Ghostbusters: Afterlife took a location average of £5,522. It has £4.3m including previews.
The Friday-to-Sunday number is ahead of 2016's Ghostbusters, which took £2.7m in that time, with a lower location average of £4,613.
It was well ahead of the number two title, Disney's Eternals, which dropped 58% on its third weekend with £1.2m taking it to £12.8m total. It will most likely finish in the lower echelons of Marvel Cinematic Universe totals, with 2011's Thor the next title ahead with £14m.
No Time To Die dipped below a £1m weekend for the first time for Universal, with £940,075 – a 40% drop that is slightly better than average for this weekend. The James Bond blockbuster now has £94.5m, overtaking Avatar as the fourth-highest-grossing film of all time in the UK and Ireland; and this week will catch the £95.2m total of 2015's Spectre.
Dune held a place in the top five with £634,769 this time out – a 45.8% drop on last weekend. It has passed the £20m mark with a £20.2m running total, in doing so becoming Denis Villeneuve's highest-grossing title in the UK and Ireland, ahead of Blade Runner 2049 (£19.1m).
Awards contender King Richard opened to £540,878 from 949 sites for Warner Bros – a low location average of £949. Including previews, the film has £570,180.
Spencer chases Larrain record
Universal's The Boss Baby 2 posted a 37.8% drop with £355,156 taking it to £6.9m from five sessions.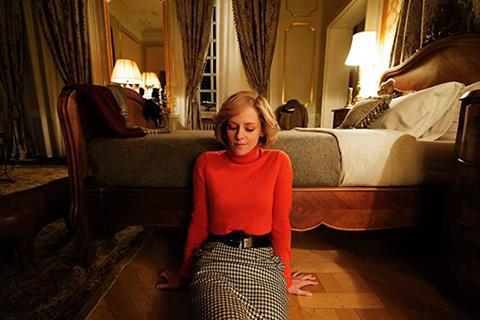 After its 67% increase last time out taking it into the top five, Spencer fell back 56% on its third weekend, with £304,000 taking it to a £2.4m cume. It is chasing 2017's Jackie for the record of Pablo Larrain's highest-grossing film in the UK and Ireland, with £3.8m.
Sony's Venom: Let There Be Carnage dropped 46% on its previous session with £277,000 taking it to £17.6m from six weekends. It may now finished slightly behind the first film, which took £20.2m in 2018.
Ron's Gone Wrong dropped 34% on its sixth session for Disney – a good hold in the context of this weekend – with £182,566 taking it to £4.5m to date.
For Universal, The Addams Family 2 dropped 48.5% with £173,458 taking it to £10.1m from seven sessions.
The French Dispatch fell back 39% for Disney, with £164,031 bringing it to £3.8m – now Wes Anderson's fourth-highest-grossing title in the territory, behind The Grand Budapest Hotel, Fantastic Mr Fox and Isle Of Dogs.
Universal's Last Night In Soho dropped 46.4% with £97,109 bringing it to a £1.9m cume.
Celine Sciamma's Berlinale 2021 title Petite Maman took £97,320 including previews on opening for Mubi, for a location average of £1,431 from 68 sites.
Kinostar's dual release of Pitbull and Exodus - respective Polish- and English-language releases of the same film by Patryk Vega - took £95,042 in total, £94,715 of which came from the Polish-language Pitbull.
Mothering Sunday dropped 55% on its second weekend, with £55,476 bringing it to a £343,747 total.
Chinese blockbuster The Battle At Lake Changjin opened to £47,138 from 45 sites, for a location average of £1,048 – a decent start for a non-English language title with no festival or awards pedigree. It has already registered box office success elsewhere; most notably in China, where it is tracking to become the highest-grossing film of all time in the territory later this week, overtaking Wolf Warrior 2.
A Park Circus re-release of Rocky IV: Rocky vs Drago grossed £32,101 from 305 locations at an average of £105.
Ryusuke Hamaguchi's Drive My Car, which topped the Screen Cannes jury grid this year, opened to £24,298 from 27 locations - a £900 location average. Including previews it has £35,206, and averaged at £1,035 - a decent start for a limited non-English language release. It will expand to 22 further locations this week.
Halloween Kills is nearing the end of its run for Universal, with £10,576 taking it to just over £5m from six weekends.
Warner Bros is already closing out Clint Eastwood's Cry Macho, which dropped 90.1% on its opening with £7,128 this time round for £143,691 total; and the Harry Potter And The Philosopher's Stone 20th anniversary re-release, which added £6,595 for £1.3m.
Irish opera The Lighthouse brought in £564 from eight locations on a single-day release on Tuesday, November 16 for Wildcard Distribution.