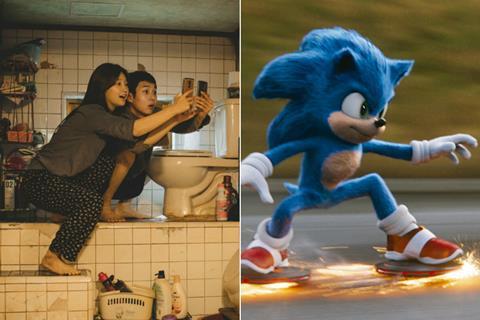 | Rank | Film (Distributor) | Three-day gross (Feb 14-16) | Total gross to date | Week |
| --- | --- | --- | --- | --- |
| 1 | Sonic The Hedgehog (Paramount) | £4.7m | £4.7m | 1 |
| 2 | Parasite (Curzon/Studiocanal) | £2.5m | £5.1m | 2 |
| 3 | Dolittle (Universal) | £2.1m | £8.2m | 2 |
| 4 | 1917 (eOne) | £2m | £39.2m | 6 |
| 5 | Birds Of Prey (Warner Bros) | £1.8m | £5.8m | 2 |
GBP to USD conversion rate: 1.30
Paramount
Paramount's Sonic The Hedgehog topped the charts on its opening weekend, with an excellent £4.7m from 616 locations – a £7,679 average.
This is slightly behind the opening of last year's fellow video game adaptation Pokémon Detective Pikachu, but well ahead of 2018's Tomb Raider (£2.6m) and 2017's Assassin's Creed (£1.9m).
Paw Patrol: Ready Race Rescue added £144,000 on its fourth session and has £1.4m, while Playing With Fire increased 81.8% with £60,000 taking it to £2.9m after eight.
Curzon/Studiocanal
Bong Joon Ho's Oscar-winning Parasite has scored a massive 133% uptick on its second weekend at the UK box office, following its expansion to 430 locations after its first weekend.
Released by Curzon in partnership with Studiocanal, the film took £2.5m for a £5,852 location average – an excellent result for any film, and even better for a non-English language title. It now has £5.1m in total, and has risen to second place in the chart, from fourth last weekend.
Its average was down only 26% on that of last weekend, which is impressive given the number of new locations, many of which are multiplexes which do not often show non-English language fare.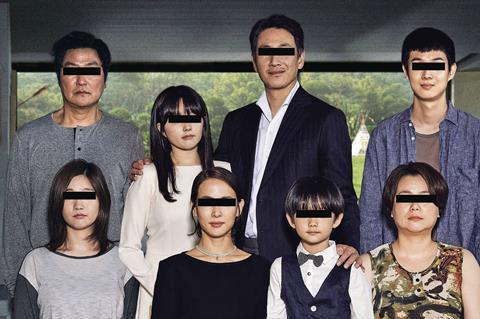 The film is already the third highest-grossing non-English language title of all time at the UK box office, overtaking 2001's Amélie (£5m). The only titles ahead of it are 2001's Crouching Tiger, Hidden Dragon (£9.4m) and 2004's The Passion Of The Christ (£11.1m), both of which are within Parasite's reach if it continues to pack out screens.
It will expand its locations again for next weekend by more than 100, and is expected to hit the 550 mark. Such a figure is typically reserved for blockbusters and mass-market appeal titles.
Universal
Dolittle dropped a substantial 58% on its second weekend, falling from first to third place. It took £2.1m from Friday to Sunday, and has £8.2m to date.
Working Title's period drama Emma opened to £1.6m from 611 locations, giving a reasonable £2,677 average.
Robert Eggers' The Lighthouse dropped 48% on its third session with £103,890, and is up to £1.1m.
eOne
1917 posted another strong hold on its sixth weekend in cinemas. The war epic dropped just 14%, with £2m taking it to a huge £39.2m running total.
It is now in the top 80 highest-grossing films of all time in the UK.
Queen & Slim added £101,924 on its third session – a 37% drop – and is up to £1.1m in total.
Warner Bros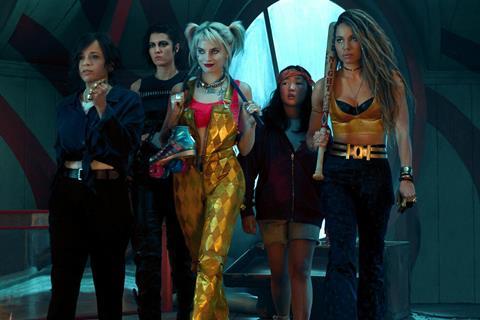 Birds Of Prey posted a moderate hold on its second weekend, dropping 37.5% with £1.8m taking it to £5.8m total. However, it still has some way to go to catch the current low mark for the DC Extended Universe films, which is 2019's Shazam! on £13.4m.
A re-release of 1987's The Lost Boys took £54,000 from 164 sites (a £329 location average), while Just Mercy added £36,000 for a £1.5m cume after five weekends, and Richard Jewell put on £2,000 for £337,000 after three.
Sony
Bad Boys For Life extended Sony's excellent start to 2020, falling just 16% on its fifth weekend with £838,000 taking it to £14.4m.
Jumanji: The Next Level dropped just 17% on its tenth weekend, with £324,000 bringing it to £35.2m. It has got within range of the 2017 first title Jumanji: Welcome To The Jungle's £38.5m – an impressive result even though it will fall slightly short.
Little Women dropped 50% on its eighth weekend with £153,000 and has £21.3m; A Beautiful Day In The Neighborhood fell 66% with £76,000 bringing it to £1.4m after three; and The Grudge dropped 38% with £37,000 giving it £1.1m after four.
Phoenix Productions
As Parasite presses on, Barbara Bialowas' Polish drama 365 Days is another non-English language title to impress, opening to £372,000 from 265 locations.
Jak Zostalem Gangsterem is closing out with £270,000 in total after three weekends.
Entertainment Film Distributors
The Gentlemen dropped 32% with £238,781 taking it to £11.5m after seven weekends.
Lionsgate
Armando Iannucci's The Personal History Of David Copperfield added £235,757 – a 55.3% drop – and has £5.7m after four weekends, while Bombshell added £33,076 and has £2.1m after five.
Disney
Disney has a diverse slate of films in the latter stages of UK box office runs.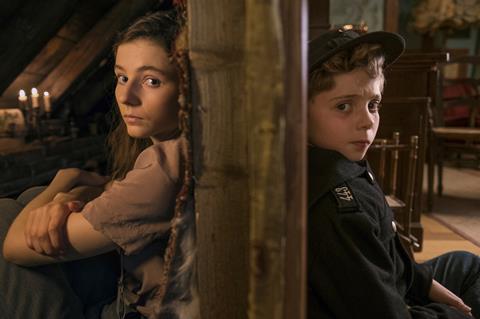 Jojo Rabbit dropped 28% with £160,000 and £7.5m after seven sessions; Frozen II also dropped 28% with £150,000 and £53.1m after a long 13-weekend run; while Spies In Disguise fell 44% with £130,000 taking it to £7.1m after eight weekends.
Star Wars: The Rise Of Skywalker dropped 39% on its ninth session with £55,000 taking it to £58.1m; while Underwater descended 82% with £35,000 bringing it to £370,000.
Park Circus
A re-release of 1990 romance Ghost took £78,805 from 247 sites for a £317 average.
New Wave Films
A four-screen release of Jean-Paul Civeyrac's A Paris Education brought in £1,267.
Trafalgar Releasing
Event cinema release The Doors: Break On Thru took £18,853 from 39 locations on Wednesday, February 12 for a £483 average.
More2Screen
With main event screenings on February 4 and 9 followed by encore screenings, an event release of musical Kinky Boots has taken £1.3m across 13 days.