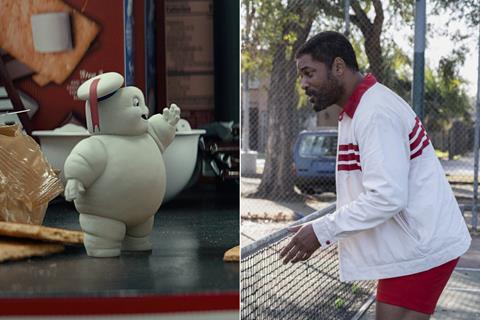 Sony goes up against Warner Bros this weekend at the UK-Ireland box office, as the studios look to continue a strong period for wide releases.
Sony is releasing Ghostbusters: Afterlife in 670 locations. It is directed by Jason Reitman, son of Ivan Reitman, who directed the first two Ghostbusters films and is a producer here. In the latest entry, when a single mother and her two children arrive in a small town, they discover a connection to the original Ghostbusters and the secret legacy the kids' grandfather left behind.
The original Ghostbusters film grossed £12.4m – a huge total for 1984, equivalent to approximately £40m in 2020. Ghostbusters 2 followed this up with £8.3m in 1989; while 2016's female-led reboot Ghostbusters, directed by Paul Feig, took £10.8m in 2016.
Jason Reitman had a small on-screen part in Ghostbusters 2. Ghostbusters: Afterlife is his ninth feature as director; his highest gross remains 2007's Juno, which opened to £2m and closed on £9.8m, and scored Reitman a best director nomination at the Oscars, as well as nominations for best picture and best actress for Elliot Page and a win for Diablo Cody in best original screenplay.
12A-rated action films - that can be seen by children - have proven fertile ground since cinemas reopened in May this year. No Time To Die is currently the fifth highest-grossing film of all time in the UK and Ireland, up to £92.7m as of last Sunday; while Shang-Chi And The Legend Of The Ten Rings has hit £21.8m from over two months in cinemas.
Warner Bros is launching Reinaldo Marcus Green's King Richard in 570 locations. While the awards season climax is still over four months away, Will Smith is the current bookies' favourite for best actor, for his performance as Richard Williams, the single-minded father of tennis prodigies Venus and Serena.
Aunjanue Ellis as the girls' mother Oracene 'Brandy' Williams, and Saniyya Sidney and Demi Singleton as Venus and Serena, are also in consideration for supporting awards.
Tennis films to have aced the box office are relatively rare. Notable releases include Valerie Faris and Jonathan Dayton's Battle Of The Sexes starring Emma Stone and Steve Carell, which opened to £551,449, closing on £1.5m in 2017.
The same year Janus Metz's Borg vs. McEnroe debuted at Toronto (opened: £101,995, closed: £432,154).
Going back further, titles include Woody Allen's Match Point with Scarlett Johannson and Jonathan Rhys Meyers (opened: £751,992, closed: £2.5m) and the most successful in recent times, Richard Loncraine's Wimbledon with Paul Bettany and Kirsten Dunst (opened: £1.7m, closed: £7.2m).
Warner Bros will be looking for the star power of Smith, plus the large fanbase for the enduring Williams sisters, to push King Richard well into seven-figure territory.
Festival favourites
Independent titles have found it hard going at the box office in recent months; however, a steady stream of strong releases continues this weekend.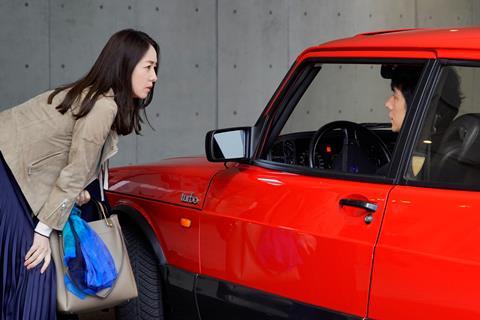 Modern Films is releasing Ryusuke Hamaguchi's Drive My Car, a drama based on a Haruki Mukakami short story about a happily-married actor-director whose wife disappears one day. The film debuted in Competition at Cannes 2021, where it won best screenplay for Hamaguchi and Takamasa Oe, as well as the highest score on the Screen Cannes jury grid previously garnered by Parasite, Burning and Toni Erdmann.
It is the second feature of 2021 for Hamaguchi, after Wheel Of Fortune And Fantasy, which premiered and also won the Screen jury grid at the Berlinale. Drive My Car is Hamaguchi's 13th feature to date; previous titles include Asako I & II, which also started in Competition at Cannes, in 2018.
Mubi continues its release of topnotch festival titles with Celine Sciamma's Petite Maman , opening in 67 locations. It debuted in Competition at the 2021 Berlinale, playing first in the online version in February before public screenings in the city in June. Subsequent festival bookings include Melbourne, Karlovy Vary, Telluride, Toronto, New York, San Sebastian, London, Stockholm and Mar del Plata.
Sciamma scored an international hit with 2019's Portrait Of A Lady On Fire. That film opened to £229,678 in the UK and Ireland in February 2020, closing on £569,283 with a run cut short by the pandemic.
The director's previous work includes 2015's Girlhood (opened: £68,658; closed: £232,843) and 2011's Tomboy (opened: £11,930; closed: £52,018).
Trinity Film is distributing Chinese box office hit The Battle At Lake Changjin in 45 sites. The film has currently grossed $885.7m (£658.5m) in China, as the second-highest-grossing film of all time in the territory.
Kinostar has Exodus and Pitbull – two versions of the same adventure film by Patryk Vega, with the same actors and plot, but with dialogue in English in Exodus and Polish in Pitbull.
Element Distribution, the releasing arm of UK-Irish producers Element Pictures, is releasing Michael McCormack's documentary Breaking Out, about late Irish singer Fergus O'Farrell and the muscular dystrophy which he refused to let restrict his life.
Michal Sulima's documentary Piano To Zanskar is coming out in three sites through Tull Stories, expanding to a further 24 sites in the coming weeks; while Yash Raj Films has romantic sequel Bunty Aur Babli 2 in 20 sites.
Further releases include Dear Future Children through Dartmouth Films; awards contenders The Power Of The Dog and Bruised through Netflix; and Rocky IV: Rocky Vs. Drago through rep distributor Park Circus.
Key holdovers include two-time number one Eternals, plus No Time To Die, which may catch the total of fellow James Bond title Spectre within the next week.