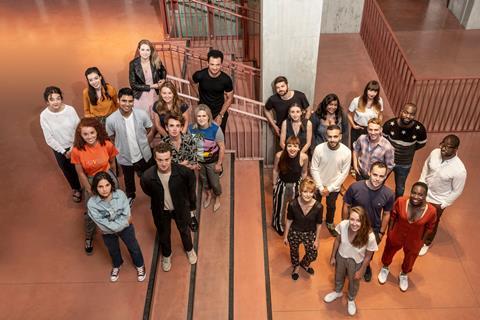 Screen International has revealed its Stars of Tomorrow 2018, spotlighting the hottest up-and-coming actors and filmmakers in the UK and Ireland.
Now in its 15th year, the annual talent showcase spotlights up-and-coming actors, writers, directors and producers from the UK and Ireland who are primed to make their mark in the industry in the years to come.
Scroll down for the full list
The annual showcase has established itself as a key identifier of emerging UK and Ireland talent, both in front of and behind the camera. Alumni include The Crown star Claire Foy (2008) and The Bodyguard star Richard Madden (2011).
Stars of Tomorrow editor Fionnuala Halligan curates the line-up after considering hundreds of candidates and consulting with industry experts including casting directors, talent agents, managers, producers and directors.
For the fourth year, Screen is partnering with the BFI London Film Festival to launch the initiative to international industry, which will see the 2018 Stars presented as part of its programme of events.
Stars of Tomorrow is also supported by ScreenSkills and the Casting Society of America.
This year's Stars will be toasted at an event in London during this year's festival, on Thursday October 11. This will be followed by an exclusive industry dinner on Monday October 15, hosted by the British Council, attended by filmmakers, producers, casting directors and the Stars themselves.
Halligan said: "We work hard on Screen Stars of Tomorrow every year trying to find the next generation of UK and Irish talent. There's a lot out there! It's a time consuming process but the reward is there in watching their continued success year after year. I don't think there's a better showcase around and this year's Stars are up there with our very best. I congratulate them and look forward to following their careers on screen for years to come."
Screen International editor Matt Mueller said: "With the rise of the streaming giants and the barriers between film and television vanishing for actors and filmmakers, the industry demand for new talent has never been greater. Screen International is proud to deliver this annual showcase identifying the next generation of talent, and huge praise to our Stars of Tomorrow curator Finn Halligan for her tireless effort in finding the best and brightest new talent out there each year. We congratulate our 2018 Stars and look forward to following their career trajectories both in front of and behind the camera."
BFI London Film Festival managing director Anne-Marie Flynn commented: "We are delighted to continue our partnership with Screen in presenting this year's finest new British and Irish directors, actors, writers and producers as part of our Industry programme. We warmly congratulate this year's Stars and we are proud that this year's Festival features the work of many recent ones, including Florence Pugh (The Little Drummer Girl), Michaela Coel (Been So Long), Seána Kerslake (Dublin Oldschool), Ed Lilly & Connor Swindels (Vs.) and Jessie Buckley (Wild Rose)."
Screen's Stars of Tomorrow 2018:
Actors:
Filmmakers (writers, directors, producers):